After less than three hours, Joao "HayashiJoão" Hayashi has won the PokerStars 2020 Spring Championship of Online Poker 74-M: $1,050 Main Event for $920,067 be defeating Michael "merla888" Gathy heads-up who claimed $655,853 for his efforts. The 2020 Main Event had the biggest turnout in their history, beating the 2018 record of 5,508 field as this year 6,475 entries were collected to create a monster prize pool of $6,475,000.
Hayashi overcame a final table which also included "luelue399", Luis Gustavo "gkamei09" Kamei, "WNDRWMN23", "Oledjan", "Tydarax", Jon "luckyfish89" Clark, and Matheus "mpZancan" Zancan.
PokerStars 2020 SCOOP 74-M: $1,050 Final Table Results
| Place | Player | Country | Prize |
| --- | --- | --- | --- |
| 1 | João "HayashiJoão" Hayashi | Brazil | $920,067 |
| 2 | Michael "merla888" Gathy | Belgium | $655,853 |
| 3 | luelue399 | Canada | $467,515 |
| 4 | Luis Gustavo "gkamei09" Kamei | Brazil | $333,261 |
| 5 | WNDRWMN23 | United Kingdom | $237,561 |
| 6 | Oledjan | Belarus | $169,341 |
| 7 | Tydarax | Austria | $120,712 |
| 8 | Jon "luckyfish89" Clark | United Kingdom | $86,048 |
| 9 | Matheus "mpZancan" Zancan | Brazil | $61,338 |
Start of the Day's Action
Day 2 chip leader "Tydarax" got short immediately when the lost two-thirds of their stack to "luelue399" when the latter had turned a set of fives but it would be Zancan who would be busting first when he shoved with jacks from the small blind into the ace-ten of Gathy who was sitting in the big blind. Gathy flopped two pair immediately to get the final table down to eight players. "Tydarax" doubled up twice through "Oledjan" first before Clark was eliminated by "luelue399" with ace-king. "luelue399" turned the -nut-flush which beat the flush draw of "Oledjan".
Shortly after the first break, the curtains finally closed for "Tydarax" who couldn't win their third all-in with ace-nine. Gathy had looked them up while holding queen-jack suited to river the flush. "Oledjan" had lost most of their stack already and lost the remainder to Gathy with ace-king. This time, Gathy held king-queen and turned a queen for two pair.
But this wasn't the end of all the quick bustouts as "WNDRWMN23" left in fifth place less than ten minutes later. Gathy was responsible for this one too when he held ace-seven. "WNDRWMN23"'s jack-ten couldn't connect to anything on the board as Gathy turned a flush. With almost three times as much as the second place in the counts, Gathy kept crushing the final table. But he doubled "luelue399" up first before adding even more chips to his stack even while doubling Kamei up too.
Just after the second break, Kamei was kicked out of the tournament by Gathy who was behind with ace-jack when the cards went on their backs as Kamei held ace-king but the jack on the river sealed the deal. Immediately after, "luelue399" got their shortstack in from the small blind and this time it was Hayashi who took the honor. Hayashi held ace-seven and flopped top pair. "luelue399" had some hope for a miracle when the king came on the turn but no further help came to get the tournament to the heads-up stage.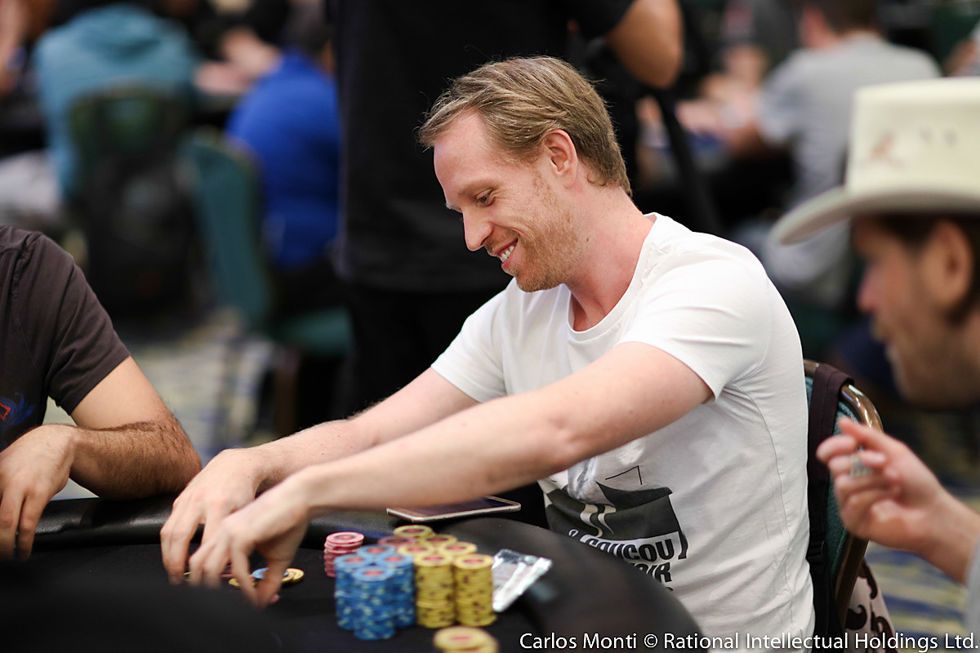 Heads-Up Goes Badly for Gathy
Gathy went into the heads-up battle with a commanding chip lead with over 70% of all the chips in play and a deal was shortly discussed but they both decided to continue to play for the first-place prize. From there on, it seemed like Gathy could do nothing right. He did five-bet shove once to put increase his chip lead but then Hayashi made the right calls a few times to decrease the gap between them.
Hayashi then took over the chip lead when he called Gathy's button raise, they both checked through the seven-ten-queen flop, he check-called Gathy's bet with the jack on the turn for the river to complete the board with the deuce. Hayashi then check-shoved when Gathy continued with a bet and Gathy gave up.
More and more chips went Hayashi's way and then he rivered a straight to leave Gathy behind with 17 big blinds. A few more hands and chips went back and forth until in the final hand, Gathy shoved from the button for his last 12 big blinds with queen-jack. Hayashi called with ace-eight and flopped two pair before improving to a full house on the river to win the battle and that amazing first-place prize.
This concludes the PokerNews coverage of this Main Event but keep following the updates of the other Main Events and definitely make sure to come back tomorrow as we continue our coverage of the extended SCOOP schedule with SCOOP-85-H: $1,050 NLHE [8-Max, PKO, Thursday Thrill SE].