Main Event
Day 1b Completed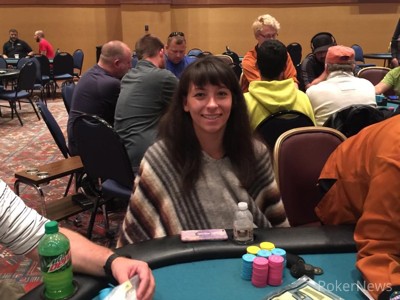 Day 1b of the Mid-States Poker Tour Meskwaki Main Event drew 231 players, pushing the total number of runners to 410 after two days. Angelina Rich bagged the Day 1b chip lead with 274,000, but Yousri "Chicago" Ali from Day 1a will take the overall chip lead into Day 2 with 309,500.
Rich, a Seattle, WA, native who has found a lot of success in International tournaments, is fresh off of her first-place win at the MSPT Venetian in Las Vegas this summer. Rich is not only the first female winner of a MSPT event, but she also won the largest first prize in MSPT history, having taken home $304,386.
Rich also has an impressive $345,667 in total live earnings over the course of her poker career, and is certainly having a stellar year to say the least. In addition to her recent MSPT win in June, she also took first in an Aussie Millions event in January of this year.
Rich started off her chip climb in Level 13 when she knocked a player out with the
versus the
. Rich hit the 100,000-chip mark after the board ran out
. She also knocked out MSPT team pro Nick Pupillo in the last level of the night with
versus
. They got it all in on a
board, and the
river sealed Pupillo's fate after failing to improve his hand.
Another MSPT team pro, Blake Bohn, started the day off by hitting trip eights, chipping him up to 31,500. After that first hand of the day, he contiued to climb without ever falling below starting stack for the remainder of the day. Bohn will return for Day 2 with 189,500 in chips.
Other players from this flight who moved on to Sunday's Day 2 included Tom Hammers (85,000), MSPT Canterbury champion Peixin Liu (72,500), Allen "Chainsaw" Kessler (71,500), former MSPT Meskwaki champion Terry Ring (63,000), Dave Gonia (64,500), and Craig Casino (49,500).
Play resumes on Sunday at 10:30 a.m. local time at Level 15 (1,500/3,000/500), and PokerNews will again be on hand to see who is crowned the latest MSPT champion.
Angelina Rich

274,000
174,000

David Gutfreund

265,000
265,000

Josh Reichard

248,000
248,000

Blake Bohn

MSPT Team Pro

189,500
83,500

Greg Gates

189,000
189,000

Justin Thurlow

180,000
180,000

Jim Boone

177,000
87,000

Joel

159,000
159,000

Garret Riley

152,500
152,500

Anthony Yett

127,000
127,000

Brad Rosenwasser

122,000
122,000

Kyle Ashman

120,500
120,500

Mark Sandness

120,000
-5,000

Eric Loehr

105,000
50,000

Rainer Nielson

101,500
101,500

Henry Gingerich

94,000
94,000

Paul Schroeder

93,500
93,500

Jeff Grimes

90,500
500

Carlos Gamell

90,000
90,000

Jeff Bryan

88,000
-45,000

Phil Mader

87,500
87,500

Tom Hammers

85,000
53,000

Timothy Post

84,000
84,000

Isaah Wright

83,500
83,500

Terry Bender

81,500
81,500
The clock has been paused with ten minutes remaining, and the floor has announced that all remaining players will now play 2 more hands before bagging and tagging for the night.
On a board reading
, the small blind checked, and Blake Bohn bet 100,000, putting his opponent all in if he chose to call.
His opponent thought for quite some time and the clock was called.
Bohn called a player over from the rail to show him his cards. After doing so, Bohn said to his opponent, "Come on now, you know you are folding."
At that point the floor told his opponent that he had thirty seconds left to make a decision. The player opted to fold.
Bohn turned over the
and said, "I didn't have a queen, but the beautiful thing is, I don't have to show."
Level:

14
Blinds:

1,200/2,400
Ante:

300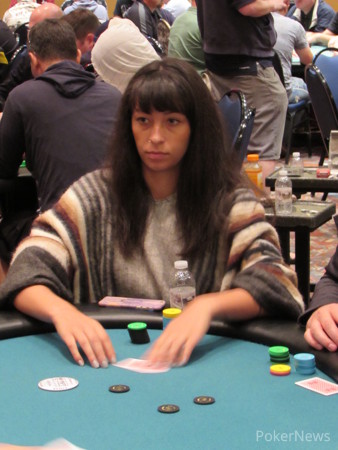 Angelina Rich raised under the gun, the player directly on her left shoved all in, and when action was back on her, Rich quickly called.
Rich showed
and was in great shape against her opponent who held
.
The board ran out
sending her opponent to the rail.
Rich has now hit the 100,000 chip mark.
| | | | | | |
| --- | --- | --- | --- | --- | --- |
| Angelina Rich | | | | 100,000 | 70,000 |
Joshua Reichard

215,000
160,000

Mark Sandness

125,000

David Gonia

115,000
99,000

Blake Bohn

MSPT Team Pro

106,000
-4,000

Jim Boone

90,000

Jeff Grimes

90,000

Shane Nelson

81,200
-800

Craig Casino

80,000

Peixin Liu

80,000
80,000

Steve Belland

70,000
10,000

Allen Kessler

50,000
-10,000

Tom Hammers

32,000
12,000

Terry Ring

31,000
16,000
Level:

13
Blinds:

1,000/2,000
Ante:

300