Main Event
Day 2 Completed
Level 33 : 100,000/200,000, 30,000 ante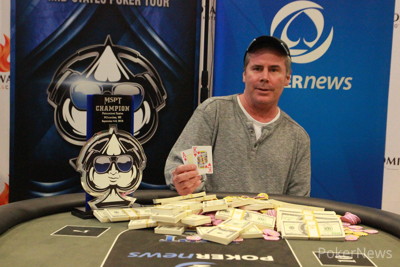 Dan Goepel has made a habit of cashing in Mid-States Poker Tour events in his home state of Wisconsin. On Sunday, he notched his fourth score on the tour and it was a big one. He took down the MSPT Potawatomi Main Event in Milwaukee, topping a field of 462 entries to pocket $114,117 in prize money.
"I'm a firm believer that when it gets heads up, the dealer does most of the work," Goepel said after his win.
If that's the case, the dealer did quite a job in propelling Goepel to victory. He entered heads-up play against Travis Lauson at about a 2:1 deficit, but that quickly turned into 6:1 as Lauson whittled him down. However, the two were playing extremely shallow with just over 9 million in play at Level 33 (100,000/200,000/30,000), so variance was Goepel's friend.
First, he doubled up with the
against the
. Then, Lauson hammered him back down to 1.1 million, but Goepel managed to spike a three-outer with the
against the
. Goepel then check-shipped a
flop in a raised pot and took it down, giving him an improbable lead.
In the end, it was decided in a classic race: Goepel's
against Lauson's
. Goepel flopped aces and kings and faded Lauson's six outs on a
board, leaving Lauson devastated and frustrated at his poor luck.
When the final table began, Goepel was third in chips and he showcased his chops with a king-high calldown of Paul Elfelt. That left Elfelt short and he busted ninth after Matt Hauge went out 10th. Jon Lane went out eighth and then came a long period of seven-handed play, with short stacks doubling numerous times, including a three-outer by WSOP Circuit ring winner Yossi Azulay.
Finally, everyone was feeling the pinch with average stacks around 12 big blinds and players hit the exits in a hurry. Brian Smith busted seventh, followed by tour regular Rob Wazwaz in sixth. Azulay then got sevens in against the
of Goepel, but the latter hit Broadway. Lauson sent Colin Eric Lovelock packing in fourth and Kenneth Schetter in third to assume the role of favorite in heads-up play.
But as Goepel told it, the dealers worked their magic and he emerged the winner.
Thomas Peebles (35th), Jason Seitz (29th), Brett Reichard (27th), Howard Hankin (24th), Jim Boone (19th), and start-of-day leader David To (17th) were some of the runners cashing among the 45 places paid.
The MSPT returns in two weeks for an event in its home state of Minnesota at Running Aces, so come back for more coverage then here on PokerNews.
Level 33 : 100,000/200,000, 30,000 ante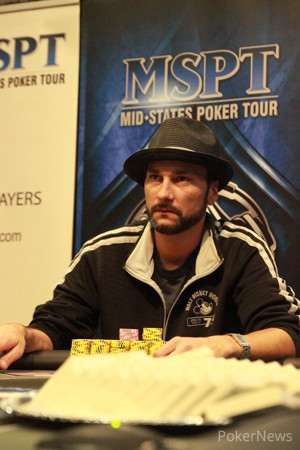 Dan Goepel called 700,000 preflop and checked a
flop. Travis Lauson fired 500,000. Goepel took about a minute and then pushed all in. Lauson folded, ceding the chip lead but only barely.
Shortly thereafter, the two got it in preflop for everything.
Lauson:

Goepel:
"Come on," Lauson urged. "Come on."
An exclamation of disgust followed when he saw the
in the window followed by
. Lauson called for a ten or queen but the
turn was followed by a
river and that was all she wrote.
Level 33 : 100,000/200,000, 30,000 ante
Travis Lauson called immediately when Dan Goepel shoved from the button for about 1.1 million.
Lauson:

Goepel:
The dealer spread a
flop.
"One time," Lauson said. "I wanna use my one time. Said it too late..."
He didn't improve and Goepel doubled.
Level 33 : 100,000/200,000, 30,000 ante
Travis Lauson took total command of the heads-up match early and had Dan Goepel in dire straits when the latter limped in and saw Lauson raise to 700,000. Goepel tanked awhile and moved all in, and Lauson called with
, saying he had no choice. Goepel was ahead with
and he held on as the board ran out
.
Level 33 : 100,000/200,000, 30,000 ante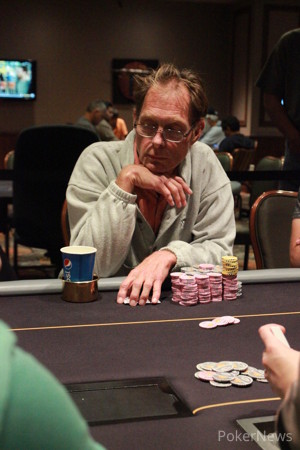 Travis Lauson made it 500,000 on the button and called Kenneth Schetter's all in.
Lauson:

Schetter:
Lauson was left with two outs after the dealer spread the
flop. He managed to hit not one, but both of them: the
on the turn and the
on the river.
The tournament is now heads-up.
Level: 33
Blinds: 100,000/200,000
Ante: 30,000
Level 32 : 80,000/160,000, 20,000 ante
Players are on break for 10 minutes.
Level 32 : 80,000/160,000, 20,000 ante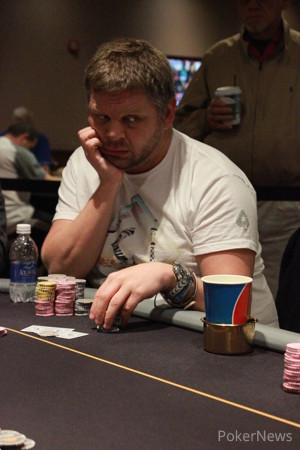 Colin Eric Lovelock shoved all in under the gun and Travis Lauson reshipped in the small. The big blind folded.
Lovelock:

Lauson:
"You are golden," Lauson declared. "I have never won with pocket queens."
He did so this time though, fading first a straight draw then a flush draw on the
board.