$360 Regional Event
Days: 2
$360 Regional Event
Day 2 Completed

Level 33 : 200,000-400,000, 50,000 ante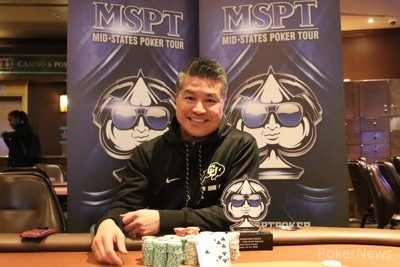 The first Regional Event of 2020 for the Mid-States Poker Tour (MSPT) set the bar high with 1,087 entries over four days, a Colorado state poker record, and 138 players found their way into Day 2 Sunday with their eyes set on the title.
However, only one person could claim the trophy and that person was Erasmus Morfe, who finished 19th in the 2015 World Series of Poker Main Event. Morfe found his way into Day 2 on the final flight of the tournament after bagging a stack of 208,000. From there, he cruised through most of the final day without any big swings in either direction.
When the final three tables were reached, Morfe had a stack of 590,000, which was just under 12 big blinds. He wound up getting as low as two big blinds during the final two tables before finding a few doubles to enter the final table in the middle of the pack.
Final Table Results
| Place | Player | Country | Prize |
| --- | --- | --- | --- |
| 1 | Erasmus Morfe | United States | $53,048* |
| 2 | Alex Kotliarski | United States | $43,000* |
| 3 | Wayne Lee | United States | $27,099 |
| 4 | Stuart Brown | United States | $20,577 |
| 5 | Benjamin Guzman | United States | $15,327 |
| 6 | Noel Diaz | United States | $11,740 |
| 7 | Eddy Konarske | United States | $9,131 |
| 8 | Phillip Gioia | United States | $7,174 |
| 9 | Neil Warren | United States | $5,870 |
*Denotes heads-up deal.
Day 2 Action
It took around an hour of play before the 138 remaining players became 117 when Ian Glycenfer and Cher Herr split the 117th-place prize after being eliminated from the tournament on the same hand on the bubble. The tournament's half-hour levels kept the blinds escalating and players responded accordingly with chips flying all over the room throughout the afternoon.
Players dropped at a furious pace as players like Chris Tryba (91st place), Sammy Aweida (89th place), Day 1c chip leader Nader Wahdan (60th place), Schuyler Thornton (46th pace), and Kevin Eyster (43rd place) found themselves out of chips.
Day 1a and overall Day 1 chip leader Luis Rosa (19th place) started hot out of the gate, taking 641,000 up to over 1 million before the money was reached. He remained one of the largest stacks in the room as play continued, with Day 1b chip leader Abhinav Parakh (16th place), Behrouz Keshtavar (11th place), and eventual runner-up Alex Kotliarsky also among the largest stacks in the room.
Noel Diaz then stole the spotlight for some time. He took a stack of 1.3 million when 27 remained up to 9.26 million by the time the final table was reached. Diaz enjoyed a heater that saw him score a quick double and prior to knocking out several players, constantly turning up with big hands and watching them hold.
However, the tides turned when the final table was reached. Diaz saw Wayne Lee play back at him for a sizeable pot that didn't make it past the turn and then doubled Stuart Brown on the very next hand. Less than a level later, Kotliarsky was the one threatening for and eventually overtaking the chip lead as Diaz continued his downward trajectory.
As for eliminations, Neil Warren and Phil Gioia entered the final table short and were the first two to go. Gioia found a double, but it would not be enough as he lost a coin flip with ace-king to Kotliarsky's pocket nines to bust. The pot gave Kotliarsky the chip lead and he would hold it until heads-up play after further expanding that hand just moments later when his pocket aces held versus Eddy Konarske's open-ended straight draw after chips got in on the turn.
Levels continued to escalate and all of a sudden Diaz found himself as the shortest stack of the tournament with six left. He made his departure shortly thereafter when Kotliarsky knocked him out, and play went on from there for another full level before Benjamin Guzman got short and eventually also fell to Kotliarsky. A few minutes later, the short-stacked Stuart Brown became the next to fall after his ace-three couldn't hold against Morfe's jack-ten suited.
It wasn't long after that before Lee bowed out in third place after getting his last seven big blinds in on the flop and losing to Morfe, who called with an open-ended straight flush draw that filled up to the nuts to take the tournament into heads-up play. Kotliarsky had a slight chip lead over Morfe and the two agreed to modify the payouts so that both players could lock up $43,000.
From there, the heads-up match lasted no more than 15 minutes with Morfe taking the chip lead before the two got stacks all in preflop with Morfe's ace-ten suited holding up against Kotliarsky's ace-five offsuit to earn him the MSPT trophy and payday good for $53,048.
The MSPT will return to Golden Gates for a $1,100 Main Event April 13-19. Click here for a look at the schedule.

Level 33 : 200,000-400,000, 50,000 ante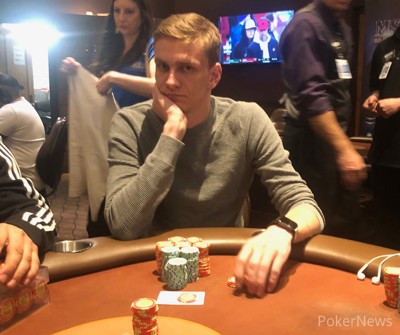 After taking the chip lead, Erasmus Morfe opened to 1.2 million on the button and was three-bet to 3 million by Alex Kotliarsky in the big blind. Morfe four-bet all in and Kotliarsky reluctantly tossed a chip in to call after about 35 seconds of deliberation.
Alex Kotliarsky:

Erasmus Morfe:
Morfe was way out in front with his sights set on victory as the flop came
, making the trophy and title all but a lock after flopping a flush draw to take away one of Kotliarsky's three outs. He now needed running non-club straight cards or a five and would not hit either as the turn
and river
completed both the runout and the tournament, resulting in Kotliarsky taking second place for $43,000.

Level 33 : 200,000-400,000, 50,000 ante
A limped pot preflop saw
come onto the felt and Erasmus Morfe check-called a bet of 400,000 from Alex Kotliarsky. Both players then checked the turn
.
The river came
and Morfe check-called another 1.4 million from Kotliarsky. Kotliarsky immediately sent his cards to the muck and Morfe took down the pot without showing.

Level 33 : 200,000-400,000, 50,000 ante
Alex Kotliarsky and Erasmus Morfe have agreed to modify the payout structure to ensure both players lock up $43,000. The remaining $10,048 will be paid off to the winner, who will earn a total first-place prize of $53,048 and the accompanying MSPT trophy.

Level 33 : 200,000-400,000, 50,000 ante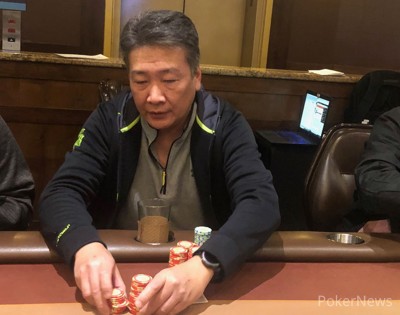 Erasmus Morfe opened the action with a raise to 700,000 on the button and Wayne Lee defended his big blind to take action heads up to a flop of
. Lee was first to act postflop and went all in for 2.62 million.
Morfe asked for a count and thought for a few moments before making his declaration: "I have to call. I have a straight flush draw."
Wayne Lee:

Erasmus Morfe:
The turn came
as Lee asked for a clean runout but the cleanest possible card in the deck came for Morfe instead as the river fell
to give him a ten-high straight flush and eliminate Lee as the third-place finisher.

Level 33 : 200,000-400,000, 50,000 ante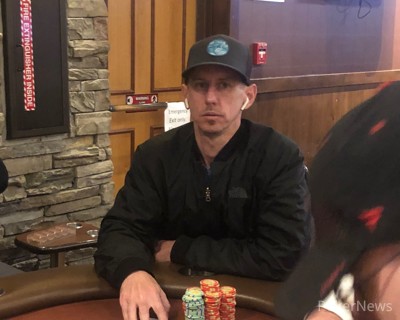 Stuart Brown saw action folded to him in the small blind and went all in for his last 1.8 million. Erasmus Morfe called in the big blind.
Stuart Brown:

Erasmus Morfe:
Brown was ahead but not for long as the flop came
, leaving him with three immediate outs to a double. The turn
took those three outs away as Morfe hit the nut straight, leaving Brown with the three remaining tens in the deck to chop via a straight coming onboard. Unfortunately for him, the river came
to leave him out of chips, making him the fourth-place finisher for a payday of $20,577.
Level: 33
Blinds: 200,000/400,000
Ante: 50,000

Level 32 : 150,000-300,000, 40,000 ante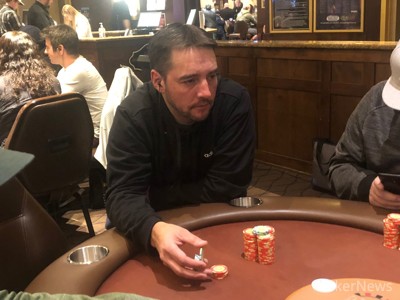 Benjamin Guzman opened to 850,000 under the gun and action folded around to Alex Kotliarsky, who defended his big blind. The flop came
and Kotliarsky checked. Guzman ripped in his remaining chips and Kotliarsky immediately called.
Benjamin Guzman:

Alex Kotliarsky:
Greg Gius came over from his final table of the nightly 7 p.m. event just in time to see his friend Kotliarsky make the call and put his hand on Kotliarsky's shoulder as if to congratulate him on a nice hand. There were still two more cards to fade though, but he had no sweat as the turn
and river
kept him with the best hand, eliminating Guzman from the tournament as a result. The two shook hands and went on with their business.

Level 32 : 150,000-300,000, 40,000 ante
Benjamin Guzman opened to 775,000 in the cutoff and was three-bet all in for 2.535 million by Wayne Lee on the button.
Guzman thought for about a minute and sent his cards to the muck, leaving him back below 10 big blinds while Lee now finds himself with around 4 million after increasing his stack by around 50% with the pot.