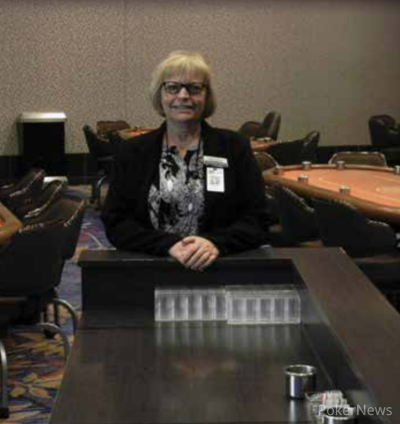 Grand Falls Casino & Golf Resort was granted an operator's license for a casino in May of 2010, which followed the passage of a referendum approving a gaming structure by the citizens of Lyon County, Iowa in September of 2008. Since then, the property has won a number of awards including Midwest Gaming and Destination Magazine 2016 Readers' Choice Awards for "Best Amenities," "Best Golf Course," and "Best Casino Personnel."
It also ranked as the second-best overall property in Iowa, second-best for amenities in the entire Midwest, and having the best golf course in the entire Midwest! As far as poker at Grand Falls is concerned, Renee Thomas, a mother of three and grandmother of two (not to mention her 3 lbs. Chihuahua that she claims runs the show at her house), is the woman spearheading the team that makes the action happen.
"I've been in the casino industry for 26 years in three states," Thomas tells MSPT Magazine. "I started out dealing
blackjack in South Dakota for a year before transferring to poker as a dealer. I became a supervisor there and then managed the room for three and a half years. After 10 years, I moved to Colorado and followed the same path of dealing, supervising and then managing the Lady Luck poker room for six years."
After Lady Luck, a sister property to Golden Gates Poker Renee Thomas Parlour (another MSPT stop) just down the street, Thomas set her sights on returning to the Midwest.
"As much as I loved Colorado, I knew that I would eventually want to move back closer to my family," Thomas explains. "A friend had told me about a casino possibly being built in Larchwood, Iowa so I started paying attention when the state was doing impact studies. When Grand Falls was hiring I came on board before the casino opened as a supervisor and assisted the poker manager in training poker dealers. I was promoted to poker room manager three and a half years ago."
Once in the driver's seat, Thomas helped bring one of the country's premier poker tours to the property.
"Our players look forward to the $1,100 MSPT every year," she says excitedly. "It's a great way for our local players to have the opportunity to satellite into a large tournament without having to travel. Because of our location we bring in players from multiple states and because of our amenities, many of them treat it like a mini vacation with their spouse."
Of course there's a lot of poker action to be had even when the MSPT isn't in town.
"Along with running the MSPT every August, our poker room runs three different tournament events each year as
well as low limit weekly tournaments," says Thomas. "We have the Fall Poker Series in November, our Poker Championship in March and our Summer Poker Challenge in June. I know every manager says that their poker room is friendly but ours truly is! We have such a great staff of supervisors, duals and dealers here at Grand Falls and we do our very best to take care of our player's needs from getting you a Resort Club card to calling the Big Drop to order your dinner."
While a strong player base from nearby Sioux Falls and experienced staff help make poker at Grand Falls a success, Thomas is also quick to credit the resort itself.
"Grand Falls Casino and Golf Resort has so much to offer our guests and it's a great destination for a mini vacation," she says. "You can relax at the spa or pool, play golf, shop in our boutique and then have dinner at Ruthie's, Robert's Buffet or the Big Drop."
*This post originally appeared in MSPT Magazine and is republished here with permission from the MSPT.