$360 MSPT ($150K GTD)
Day: 2
$360 MSPT ($150K GTD)
Day 2 Completed

Level 32 : 150,000/250,000, 40,000 ante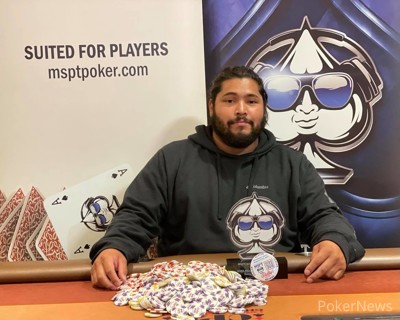 The Mid-States Poker Tour (MSPT) Black Hawk $360 Regional drew 998 entries over four starting flights with 144 players returning for Sunday's Day 2 to play down to a winner. Ten hours and a few minutes later, just three remained, and those three agreed to an ICM chop that resulted in Juan Perez taking the first-place trophy and accompanying top prize of $44,079. James Callanan finished second, earning $36,087, and Jeff Heiberg took third for a payday of $34,797.
A quick search of live results returns many players in the poker world with the name Juan Perez; however, none of them fit tonight's champion. After agreeing to the deal while holding more than half the chips in play, Perez acknowledged that this was the first live tournament of his career while taking winner's photos. A regular cash game grinder representing AJP Poker, Perez's wife convinced him to fire, a decision that ultimately saw him turn $360 into a figure more than 120 times greater.
Perez advanced from Wednesday's Day 1a, bagging a below-average stack of 111,000 with which he entered Sunday before beginning his ascent to the top. He called his wife after the first day of play ended to express how weird it felt to play for 10 full hours and not walk away with any net balance at the end of the session, whether profitable or not, but he made proper use of his three days away to come back recharged and ready to battle, and ultimately came out on top when all was said and done. After the tournament, Perez also wished to share some credit and a shout out to his friend and poker mentor, Doc August.
MSPT Black Hawk $360 Regional Final Table Results
| Place | Player | Prize |
| --- | --- | --- |
| 1 | Juan Perez | $44,079* |
| 2 | James Callanan | $36,087* |
| 3 | Jeff Heiberg | $34,797* |
| 4 | Cy Church | $18,862 |
| 5 | Vincent Moscati | $14,371 |
| 6 | Clayton Ruff | $11,078 |
| 7 | Brian Beck | $8,683 |
| 8 | Matthew Ludiker | $6,587 |
| 9 | Barb Visher | $5,389 |
*Denotes three-way deal.
Day 2 Action
When play began for the day, 144 players took their seats with the top 108 set to make it into the money. It took barely more than an hour for the necessary 25% of the field needed to fall in order to reach that mark, with the bubble bursting when Cy Church's pocket kings eliminated Ben Jensen's ace-five suited.
From there, eliminations kept coming at a frantic pace until the three-table redraw, more than three hours later. Noomis Jones (108th - $629 was the first to fall in the money, and players such as defending champion Erasmus Morfe (93rd - $659), Austin Peck (69th - $778), Day 1 overall chip leader James Rodriguez (52nd - $928), and Zach Gutierrez (33rd - $1,317) all found the payouts as the number of remaining players continued to shrink.
When the final three tables were reached, Joseph Gunn (10th - $4,192) led the way, building a big stack all afternoon after becoming the first player to reach 1 million. However, others such as Church, Heiberg, and Jordan Walker (15th - $2,934) then found themselves ascend to the top of the counts. Church and Heiberg stayed there through most of the remainder of the evening, while Walker saw his kings get cracked by Day 1c chip leader Matthew Ludiker's ace-jack when an ace came on the river.
Once Walker went out, it took just another 30 minutes for five more eliminations to occur, with Ben Keeline (14th - $3,593) and defending runner-up Alex Kotliarsky (12th - $3,593) headlining those eliminations. Kotliarsky found himself down to one big blind before spinning his stack back up to 1 million, only to lose with pocket kings to ace-queen when Barb Visher hit trip queens on the river. Visher then got Gunn moments later to take the field down to nine.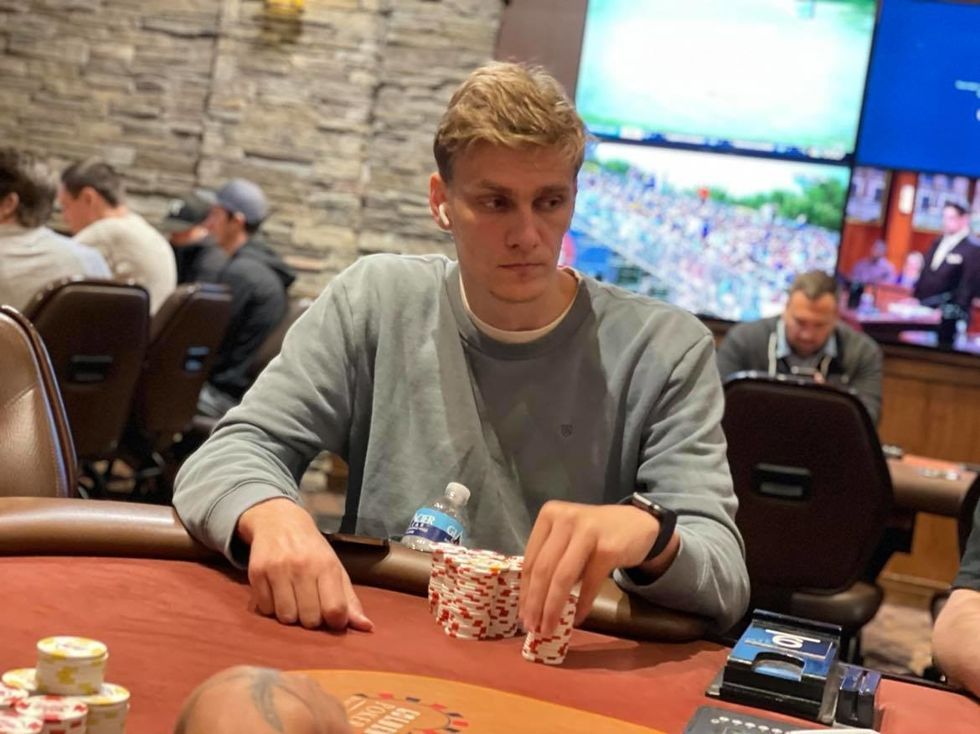 The Final Table
The first elimination of the final table came in the opening hands, when Visher ran queen-jack into the ace-jack of Church on a jack-high flop. Church then knocked out Ludiker moments later, with Brian Beck and Clayton Ruff following suit not long after. Five-handed play then ensued for a full level before Vincent Moscati lost a coin flip with king-queen versus Church's two sevens, with Church flopping quads to spell the end of Moscati's run.
During that time, Church was largely the one in command of the table, frequently initiating action as play continued. Nobody let him run them over, though Perez found himself the most fortunate of the remaining competitors. Before Moscati was eliminated, Perez check-jammed a ten-high flop with queen-jack against Church and received a call by ace-ten. A king on the turn, followed by an ace on the river gave him Broadway and put him above Church in the counts.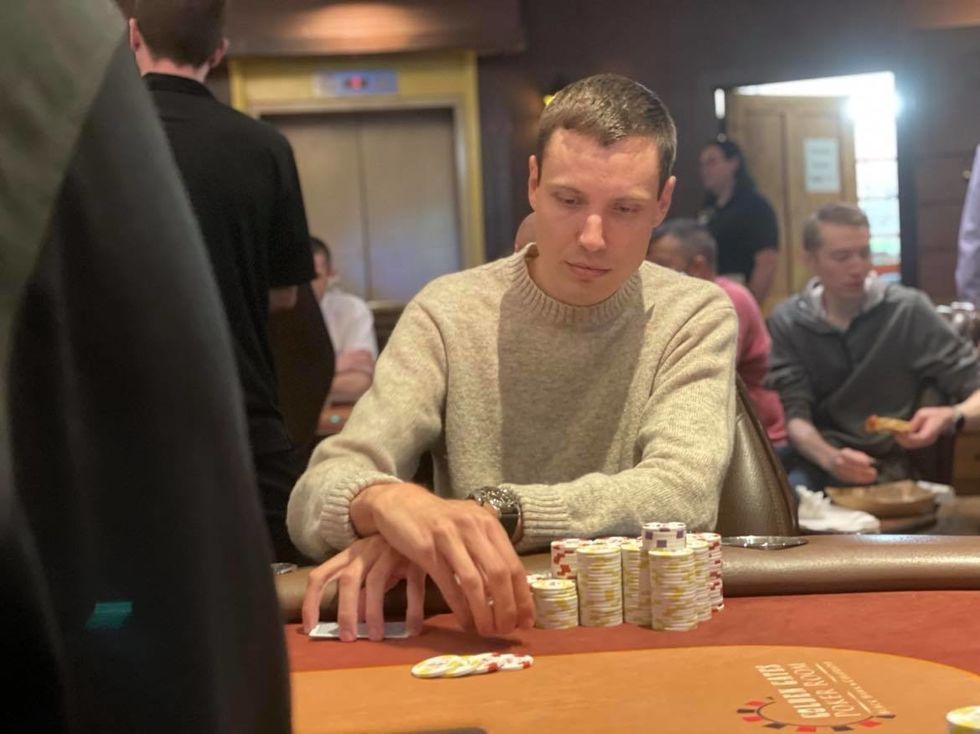 Then, Perez did Church in on the final hand of Level 32, which also proved to be the final hand of the tournament. Perez called in the small blind once more to an open from Church on the button, and then check-jammed again on a jack-eight-seven flop. Church called all in with pocket queens, but Perez had eight-seven suited and it held to eliminate Church in fourth. The tournament then went into a break, with the three remaining players discussing and ultimately agreeing to a deal that left Perez with the title and both other players locking up greater than second-place money.
PokerNews will be back at it on Thursday for the MSPT $1,110 Black Hawk Main Event, once again bringing you live updates on all the action. Until then, be safe, and be good.

Level 32 : 150,000/250,000, 40,000 ante
As soon as play returned from the break, all three players agreed to an ICM chop that will result in Juan Perez being crowned champion and taking home the trophy and $44,079 for his victory. Meanwhile, James Callanan earns $36,087 and Jeff Heiberg $34,797.
Stay tuned for a full tournament recap.

Level 32 : 150,000/250,000, 40,000 ante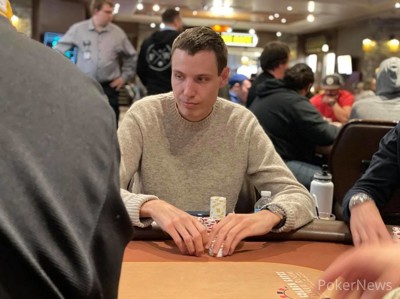 Cy Church opened the action with a raise to 550,000 and Juan Perez called in the small blind. The flop came
and Perez checked to Church, who continuation-bet 650,000.
"All in," responded Perez, and Church quickly called.
Cy Church:

Juan Perez:
Church's overpair had run into bottom two pair and failed to further improve as the turn
and river
completed the runout. Perez's stack was totaled to be just over 6 million and Church had a bit over 5 million.
"He's got me," said Church, sliding over his stack. The three remaining players all congratulated him on a tournament well played and he made his way over to the payouts desk.
As the hand completed, time ran out in Level 32, and the remaining three players are now on a 10-minute break.

Level 32 : 150,000/250,000, 40,000 ante
There was a limped blind-on-blind pot that saw a flop of
and Jeff Heiberg bet 600,000 in the small blind. James Callanan called in the big blind and the turn came
, where both players checked.
Heiberg fired out another 800,000 on the river
and Callanan thought for close to a minute before sliding out a raise to 2 million.
Heiberg immediately shot his cards to the muck: "Nice hand...I suppose," he added as Callanan raked in the pot.
Player
Chips
Progress

James Callanan

8,600,000

1,975,000

Juan Perez (CO)

6,850,000

600,000

Jeff Heiberg

5,800,000

-1,750,000

Cy Church

3,700,000

-2,050,000

Level 32 : 150,000/250,000, 40,000 ante
Jeff Heiberg opened to 600,000 on the button and was called by Cy Church, who defended his big blind. Church check-called 1.5 million on
to bring
onboard. Church checked again.
"All in," said Heiberg, pushing forward the majority of his 3.2 million thereafter. Church thought for a little while and then let his hand go.
Player
Chips
Progress

Jeff Heiberg

7,550,000

1,400,000

James Callanan

6,625,000

750,000

Cy Church

5,750,000

-2,050,000
Level: 32
Blinds: 150,000/250,000
Ante: 40,000

Level 31 : 100,000/200,000, 30,000 ante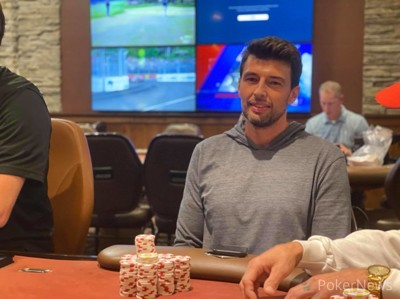 Cy Church pumped it up to 450,000 on the button and Vincent Moscati re-jammed for around 1.8 million in the small blind. Church immediately called and the two were off to the races.
Vincent Moscati:

Cy Church:
The race was over as quickly as it began, with the flop
giving Church quads. Moscati eventually improved to the second-nut flush as the turn
and river
completed the runout, but it was nothing more than a consolation prize for his fifth-place elimination.

Level 31 : 100,000/200,000, 30,000 ante
Cy Church opened to 450,000 on the button and received a call from Jeff Heiberg, who defended his big blind.
The flop came
and Heiberg checked to Church. He continuation-bet 350,000 and saw Heiberg check-raise to 900,000, which he called to bring the turn
. Heiberg then reached for chips.
"All in," he announced, sliding forward a stack of 3.2 million. Church thought for nearly four minutes and ultimately decided to release his hand, earning Heiberg the pot with his jam.

Level 31 : 100,000/200,000, 30,000 ante
Action folded around to James Callanan in the small blind, who completed. Cy Church then raised his option to 550,000 in the big blind and Callanan called. The flop fell
and Callanan checked to Church, who continuation-bet 450,000. Callanan called.
The turn came
and Callanan checked again. Church slid forward 1.2 million and Callanan thought for about five seconds before releasing his hand.