Main Event
Day 2 Completed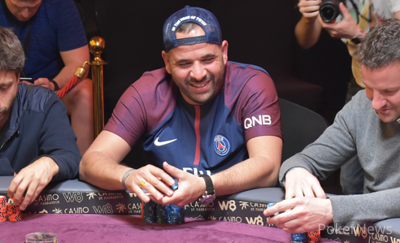 Day 2 of the Marrakech Wonder8 Main Event kicked off Saturday with 64 returning players in Casino de Marrakech. Twelve hours later, just nine players remain all with their eyes on the MAD 330,000 top prize (€30,421). Youssef Aananouche leads the field after putting 2,070,000 in the bag.
GRJ (Juan Galan), chipleader at the beginning of the day, managed to stay on top of the counts most of the day to reach the final 9 players, while Aananouche made a noticeable entry among the big stacks after a huge set up against Alexandre De Zutter with full house versus full house.
Local players Anas Tadini, second in chips with 2,050,000 and Najib Bennis with 655,000 look for a hometown crowd at tomorrow's final table. Tadini is a regular of the Casino and with $698,446 total live earning, represents a difficult opponent on the way to the title. Tadini's biggest score was in the FPS Mazagan Main Event in 2011 for $105,954. Bennis, who only cashed tournaments in Morroco, will try to catch here his third title.
| Seat | Player | Country | Chip Count |
| --- | --- | --- | --- |
| 1 | Emile Carette | France | 710,000 |
| 2 | Youssef Aananouche | France | 2,070,000 |
| 3 | Anthony Monin | France | 720,000 |
| 4 | Simon Abou Zaki | England | 565,000 |
| 5 | Anas Tadini | Morocco | 2,050,000 |
| 6 | Najib Bennis | Morocco | 655,000 |
| 7 | GRJ | Spain | 1,690,000 |
| 8 | Samir Tazi Mokha | United States | 505,000 |
| 9 | Azapl | Spain | 540,000 |
The unfortunate Karim Lehoussine made the bubble with
cracked by Emile Carette holding
, but left the tournament with a smile, and many eliminations followed quickly.
Among those to finish in the money on Day 2 were Bernard Guigon (MAD 14,000), Jaouad Abida (MAD 16,000), Nicolas Boton (MAD17,500), Pierre-Antoine Quignard (MAD 17,500), Alexandre Pouzet (MAD 24,000) and Jerome Zerbib (MAD 29,000).
Cards hit the air at 3 pm on Sunday and will feature a live stream on the Wonder8 Youtube channel. There will be a 30-minute delay and you can also follow live updates here on until a new Wonder8 Champion is crowned on PokerNews.
As the level 23 stopped, the tournament's director announced the end of the day and the players are bagging their chips. The tournament will restart tomorrow at 3 pm.
A recap of the day as well as the chipcounts will follow shortly.
Najib Bennis pushed his last 320,000 with
in his hand from the cut-off and Youssef Aananouch quickly called with
.
It was a desperate situation for Bennis, but a board
gave him the nut flush on the river as well as the needed double up.
Player
Chips
Progress

Youssef Aananouch

1,815,000

-820,000

Najib Bennis

715,000

385,000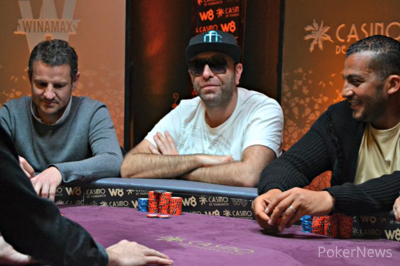 Simon Abou Zaki open-shoved from the cut-off for his last 365,000 and after a long tank, GRJ decided to make the call from the big blind.
Simon Abou Zaki:

GRJ:
It was a typical flip situation and the runout
gave a pair of aces to Abou Zaki to double up to a stack of 740,000.
It folded to Anas Tadini situated in the small blind who opened for 80,000. Najib Bennis moved all-in for a slightly bigger stack than Tadini and the latter called with a stack around 800,000.
Anas Tadini:

Najib Bennis:
Tadini had the dominating hand and the dealer brought a board
, giving the double up for Tadini who stood up from his chair from joy.
Player
Chips
Progress

Youssef Aananouch

2,635,000

GRJ

1,090,000

180,000

Najib Bennis

910,000

70,000

Emile Carette

850,000

-250,000

Anthony Monin

850,000

70,000

Anas Tadini

595,000

-5,000

Simon Abou Zaki

430,000

-190,000
Level: 23
Blinds: 15,000/30,000
Ante: 30,000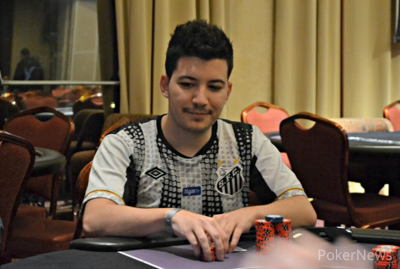 In a blind versus blind situation, Willerminho completed his small blind and Youssef Aananouch checked his option.
The flop fell
and Willerminho check-called Aananouch's bet for 30,000.
Things heated on the turn
. Willerminho checked and Aananouch fired a second barrel for 50,000. Willerminho pushed all-in for a stack of 200,000 and Aananouch snap-called.
Holding
for two pair, Willerminho was facing
in Aananouch's hand for a staright on the flop. The river
completed the board and Willerminho got eliminated from the tournament at 10th place for MAD 35,000 (€3,226).
Player
Chips
Progress

Youssef Aananouch

2,635,000

135,000

Willerminho

Busted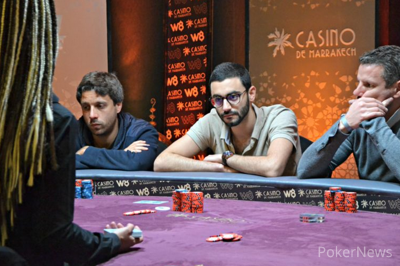 Youssef Aananouch opened to 60,000 and Mateo chose to push all-in for a stack worth 600,000. It came back to Youssef who made the call.
Holding
, Mateo was in good shape for a double up, facing
in Aananouch's hand, but the board gave the latter a straight thanks to
and eliminated Mateo at the 11th Place for MAD 35,000 (€3,226).
Player
Chips
Progress

Youssef Aananouch

2,500,000

100,000

Mateo

Busted