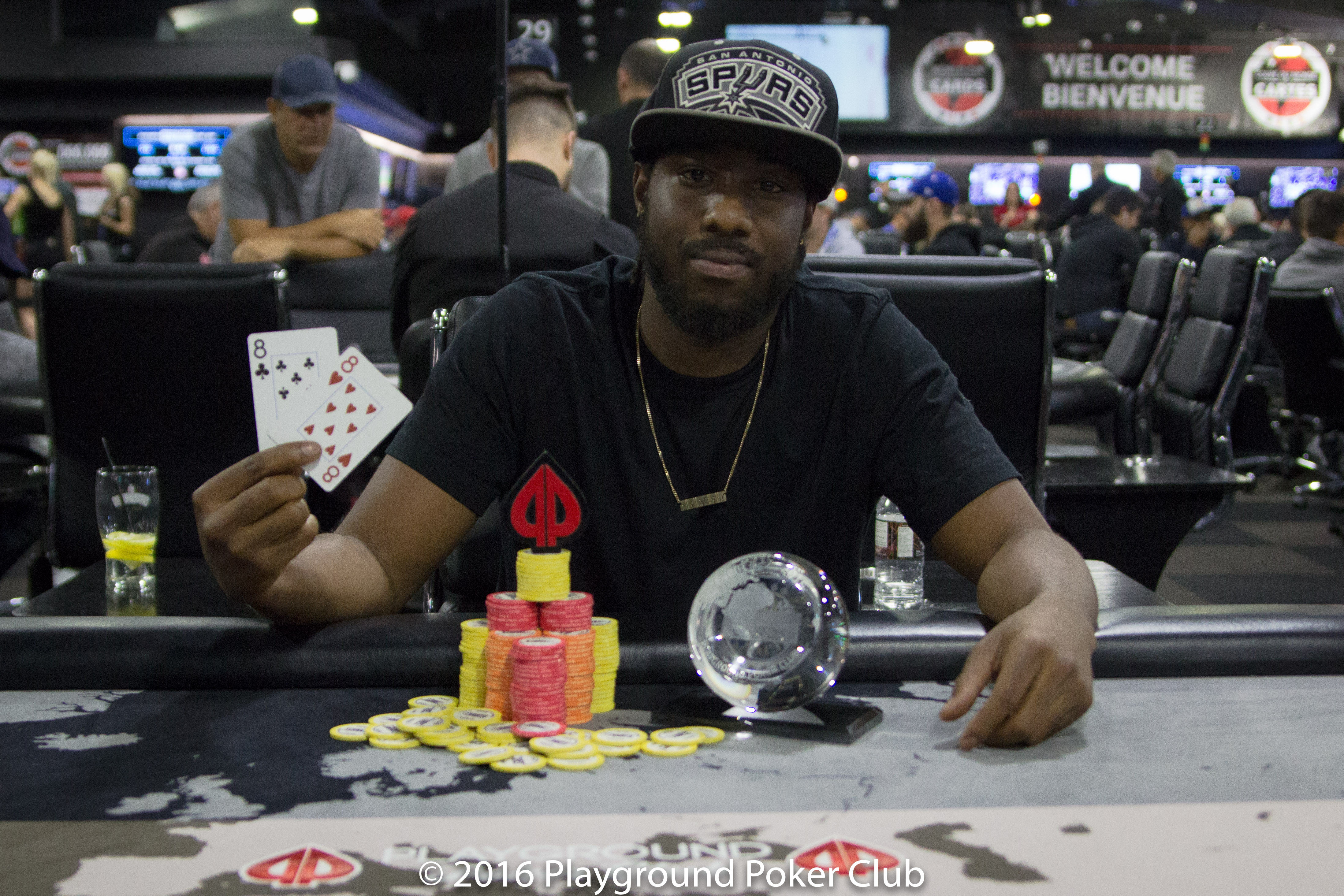 The penultimate event of Playground Poker Club's 2016 World Cup of Cards (WCC) has concluded and Jamal Stewart-McKenzie is the latest WCC champion. Stewart-McKenzie navigated a field of 85 players in Event #24: $110 NL Hold'em Freeze to capture the WCC champion's trophy and a top prize of $1,995.
A number of WCC notable players made the final table. Four-time WCC event champion Dave Jeanneau-Cyr made his sixth final table. Serial WCC final tablist Glen Hammers made another appearance, and Carrie Webster made her first WCC final table.
With a total prize pool of $8,245, just the top nine were to be paid. Once a 10-haned final table set, the remaining players decided to remove $100 from the first place prize and pay the bubble. The eliminations at the final table were swift and with shallow stacks, the final four players agreed on a four-way even chop, leaving the trophy and some added prize money for the eventual champion.
Final Table Results:
| Place | Name | Prize (CAD) |
| --- | --- | --- |
| 1 | Jamal Stewart-McKenzie | $1,995 |
| 2 | Borislav Angelov | $1,300 |
| 3 | Ghislain Pigeon | $1,300 |
| 4 | Glen Hammers | $1,300 |
| 5 | Amir Majidi | $720 |
| 6 | Matt Ranger | $550 |
| 7 | Dave Jeanneau-Cyr | $420 |
| 8 | Pierre-Luc Audet | $320 |
| 9 | Karam Saleh | $240 |
| 10 | Carrie Webster | $100 |
A double knockout kicked things off into high gear at the final table. Karam Saleh open-shoved with pocket kings, receiving calls from Ghislain Pigeon with pocket eights, and Carrie Webster in the big blind with ace-queen. Pigeon had them both covered, and an eight on the river sealed both of their fates. Saleh and Webster out chipped, getting the better payout.
Just a few hands later, Pierre-Luc Audet called off an Amir Majidi preflop shove, putting himself at risk. Audet found himself dominated, holding ace-seven to Majidi's ace-nine. The nine kicker would come into play and Audet departed in seventh.
After losing a monster pot to Jamal Stewart-McKenzie, Dave Jeanneau-Cyr was left crippled and got his remaining chips in the middle in a three-way all-in involving Borislav Angelov and Matt Ranger. All very intensely close in chips and Angelov would prevail when his ace-seven caught a pair of sevens, besting Ranger's ace-queen and Cyr's jack-three. Cyr was eliminated and Ranger was left with less than a small blind.
Ranger would fall shortly after at the hands of Glen Hammers. Majidi was looking for a double up when he got all-in with king-nine against Pigeon's pocket fives. The fives would hold and Majidi would earn a fifth-place finish. The final four reached an agreement to chop up the prize money and play resumed.
Hammers picked up pocket kings and got his stack in the middle against Borislav Angelov's ace-five. Unfortunately, an ace fell on the flop, followed by two fives, giving Angelov a full house by the river, and Hammers was busted.
After an uncanny amount of all-ins between the final three, resulting in the shorter stack doubling up every time, Angelov was finally able to crack the trend and bust Pigeon. Pigeon open-shoved with jack-ten and Borislav called with king-jack of hearts. Pigeon flopped a ten, but Borislav spiked a flush on the river to set up a heads-up battle with Stewart-McKenzie.
The two exchanged several double ups and suck outs before Stewart-McKenzie was able to seal the deal. Stewart-McKenzie crippled Angelov in a massive pot when his king-eight spiked trip eights on the river, besting Angelov's flopped pair of nines. A couple hands later, Angelov shoved with
and Stewart-McKenzie woke up with
. A
board was the result and Stewart-McKenzie grabbed the extra cash on top, and the WCC champion's trophy.
PokerNews will be here till the very end of the festival, bringing you all the news, updates, and photos. Follow @pokernews on Twitter for live updates, Periscope broadcasts, and more. Also, follow PokerNews on Facebook and Instagram.