$10,000 No Limit Hold'em Championship
Day 1 Completed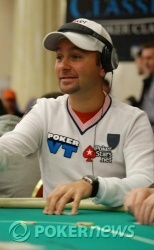 And so we've come to the end of Day 1 at the L.A. Poker Classic. It was a trying day on a number of levels for a number of people, not the least of which were the 40% of the field who didn't make it to the bag-and-tag portion of the day. Counted among their ranks are Chino Rheem, Erick Lindgren, Scotty Nguyen, Kathy Liebert and John Juanda.

This field was loaded with poker talent, so it's not a surprise that the overnight chip leader comes from among their ranks. In a field with more than 400 players remaining, it's tough to be sure who the overnight chip leader is, but our scan of the tables didn't reveal anyone with a bigger stack than Daniel Negreanu's 140,000 chips. That's well above the chip average of roughly 34,000. We'll post a final list of the counts of all survivors once that information has been logged by the tournament staff and made available to the media.

Tomorrow we will play another five levels. Action kicks off at noon local time. See you then!
With fewer than ten minutes remaining in the day, play has settled down. Most players are content to sit on their stacks and come back refreshed tomorrow.
Josh Arieh's stack has been floating in the teens all day. He recently raised opened a pot for 600 and was called by a player in late position and J.C. Tran from the big blind. Tran checked a flop to
to Arieh, who fired out 1,300. Only the late-position player called.
Both men checked the
turn. When the river fell
, Arieh tried a bet of 1,800. His opponent quickly called, causing Arieh to knock the table, "Good hand." He flashed a missed flush draw,
; his opponent took the pot down with
.
Arieh has 15,000 chips after that loss.
Tournament Director Matt Savage just announced that there are 450 players remaining in the tournament spread across just 50 tables.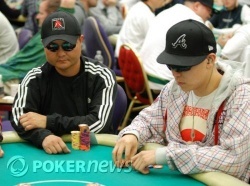 Few would argue that Jerry Yang is one of
the
most gentlemanly guys in poker, even in times of adversity as we witnessed during a hand that ran well into the last break.
Yang opened the pot with a raise to 800 from the cutoff and Steve Sung kicked it up a notch to 2,600 from the button. Both blinds surrendered and Yang made the call, sending the action heads up to the flop, which came
. Yang then fired a bet of 4,000 which was called by Sung, sending us to the turn:
.
12,000 was what Yang charged Sung to see the river and Sung made the call, leaving himself just 15,000 behind. When the river delivered the
, Yang moved all in putting Sung to a decision for all of his chips.
At this point in the hand, Sung tanked for what seemed like an eternity; so long, in fact, that the dealer had to abandon the table for reasons unknown and a floorperson stepped in to finish out the hand. Without actually calling the clock, Yang explained to Sung that he felt he'd been extra patient and was
considering
doing so. A bit of inaudible dialogue was exchanged between the two and in the end, Yang did ask the dealer... er... floorperson... for a clock, only to watch Sung slam his cards into the muck and storm out of the room.
After the hand, Yang climbed to about 64,000 in chips while Sung dropped to 15,000.
Level:

6
Blinds:

150/300
Ante:

25
Cards are back in the air. This is the last level of the night!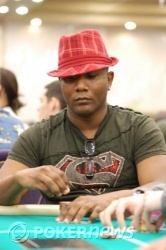 ...we thought we'd catch you up to date on some of the happenings during the last fifteen minutes of Level 4:
* Dan Shak tank-folded to a bet of 4,000 from Phil Laak into a pot of 3,000 on a board of
. Afterwards, Shak asked Laak if he was bluffing.
"Would king-ten of diamonds be a bluff?" Laak replied.
"You didn't have king-ten of diamonds," Shak stated flatly.
"It's true, I never stated I had it," said Laak. "I just asked if it would be a bluff."
* Bertrand "ElkY" Grospellier has amassed a stack of 91,000 today by winning pots like the following. In position, he was one of two people to call a raise to 600. Everyone checked a flop of
. When the turn fell
, the preflop raiser took a stab at the pot with a bet of 1,100. Only ElkY called. On the river
, the preflop raiser again checked. ElkY made a value bet of 2,250 and revealed
, a pair of aces, after his opponent called. It was the winner.
* Hoyt Corkins is on his third table of the day. He's landed at Ray Davis' table. We noted with some amusement as Davis was carrying on in his usual loquacious style, that Corkins is wearing earplugs.
Players are on their last fifteen-minute break of the night.