$10,000 No Limit Hold'em Championship
Day 5 Completed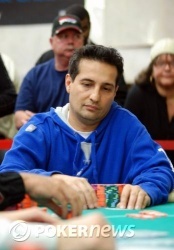 Almost a full twelve hours after the first hands of the day were dealt here on Day 5, our final table has officially been set. Listed below according to tomorrow's seat assignments, here are your 2009 L.A.P.C. final tablists:

Seat 1 - Chris 'Jesus' Ferguson - 1,565,000
Seat 2 - Cornel Andrew Cimpan - 1,740,000
Seat 3 - Pat Walsh - 2,215,000
Seat 4 - Chris Karagulleyan - 4,080,000
Seat 5 - Mike Sowers - 2,045,000
Seat 6 - Binh Nguyen - 1,895,000

Chris Ferguson is the clear headliner at tomorrow's final table, though pros Mike Sowers and Chris Karagulleyan will certainly make Ferguson's road toward claiming his first ever WPT title a long and winding one. Karagulleyan's got the chips, but Ferguson's got the experience. It's going to be a battle to say the least.

Tune in tomorrow at 4:00 p.m. local time for our continued coverage of the 2009 L.A.P.C. Main Event; a new champion will be crowned.

Until then, good night and good luck!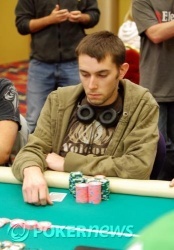 Everyone knew it was going to take two big hands dealt simultaneously to end play today. We finally got those two hands. Blake Cahail opened for 150,000 in front of Chris Karagulleyan, who re-raised to 600,000. All other players passed back to Cahail, who moved all in. Karagulleyan quickly called.
Cahail:
Karagulleyan:
Karagulleyan had Cahail covered and had the best hand. There was no ace and no hearts on a flop of
. The turn
was a total blank, leaving Cahail looking for an ace on the river. He didn't get it; the river fell
, eliminating Cahail in 7th place. He earned $180,403, and with his elimination Day 5 is done.
Mike Sowers - 2,900,000
Cornel Andrew Cimpan - 2,500,000
Chris Karagulleyan - 2,100,000
Pat Walsh - 1,650,000
Blake Cahail - 1,500,000
Chris Ferguson - 1,425,000
Binh Nguyen - 1,400,000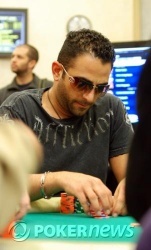 This is what it takes to get an elimination at this point in the tournament. Payman Arjang opened from the button for 170,000. Action passed to Chris Karagulleyan in the big blind, who reraised to 655,000.
"What are you doing?" Arjang asked. "You know I'm not going to raise your blind without a hand." Arjang agonized over the decision for several minutes. He has been taking several minutes to make each decision recently. The players complained to TD Matt Savage and asked for a clock on Arjang.
After thirty seconds had elapsed, Arjang called, leaving himself about 125,000 behind. Karagulleyan was first to act after the flop, so he bet 200,000 in the dark before the flop came down. Arjang called dark, and so the hands were opened.
Arjang:
Karagulleyan:
Several players and railbirds were completely dismayed to see an ace hit a flop of
. When the turn fell
, it seemed another double-up was imminent. But the room -- and especially the dozen or so players on Chris Karagulleyan's rail -- exploded in a roar when the dealer found the
as the river card. That river made a set of kings for Karagulleyan, enough to overtake Arjang's pair of aces.
Arjang walks away with $133,632 for his eight place finish. We are now one elimination away from ending play.
Level:

29
Blinds:

30,000/60,000
Ante:

5,000
Cards are back in the air.
Improbably, we have reached the end of Level 28 and the next fifteen-minute break. Not a single player was eliminated that level.
In what should come as shocking news to nobody who's been following the coverage throughout the course of the day, another short stack has doubled up. Blake Cahail opened the action preflop by raising to 125,000. Mike Sowers called from the button and Chris Ferguson called from the big blind. Ferguson and Cahail both checked when the flop came down
. Sowers fired out a bet of 250,000, folding Ferguson, but Cahail responded by moving all in for more than two million chips.
Sowers didn't take long to call all in for a total of 1.15 million with
. He was up against Cahail's
, an overcard and the nut flush draw. The turn and river blanked
and
, giving Sowers a huge double-up. He now has 2.675 million in chips; Cahail is down to 1.7 million.
Today has been a day for the short stacks. They continue to double up. Payman Arjang was the latest player at risk of elimination when his preflop all-in bet was called by Chris Karagulleyan. Arjang had a dominating preflop hand,
against Karagulleyan's
. Neither player connected with the
flop or the
turn. Karagulleyan was momentarily elated to see the
hit the river, thinking it had made him a flush. But there were only two hearts on the board; Arjang's pair of aces doubled him up.
Which short stack will be the unlucky one who doesn't double up? Inquiring minds want to know.