$10,000 No Limit Hold'em Championship
Day: 6
$10,000 No Limit Hold'em Championship
Day 6 Started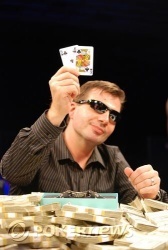 "Mr. Simpson, this is the most blatant case of false advertising since my lawsuit against The Never-Ending Story," Lionel Hutz, the shady lawyer on the television show The Simpsons, once said. He might have been talking about this final table.

At the end of an epic battle that took a full five previous days of poker, and ten-and-a-half hours and more than 300 hands tonight alone, Andrew Cimpan emerged victorious from a field of 696 runners. His reward is a bracelet, a trophy, an entry into the $25,000 WPT season finale at the Bellagio -- oh, and $1,661,260 in prize money.

"We witnessed one of the most amazing final tables in the history of the tour tonight, I can tell you that," said WPT host Mike Sexton before the presentation of the trophy to Cimpan.

Binh Nguyen was brought back on the set to a huge round of applause from the gallery. Both he and Cimpan played their hearts out at this final table; luck was just not on Nguyen's side today. Sexton talked with both at the end of a long night.

"We all know what heartbreak you suffered at this poker table tonight," Sexton said to Nguyen. Nguyen thanked Sexton for his sympathy. He explained that this was his first WPT event ever and had absolutely no expectations whatsoever. A second-place finish is not bad at all.

Cimpan, for his part, was short-stacked since the start of Day 5. "You have to feel pretty good right now," Sexton told Cimpan.

Cimpan just nodded his head. "Yeah, I feel pretty good."

"You don't have to get too excited about it," replied Sexton. "It's only $1.6 million."

"It hasn't hit me yet," Cimpan conceded.

After the ceremonial end-of-the-tournament toast that is a signature of the World Poker Tour, the television production -- and the night -- was finally at an end.

Be sure to join us late next week for coverage of an event that has quickly become a perennial favorite for poker fans across the world -- the NBC Heads-Up Invitational from Caesars Palace in Las Vegas, Nevada. Until next time, may all your cards be live and your pots be monsters!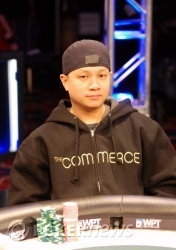 I feel bad for Binh Nguyen. Really I do. I've lost count of the number of times he had Andrew Cimpan all in with the worse hand. Nguyen seemed to know, on the final hand, when he once again tabled the best hand but was the one at risk of elimination, that Cimpan would find a way to do it again. It was simple preflop action; Cimpan moved all in and Nguyen called all in for less.

Cimpan:

Nguyen:


Nguyen just had this look on his face, as if he knew what was coming. He was right to be dejected; the flop of
paired Cimpan's five without making a pair for Nguyen. The
that fell on the turn didn't help Nguyen either. When the river fell
, Nguyen was eliminated in second place. He gave a very brief, unenthusiastic hug to Cimpan and then shook his head as if to say, "What does it take?"

At least Nguyen will walk away with $935,424 in prize money.
2:23am -- 300!

No, not a reference to a historical battle; just a reference to the number of hands that have been played so far at this final table.


2:21am -- Back to Normal

Binh Nguyen feels he has enough chips now to make standard raises to 575,000 once again. Cornel Andrew Cimpan is following suit. He raised preflop to 625,000 but couldn't entice a call from Nguyen. Cimpan showed
.

"Two aces he showed," announced TD Matt Savage. "Those are no good for sure."


2:17am -- Don't Look Now

Binh Nguyen is up to about four million in chips.

The hand after TD Matt Savage announced that, Cornel Andrew Cimpan raised preflop to 10 million, drawing peals of laughter from the crowd. We're not even sure Cimpan had that many chips to raise, but it didn't matter. Nguyen folded.


2:12am -- Nguyen Chipping Up

A series of preflop all-in raises from Binh Nguyen have gone uncalled by Cornel Andrew Cimpan. He's managed to chip back up to about three million as a result. That's not much at blinds of 125,000 and 250,000, but it does give him a little bit of breathing room.

2:05am -- Nguyen Not Out Yet

The very next hand, a dejected Binh Nguyen moved all in. Cornel Andrew Cimpan called quickly. Nguyen opened
, a hand in the lead over Cimpan's
. Six-deuce, you ask? Well, sure, it's no four-deuce. Yet Nguyen was incredibly short and Cimpan can do no wrong. Why not take a shot? Nguyen paired his nine on a flop of
, but the
was yet another sweat card as it gave Cimpan an improbable gut-shot straight draw. This time, Cimpan didn't hit. The river blanked
to give Nguyen a small double-up.


2:00am -- Just Another Double-Up for Cimpan

The action happened so fast, it took the crowd a second to realize what was going on. Binh Nguyen opened with a raise to 575,000. Cornel Andrew Cimpan moved all in and Nguyen snap-called. Cimpan was the player at risk of elimination, and he had the worse hand. He showed
against Nguyen's
. With the stage properly set, the dealer burned and turned a flop:




Nothing has come easy for Nguyen in heads-up play. The flop gave Cimpan some help, as it made him a pair of fours. That wasn't enough to overcome the pair of tens held by Nguyen, however. On to the turn we went. It was the perfect sweat card, the
. That built tension in the room to a fever pitch. Cimpan, the "Bad Penny," needed a four, an ace, or a heart to stave off elimination (again!). There was a collective sucking of breath as the dealer revealed the river...




Pandemonium erupted in the upstairs ballroom again! This time it was punctuated by disbelieving laughter from almost everyone except Binh Nguyen. He was crippled by this loss. At this point, he must think that God hates him.
1:55am -- Nguyen Folds to Pressure on Four-Flush Board Again

On a flop of
, Binh Nguyen check to Cornel Andrew Cimpan, who bet 500,000. Nguyen called. Both players checked the turn after it came
. The river put a fourth spade on the board, the
.

Somewhere in the not-so-distant past, Nguyen had bet a four-flush board as first to act and then folded to a raise from Cimpan. History repeated itself in this hand, with Nguyen betting 500,000 and then folding to a raise to 1.5 million from Cimpan.


1:51am -- For Those Who Like to Keep Track of Those Sorts of Things

The limits are up to 125,000 and 250,000. The average stack is 6,960,000, or roughly 28 big blinds.

There are no antes for heads-up play at Commerce Casino.

It's been more than four-and-a-half hours since Mike Sowers was eliminated in third place.


1:48am -- Cimpan's Knaves Are Enough

Look, I'm not going to lie. The hour is getting very late, and the action hasn't been scintillating. I can't tell you how Binh Nguyen and Cornel Andrew Cimpan got to the river on a board of
. I do know that Cimpan bet 400,000, which makes me suspect it was a limped pot that checked all the way down. Nguyen called, and was shown
by Cimpan for two pair, jacks and eights. It was a winner.


1:45am -- Play Resumes

We were on another tape-change break, but play just resumed.
Level: 35
Blinds: 125,000/250,000
Ante: 0
Binh Nguyen - 8,250,000
Cornel Andrew Cimpan - 5,650,000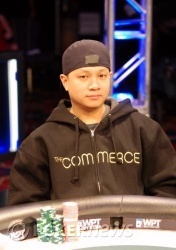 1:30am -- Programming Note

Last call is in 15 minutes (yeah, California is.. unfortunate... in that regard). Place your cocktail orders now.

1:25am -- Nguyen Good to the Last Card

I'm out of words to describe the ridiculously amazing river beats we've witness over the course of the six... er, seven days of this tournament. Binh Nguyen just open-shoved preflop with
and was called by Cornel Andrew Cimpan, who showed
. Everything was looking good for an end to the tournament with the
and the
turn. Cimpan needed to dodge an eight, a three, and a five on the river. Only the fives were especially problematic. The dealer burned and turned... the
! The gallery erupted in roars of disbelief both pro and con. Nguyen's supporters were obviously happy; everyone else roared in a sort of "AYFKM?" kind of way.

Nguyen's the chip leader. Again. Play continues. Some more.


1:22am -- Savage Getting Punchy Too

"This is now a seven-day tournament," TD Matt Savage just quipped. Yes, folks. The hour is late.


1:20am -- Wow, Really?

A raised pot between Binh Nguyen and Cornel Andrew Cimpan reached the turn. With the board showing
, Cimpan made it 700,000 to go. Nguyen raised him to 1.7 million, then improbably folded to an all-in bet from Cimpan.

The very next hand, Nguyen raised to 500,000 from the button and then released his hand when Cimpan announced he was all in.


1:11am -- The Natives Aren't Restless, They're Dead

Binh Nguyen opened for 500,000 preflop in front of Cornel Andrew Cimpan, who moved all in. There was hardly a reaction from the audience to that development, a sure sign that we have reached the point where people just want this thing to end. Nguyen folded.


1:07am -- You Thought the Action was Slow BEFORE...

Now that Binh Nguyen has lost the chip lead, and Cornel Andrew Cimpan remains committed to his small ball approach, play has ground down even further. Nguyen has actually folded his button a few times recently, which hadn't happened at all when he had the chip lead.

Most hands are now limped, with a single bet taking the pot down somewhere after the flop.
12:54am -- How *DO* You Get Rid of a Bad Penny and Keep It From Coming Back?

Binh Nguyen opened for 500,000, then snap-called after Cornel Andrew Cimpan moved all in for more than 3.0 million chips.

Nguyen:

Cimpan:


For the second time, Nguyen had Cimpan all in with the worse hand. Nguyen's supporters were chanting his name as the dealer burned and turned a flop of
, pairing Cimpan's king! How does he do it? The guy runs so good! He improved again with the
that hit the turn, making an unbeatable trip kings. The river
completed the board, ensuring that Cimpan would once again double up. He is now the chip leader.


12:50am -- Cimpan Bored Again?

Last time Cornel Andrew Cimpan moved in preflop two hands in a row, it was right after he told the crowd he was bored. He moved in after Binh Nguyen opened to 500,000, the second time in a row he's done so. Nguyen asked for a count (3,300,000) but opted not to call.


12:48am -- Again, Cimpan All In But Gets No Action

Binh Nguyen made his new standard raise to 500,000. Cornel Andrew Cimpan moved all in, bringing some whistles from the crowd, but Nguyen folded. Cimpan flashed
.


12:43am -- New Level, New Style?

Andrew Cimpan was first to act and, oddly enough, raised to 600,000. There was no call from Binh Nguyen.

Meanwhile, the rail is really getting punchy. A few started whistling the Jeopardy! theme music, and all cheered uproariously when Binh Nguyen raised the next hand to 500,000, breaking his pattern for the last 90 minutes of raising to 375,000. Of course, with blinds at 100,000 and 200,000, a raise to 375,000 is not a legal raise at this point.


12:38am -- Cimpan's Turn

Cornel Andrew Cimpan and Binh Nguyen limped into a flop of
. Nguyen check-called 250,000, then check-folded to a bet of 500,000 when the turn fell
.


12:32am -- Back and Forth, Back and Forth

We seem to be at a standstill, with neither player able to string together a few pots necessary to change the tide. It was Binh Nguyen's turn to take a pot down. He did it by check-raising Cornel Andrew Cimpan on a
board from 200,000 to 600,000.


12:28am -- Cimpan's Brave Turn Call Produces Results

Binh Nguyen's button brought the standard raise to 375,000. Cornel Andrew Cimpan called for a flop of
, which both players checked. On the
turn, Cimpan checked and then called another 375,000 from Nguyen. Both players checked the
river. Nguyen showed ace high,
, a hand that was beaten by Cimpan's
with a rivered pair of deuces.


12:25am -- Ten Million Chips

Binh Nguyen's chip stack is once again north of 10 million. He took a limped flop of
with Cornel Andrew Cimpan. Both players checked to the
turn, where Nguyen check-called a bet of 250,000. The action on the
river went check, check, with Nguyen tabling
for a pair of sevens and the winning hand.
Level: 34
Blinds: 100,000/200,000
Ante: 0