$10,000 No Limit Hold'em Championship
Day 2 Completed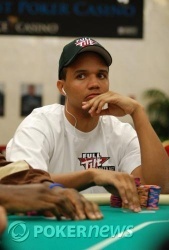 The robotic voice belonging to Commerce's uber-modern tournament management software has just instructed each table to play one last hand before we call it a day. Following that announcement, human Tournament Director Matt Savage hopped on the mic to make it official; Day 2 is a wrap.

The unofficial tally of remaining players is 170; we won't get an actual figure from the Commerce crew until the bag and tag process has concluded. Today saw the WPT's own Antonio Esfandiari soar to the top of the leaderboard early on and it looks as though he'll maintain the overnight chip lead, slightly ahead of newcomer Kofi Farkye. By our end-of-day estimates, Esfandiari has approximately 405,000 heading into Day 3, while Farkye will return to the felt with right around 390,000 in chips.

Several big names were sent packing throughout the day, including but not limited to, Phil Hellmuth, Erik Seidel, Kevin Saul, David Oppenheim, Amir Vahedi, Mike Matusow and Gavin Griffin. Among those who'll be back for tomorrow's Day 3 action include last year's LAPC champ Phil Ivey, Bertrand "ElkY" Grospellier, Haralabos Voulgaris, Jeff "ActionJeff" Garza, Paul Wasicka, Chris Ferguson, and Mike Sowers.

Tune in at noon local time tomorrow for our continued live coverage of the 2009 LA Poker Classic from the Commerce Casino in Commerce, California.

Until then, good night and good luck!
With a little under 16 minutes remaining in the level, there are 187 players remaining in the field and the average chip stack is 74,439. At the conclusion of the current level, the remaining players will bag and tag their chips marking the end of Day 2 play.
Kofi Farkye is sitting behind 375,000 after eliminating Kevin Saul. The two apparently got into a pissing contest on a king-rag-rag flop. Since they were about even in chips with approximately 180,000 each and the board was fairly dry, Saul must have thought there was no way Farkye would call his all-in bet after Farkye had made a big reraise. He was wrong. Farkye called with with
and was in the lead with top pair. Saul showed
, a hand that had not connected with the board in any appreciable way. The turn was a
that at least gave Saul outs to a gutshot straight, but he missed the river.
When the stacks were counted down, Farkye had Saul covered by about 12,000 chips. His new count is 375,000; Saul is out of the tournament.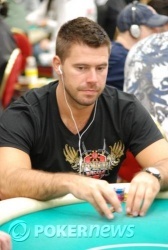 Nenad Medic didn't seem pleased to be paying off his opponent. The count was 17,100, with Medic's opponent tabling
on a board of
. That payoff, combined with a pot of about 40,000, meant that 75,000 total chips were shipped to Medic's opponent. Medic himself retained about 35,000.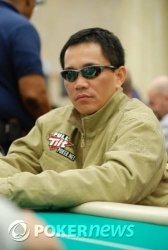 On tables at opposite ends of the room, Toto Leonidas and Antonio Esfandiari each doubled up an opponent. Leonidas called a shorty's all-in with
on a board of
; his opponent showed
for a set of fives that held up through the
turn and
river. It was only a hit of 20,700 for Leonidas; he still has about 124,000.
A few minutes later, chip leader Antonio Esfandiari bet 23,000 on a flop of
. His opponent moved in for 40,800 total and was quickly called by Esfandiari. They were both on draws; Esfandiari had the inferior hand with
against his opponent's
. The
on the turn meant that Esfandiari could only chop the pot; he lost it all when the river blanked
.
Don't cry for Antonio. He still leads the field with approximately 400,000 chips.
Down to as few as 11,000 in chips earlier in the day (11,000 was the lowest we counted him at anyway), Isaac Baron has fought his way back up to 52,000 after recently eliminating an unknown opponent.
A player in early position limped into the pot for 1,000 and when the action got around to Baron in mid-late position, he kicked it up to around 4,000. Action then folded around to the big blind, who moved in for what looked somewhat like a smallish 15,000.
"If I call, he can't reraise, right?" asked the limper of Baron.
"No," several at the table replied, including Steve Paul-Ambrose who was sitting to Baron's immediate left.
No matter, the limper folded and left Baron alone to challenge the all-in player, which he did, tossing the additional amount across the betting line before tabling
; his opponent was in bad shape with the
.
The board ran out a safe
for Baron, whose Big Slick held up to win him the pot and eliminate his opponent.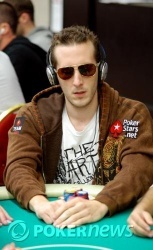 Bertrand "ElkY" Grospellier did something that few can do -- he silenced the garrulous Phil Laak. Action folded to a short-stacked Laak on the button, who opened for 2,600. Grospellier reraised to 8,000 from the big blind after the small blind ducked out of the way. Laak instantly moved his whole stack into the middle, about 25,000 total. Grospellier called just as quickly.
Laak:
Grospellier:
Laak gritted his teeth upon seeing Grospellier's hand. The board improved neither player, running out
. As Grospellier stacked 194,000 total chips, Laak wordlessly stood up, grabbed his backpack and exited the ballroom through a side door.
Level:

11
Blinds:

500/1,000
Ante:

100
Cards are back in the air. This is the final level of the night. A bit more than half of the players who started the day remain in the field.