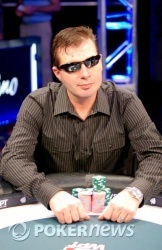 Mike Sowers has become quite active over the course of the last dozen hands. He recently raised again, this time from middle position and to 200,000. Cornel Andrew Cimpan was in the small blind and called to a flop of
. He checked to Sowers, then called again after Sowers bet 325,000.
Both players checked the
turn. When the river fell
, Cimpan checked again. Sowers didn't hesitate to fire 520,000. Cimpan took about a minute before calling, giving us a rare showdown.
Sowers:
Cimpan:
An excellent call by Cimpan, sniffing out a stone bluff from Sowers! Cimpan's two pair, kings and sevens, were the winning hand, propelling him to roughly 3.0 million in chips.