Main Event
Day 3 Completed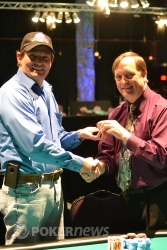 The World Series of Poker Circuit Main Event at Harrah's Tunica continued on Tuesday with the final table of a 480-player field. The remaining nine players were not only competing for the first-place prize of $148,612 and a gold circuit ring, but also a guaranteed spot in the WSOP-C National Championship $1 Million Freeroll in May at Caesar's Palace Las Vegas. After seven hours of play, it was Sam Barnhart of Little Rock, Arkansas who emerged victorious and become the WSOP-C Harrah's Tunica Main Event Champion.
The first elimination of the day came when action folded to Kurt Jewell, winner of the circuit Main Event in Hammond, in the small blind and he shoved. John Holley called all in for about 360,000 in the big blind and tabled
, while Jewell showed
. The board ran out
, giving Jewell a flush, and Holley was eliminated in ninth place, earning $13,789 for his efforts.
Not long after, the two big stacks tangled and created a monster pot. It happened when action folded to Jewell in the hijack and he raised to 68,000. Sam Barnhart made the call from the cutoff while John Nguyen decided to reraise to 250,000 from the button. After the blinds folded, Jewell played back at Nguyen with a raise to 468,000. Barnhart wisely got out of the way and Nguyen made the call, creating a pot worth nearly one million. The flop came down
, Jewell immediately bet out 368,000, Nguyen called, and the dealer proceeded to burn and turn the
. Jewell check-called a bet of 550,000 from Nguyen and then both players checked the
river. Jewell showed
for queens and fours with an ace kicker. Nguyen mucked, dropping all the way down to just 800,000, while Jewell took down the massive pot and chipped up to 4.7 million, nearly half the chips in play.
From there, an unbelievable turn of events has transpired, one that could be considered the biggest downfall in WSOP-C history. Over the course of 90 minutes Jewell proceeded to double short stack after short stack. After being down to 2.3 million, Mary Harden raised a hand to 150,000 and Jewell called. It was heads up to the
flop and Harden bet 350,000. Jewell called as the dealer burned and turned the
. This time Harden bet 325,000 and again Jewell called. When the
peeled off on the river, Harden moved all in for 705,000. Jewell tanked before making the call and then mucked when Harden flipped
. Harden doubled to 3.1 million while Jewell was left with just 670,000. The very next hand, Jewell moved all in holding
and was called by Barnhart, who held
. The board ran out
and Jewell's epic downfall was complete. He was eliminated from the tournament in eighth place.
Preston Derden, who had clung to a short stack for much of the day, was the next to go in seventh place. He was followed out the door by Nguyen, who could never recover from the aforementioned monster pot with Jewell, in sixth place. Marcos Palacios, Brian Burney, and Harden were the next to go respectively, leaving Sam Barnhart (6.03 million in chips) to do battle heads up with Jesse White (3.57 million). It didn't take long before Barnhart picked up pocket kings and threw in a standard raise. White moved all in and Barnhart made the easy call. The rest was history.
Here is a look at the WSOP-C Harrah's Tunica Final Table results:
| Place | Player | Hometown | Winnings |
| --- | --- | --- | --- |
| 1st | Sam Barnhart | Little Rock, AR | $148,612 |
| 2nd | Jesse White | Billings, MT | $91,881 |
| 3rd | Mary Harden | Ooltewah, TN | $67,122 |
| 4th | Brian Burney | Branson, MO | $49,759 |
| 5th | Marco Palacios | Austin, TX | $37,422 |
| 6th | John Nguyen | Fairview Heights, IL | $28,547 |
| 7th | Preston Derden | Houston, TX | $22,084 |
| 8th | Kurt Jewell | Frankfurt, KY | $17,328 |
| 9th | John Holley | Destin, FL | $13,789 |
That is it for us here at Harrah's Tunica. Be sure to join us in a couple weeks for our live coverage from the WSOP-C Palm Beach Kennel Club!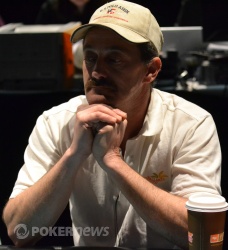 Sam Barnhart raised to 250,000 on the button and Jesse White re-raised all in for about 3,000,000. A snap call from Barnhart revealed
, leading White's
.
The crowd gathered in excitement and watched as the flop came down
. White found no help whatsoever and needed to catch either a jack or ten for a chance to win the pot. The turn brought the
and White was drawing dead, making the
river card meaningless and bringing the tournament to an end.
For his runner-up performance Jesse White will take home $91,881.
Sam Barnhart raised to 230,000 on the button and Jesse White called from the big blind.
The
flop was checked by both, with the
following on the turn. White bet 300,000 and was quickly called, landing the
on the river. White again bet 300,000 and was again was called by Barnhart who showed
. White couldn't beat it, surrendering the pot to Barnhart.
Sam Barnhart - 6,400,000
Jesse White - 3,200,000
Here are the chip stacks between the two heads-up competitors:
Sam Barnhart- 6.03 million
Jesse White- 3.57 million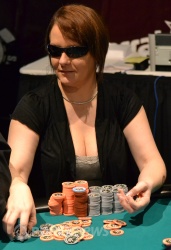 Sam Barnhart limped on the button, Jesse White folded from the small blind, and Harden checked her option from the big blind. The flop came down
and Harden led out for 210,000, which Barnhart called.
Both players proceeded to check the
flop and the
hit the river. Harden immediately moved all in and Barnhart snap-called showing
for a full house. Harden just stared into oblivion as she turned over
. The stacks were close, but Barnhart had the edge. Harden was eliminated in third place.
Sam Barnhart called from the button only to have Jesse White raise to 415,000 from the small blind. Mary Harden then flatted from the big as White got out of the way.
When the flop came down
, White bet 300,000, Harden raised to 800,000 and White moved all in. Harden seemed frustrated, counted out some chip, and the opted to fold, claiming she had jacks.
"He probably had two pair," Harden said to her rail. "Was that a good lay down?" I guess we'll never know. Harden is now the short stack with 1.9 million while White is the chip leader with 4.1 million.
Mary Harden raised to 190,000 from the small blind and Sam Barnhart called from the big. When the flop came down
, Harden bet 250,000 and Barnhart called. The dealer then burned and turned the
, which inspired Harman to check-fold to Barnhart's 500,000 bet. Harman is down to 3.3 million while Barnhart is up to 3.8 million.
Here are what the final three players are playing for:
1st place- $148,612
2nd place- $91,881
3rd place- $67,122
With first being more than double third, the players have a lot on the line. They're playing as such too, playing quite tight.
Level: 31
Blinds: 40,000/80,000
Ante: 10,000