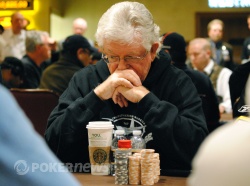 Today the 64 surviving players of the original 289 entrants returned to play down to the final table. Among them were Day 1 chip leader Jorge Solorzano; WSOP Circuit National Championship point leader Shiva Dudani; WSOP bracelet winner Robert Cheung; and gold-championship ring winners Drazen Ilich, Tuan Bui Le and Kyle Knecht. Although some of these players managed to make the money, only Solorzano could ride his success all the way to the final table.
On an interesting Circuit note, Dudani's 17th place finish added 20 points to his WSOP-C National Leaderboard total, bringing it to 145. With his closest competition sitting with only 90 points, Dudani may have punched his ticket to the National Championship in May. Likewise, Dudani and Tuan Bui Le's eliminations ensure that Kevin Manley will finish as the biggest point earner at the Southern Indiana Circuit for which he will earn a spot in the Championship.
Heading into the final table, Charles "Woody" Moore is the chip leader with just over 1.2 million. He'll have plenty of competition as a number of the finalist are hot on his heels. Here is how the final table looks heading into the third and final day:
Seat 1: John Holder - 825,000
Seat 2: Kevin Calenzo - 288,000
Seat 3: John Alfera - 636,000
Seat 4: Joel Merwick - 516,000
Seat 5: Charles "Woody" Moore - 1,233,000
Seat 6: Jorge Solorzano - 506,000
Seat 7: Kris Bradshaw - 251,000
Seat 8: Mike Foster - 850,000
Seat 9: Brian McKain - 677,000
The final table is set to commence at 1:00 p.m. local time. Who will take down the $99,878 first-place prize and a spot in the National Championship at the end of the season? Be sure to check back here for all the updates as PokerNews brings you all the action and eliminations from the WSOP-C Southern Indiana.