Event Info
| | |
| --- | --- |
| Buy-in | $1,500 |
| Players | 442 |
Level Info
| | |
| --- | --- |
| Level | 29 |
| Blinds | 25,000 / 50,000 |
| Ante | 5,000 |
Main Event
Day 3 Completed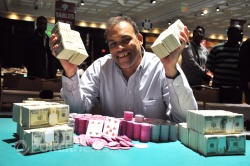 The WSOP Circuit Main Event in Atlantic City has come to a close, and after three hard fought days of poker Brian Ali has emerged as the champion, besting a field of 442 to earn the $139,284 first prize, the WSOP Circuit ring, and entry into May's WSOP Circuit Championship at Caesars in Las Vegas. Like the boxer with whom he shares a name, Ali was a dominating presence at the final table, scoring knockouts left and right in a wild and exciting finale.
The tone was set early on in just the second hand of the final table. Chip leader to start the day, Patrick Houchins opened with an early position raise and Ali three-bet from the big blind. Houchins called, and when Ali led the
flop, Houchins raised. Ali called, then called another hefty turn bet on the
before the river brought the
. Ali announced he was all in, and Houchins called, showing
for trip jacks. But Ali had
for a backdoor flush, and had suddenly catapulted into a big chip lead with about 2.8 million.
Houchins kept battling though, doubling a couple of times while Joe Caffrey went out in ninth when his
failed to catch up to John Andress'
. Another Houchins double-up soon followed, this one especially dramatic. All in with
versus Albert Winchester's
, it took a river four to spare Houchins, pushing him back up to an average stack.
They moved to Level 28, the first hour of which saw a head-spinning six knockouts. And five of them were delivered by the aptly-named Ali.
Winchester, having been hurt by that hand versus Houchins, was soon all in with
versus Ali's
, and once again pocket fours proved unbeatable for Winchester, sending him out in eighth.
Ten minutes later Ali used another small pair --
-- to oust Jerry Van Strydonck, this time the chips going in on the flop. The board showed
, giving Ali a set. Strydonck had hopes, though, with
, but the turn and river bricked for him and they were down to six.
Ali continued to land more knockout blows, next felling Jeff Rowland in sixth. He and Ali bet all of the way to the river at which point the board showed four clubs. Ali then pushed, Rowland called saying he had the
, but Ali had
for the nut flush at Rowland was out in sixth.
Roland Israelashvili -- winner of this same event last year -- then lost most of his stack to Andress after running
into Andress' pocket aces, with Houchins finishing off Israelashvili shortly thereafter in fifth.
Ellis Jeff Frazier had been nursing a short stack for most of play when he finally committed his chips with
but ran into Ali's
. The better hand prevailed, prompting most in attendance to work hard on their best boxing metaphors to remark on the fact that Ali had added Frazier to his growing list of knockout victims.
The carnage continued when Houchins and Ali both saw a flop come
, Houchins jammed with
, and Ali called with
. Ali's hand held, and suddenly -- just three hours into the final table -- they were down to two.
Ali had better than a 2-to-1 chip advantage over Andress when heads-up play began, and after a half-hour of cautious play the stacks hadn't changed that much. Andress then scored a double up to draw even, and even enjoyed the advantage for a time before Ali snatched the lead back to set up the final hand, a bit of a cooler for Andress after a turn card gave him two pair while giving Ali a straight. One card later it was over… and for today, Brian Ali was The Greatest!
Congratulations to all the final tablists, and especially to Brian Ali, WSOP Circuit Atlantic City Main Event Champion! Thanks for following our coverage. Next stop San Diego!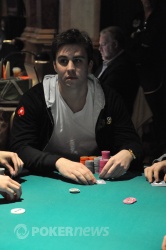 Brian Ali limped in with the button and John Andress checked his option.
The flop fell
and Andress checked to Ali who fired 80,000. Andress check-raised to 210,000 and Ali called.
The turn was the
and Andress checked again. Ali fired 200,000, Andress moved all in and Ali snapped it off!
Showdown
Andress:

Ali:
Ali turned the joint, but Andress could survive and double if the river was a king or a six. The
was a big fat brick however and Andress was eliminated from the tournament.
The Doylestown, Pennsylvania native will take home $86,071 for his efforts, more than doubling his live tournament earnings.
John Andress raised to 100,000 from the button and Brian Ali reraised to 300,000. Andress called, and the flop came
. Ali checked, Andress bet 240,000, and Ali called. Both then checked the
turn.
The river was the
. Ali checked, Andress bet 500,000, and Ali thought just a moment before making the call. "You win," said Andress, waiting for Ali to show his
before he sent his cards dealerward.
Ali - 5.2 million
Andress - 3.6 million
John Andress still enjoyed a small lead when he opened with a raise to 125,000 from the small blind/button and Brian Ali called. Both checked the
flop. The turn brought the
and a bet of 200,000 from Ali which Andress called.
The river was the
. Ali bet 400,000 this time, and Andress raised to 1.5 million. Ali leaned forward, then said he was reraising. "Three million," he said, to which Andress immediately responded he was all in. Ali snap-called, flipping over
for the nut straight. Andress quickly showed his hand --
for the same straight!
"Aw, man!" grinned Ali. "You couldn't have a set there?" The pair chopped the pot, returning to their same stacks of about 4.75 million for Andress and 4.05 million for Ali.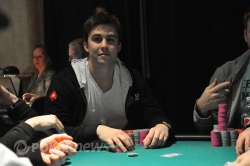 John Andress opened with the button and Brian Ali three-bet to 400,000. Andress called.
The flop fell
and Ali checked to Andress who slid out 260,000. Ali moved all in for effectively 2 million and, after a beat, Andress called.
Showdown
Andress:

Ali:
There were 4.74 million chips in the middle, and if Ali could spike an ace, running fours or running straight cards he would win the tournament.
The dealer rapped the table and delivered the
on the turn - no help to Ali.
"Ace!" someone shouted from the rail.
The river was not an ace, rather it was the
and Andress shipped a monster double to take a small chip lead.
Andress - 4.77 million
Ali - 4 million
John Andress opened to 120,000 with the button and Brian Ali snap-called. Both players checked the
flop, but after the
turned Ali led for 200,000. Andress called.
Both players again checked after the
came on the river and Ali opened
for tens and nines. Andress mucked and Ali raked in the pot.
The very next hand Ali limped on the button and Andress checked. The two checked the
flop and after the
turned, Andress led for 80,000. Ali almost beat him in the pot.
The river was the
and Andress led for 200,000.
"Three hundred," Ali announced before Andress could complete his motion.
Ali was forced to raise to 400,000 because his original raise wasn't enough, and Andress made the call. Ali tabled
for a pair of tens, but Andress opened
for a winning pair of kings.
It's been back and forth thus far, and the stacks are still around 3 million for Andress and 5.7 million for Ali.
The first dozen hands of heads-up play have shown both John Andress and Brian Ali proceeding with caution. After that wild flurry of knockouts -- six in one hour! -- the mood has quickly become much less frantic as the two calmly take turns trading smallish pots.
A few hands have reached showdown, but none have seen any bets beyond the turn, and no pots have exceeded 500,000 as of yet.
Ali remains with a touch under 6 million to Andress' 2.9 million.
Level:

29
Blinds:

25,000/50,000
Ante:

5,000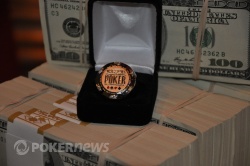 Here are the current chip counts:
Brian Ali - 5.8 million
John Andress - 2.95 million