$1,700 Main Event
Day 2 Completed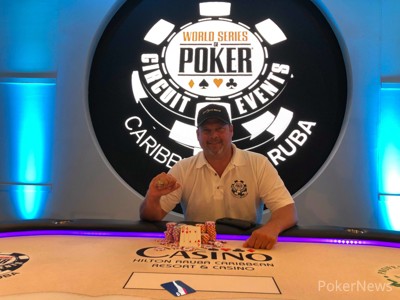 It turned out to be a relatively quick final day in the $1,700 Main Event at the World Series of Poker International Circuit in Aruba and that was all thanks to the eventual winner Rick Troendly. It was a dominant performance from Troendly at the final table and along with catching cards, it was a recipe that resulted in Troendly capturing his first WSOP Circuit ring along with the first-place prize of $95,061 and a 2020 Global Casino Championship seat.
Troendly was the life of the party last during a $100 Nightly that ended after midnight. Turn the clock ahead 12 hours and he was back at the felt with a little more of a serious attitude. Things were slow to start for the recreational poker player who was one of the short stacks with just three tables left. "I need to double up," Troendly said to one of his friends who was checking up on him.
It was moments later that Troendly picked up pocket aces to eliminate an opponent which snowballed the run of good cards for the rest of the day. Near the end of the tournament, Troendly's rail was starting to call him "flush boy" due to the fact that three of the four players he eliminated on the final table were the result of Troendly making a flush.
Going into heads-up action, Troendly held a commanding three-to-one chip lead over Matt Russell and it took less than 10 hands before all of the chips got in the middle. Russell flopped top pair with a good kicker while Troendly was up to his usual tricks with a flopped flush. Russell turned two pair to keep his hopes alive but the river wasn't meant to be, eliminating Russell in second place for over $58,000.
It was Troendly's largest career score to date, nearly doubling his previous cashes. Troendly can often be found playing cash games or small tournaments in the California area and will sometimes take a trip across the border to Las Vegas. He has tournament scores dating back to 1994, 25 years ago, but this will be one he will remember for a lifetime.
Final Table Results
| Place | Player | Country | Prize (USD) |
| --- | --- | --- | --- |
| 1st | Rick Troendly | United States | $95,061 |
| 2nd | Matt Russell | United States | $58,573 |
| 3rd | Alexander Orlov | Russia | $41,531 |
| 4th | Clyde Hinton | United States | $29,900 |
| 5th | Friman Villalona | United States | $21,930 |
| 6th | Benjamin Freeman | United States | $16,394 |
| 7th | Michael Hanson | United States | $12,494 |
| 8th | Andrew Hills | United Kingdom | $9,712 |
| 9th | Craig Trost | United States | $7,703 |
Final Table Action
When the final 10 players gathered at the unofficial final table, it took a while before they all felt comfortable to play some real poker. Things were tight in the early going until before Alon Eldar was forced to the rail in 10th place which opened up the flood gates. Likely the most experienced player at the final table, Craig Trost saw a run of bad cards dissipate his once chip lead and he bowed out in ninth place.
Shortly after, Andrew Hills from the UK ran his pocket queens into the pocket kings of Friman Villalona. The board ran out clean for Villalona and Hills was eliminated in eighth place. Michael Hanson also held a good portion of the chips at one point but went card dead for the last hour and eventually succumbed to the turned flush of Troendly. Hanson still had outs with a set of eights but the board would not pair on the river.
They played six-handed for nearly an hour before the blinds finally caught up to Benjamin Freeman. He pushed his stack of around eight big blinds into the middle with king-jack but was up against the ace-king of Russell. The board ran out dry and Freeman was the next to go from the final table. In one of the largest pots of the tournament, Villalona attempted to run a huge bluff against Troendly but the eventual winner already found himself priced in. Villalona held an underpair to the board while Troendly flopped top pair, which vaulted him into a huge chip lead.
Coming back from the last break, Russell was under the impression that it was a dinner break and nearly saw his entire stack blinded out before he returned. However, thanks to a couple of quick double-ups, Russell had enough chips to bounce Clyde Hinton from the tournament in fourth place when both players flopped middle pair with a straight draw.
It was looking like a miraculous comeback story when Russell eventually got heads-up with Troendly. As Russell looked on, Alexander Orlov got the second-largest stack in the middle with top pair on the flop against a straight and flush draw from Troendly. It was no surprise that Troendly nailed his flush on the turn to eliminate Orlov in third place and set up a heads-up match with Russell.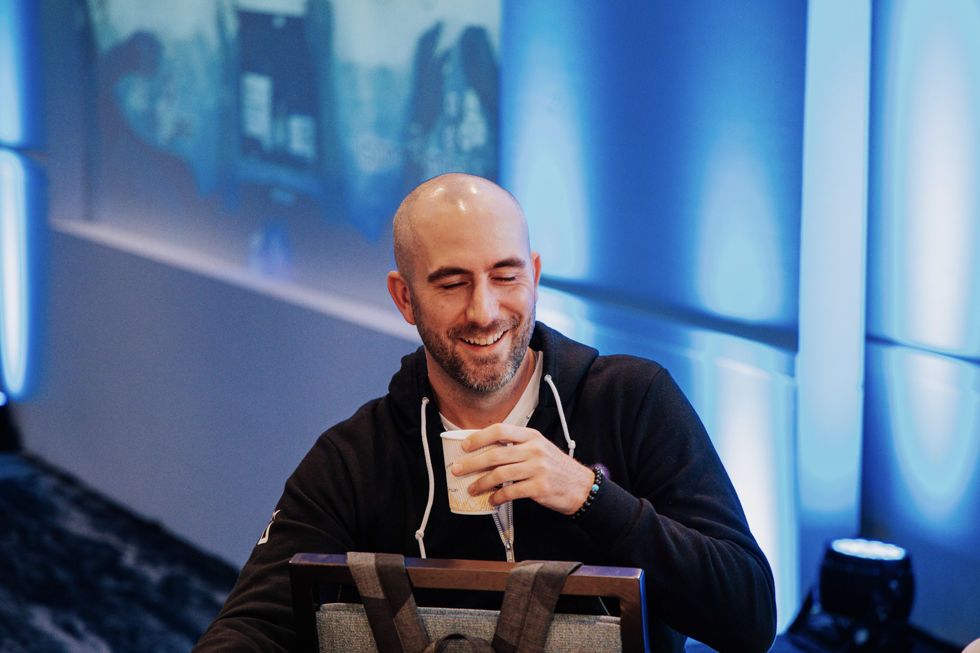 There were many other notables that made their way to Day 2 but were unable to reach the final table. One of the big names to bow out early in the money included Garry Gates, who most notably made a deep run in this year's WSOP Main Event in Las Vegas. Gates captured the poker world's attention with his fourth-place finish and he also captured a WSOP Circuit ring in Aruba this week but was forced to settle for a min-cash today. Adam Cedric, Heather Alcorn, Debbie Hinton, Jason James, Ray Henson, and Kristy Arnett also finished in the money.
That concludes the action for PokerNews here at the 2019 WSOP Internation Circuit in Aruba but there are still a couple of more side events that need to be wrapped up later today. Be sure to follow along as the PokerNews team will continue to provide updates for all of the WSOP Circuit Main Events.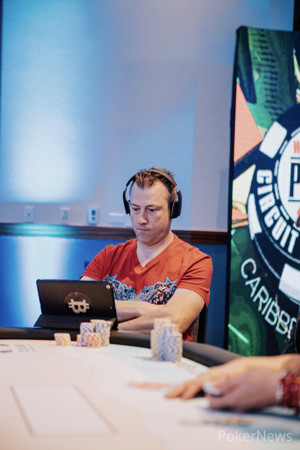 It only took a few hands of heads-up play and it actually looked as though Matt Russell was slowly chipping away at the insurmountable deficit he faced. However, Russell raised to 125,000 on the button and Rick Troendly called from the big blind.
The flop came
and Troendly checked to Russell who continued for 200,000. Troendly check-raised all in, putting Russell to the test for his remaining 1,600,000 chips. Russell thought for a minute before deciding to stick them in the middle.
Rick Troendly:

Matt Russell:
Despite flopping top pair, Russell was drawing slim with Troendly already having a flush. The turn was the
to give Russell some hope but the
on the river was not what he was looking for.
"We got it, baby!" Troendly shouted with his arms in the air. The two players shook hands and Russell headed to the payout desk to collect his runner-up prize.
A full recap of the day's action will be posted shortly.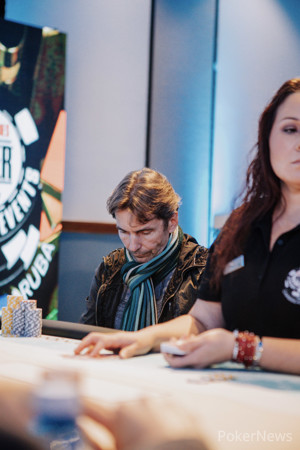 Rick Troendly raised to 125,000 on the button and Alexander Orlov called from the big blind. The dealer fanned the flop of
and Orlov started with a check. Troendly fired out a bet of 115,000 and Orlov check-raised to 325,000. Troendly got up from his seat as he pushed all in and Orlov called off his stack of around 1,775,000.
Rick Troendly:

Alexander Orlov:
Orlov was currently in the lead with a pair of nines but Troendly had plenty of outs with a straight and flush draw. The
landed on the turn to give Troendly a flush and Orlov was left drawing dead to the
on the river. Troendly will now carry a huge chip lead into heads-up action.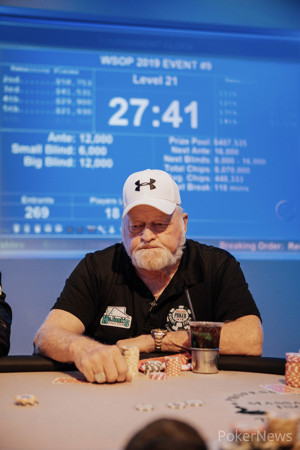 Matt Russell found himself another double up with pocket queens against the pocket jacks of Alexander Orlov, bringing Russell back to over one million chips. In the next hand, Clyde Hinton limped in from the small blind and Russell checked his big blind.
The flop came
and it didn't take long for Hinton and Russell to get their chips in the middle again. This time, it was Hinton at risk for around 700,000 and he needed some help.
Russell turned over
against the
of Hinton. The board ran out clean for Russell and his nine-kicker was good enough to eliminate Hinton in fourth place.
Matt Russell was tracked down and returned to his seat with just under 400,000 remaining. After a couple of hands, Clyde Hinton raised to 125,000 from the small blind and Russell pushed all in for 325,000 in the big blind which Hinton called.
Matt Russell:

Clyde Hinton:
The flop came
and Russell's pair of fives were still out front. The
paired the board on the turn and the
hit the river to give Russell a double up.
Alexander Orlov raised to 125,000 on the button and was called by Rick Troendly and Clyde Hinton in the blinds. The flop came
and Troendly checked to Hinton who bet 250,000. Orlov raised to 700,000 which got Troendly to fold but Hinton called.
The turn was the
and both players checked to the
on the river. Hinton checked again and Orlov was happy to check it back. Hinton showed
but Orlov held
for a set of fours.
Matt Russell has yet to return from the break and is currently being blinded out, with just over 10 big blinds in front of him.
Level: 27
Blinds: 25,000/50,000
Ante: 50,000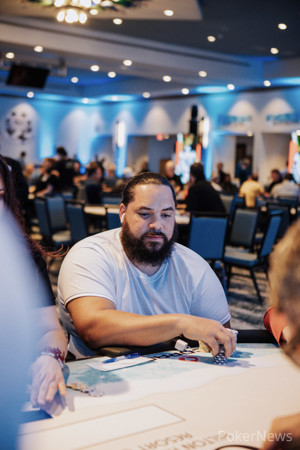 In the last hand before the break, Friman Villalona raised to 110,000 in the cutoff. Rick Troendly three-bet to 320,000 from the small blind and Villalona called. The flop came
and both players checked to the
on the turn.
Troendly led out for 600,000 and Villalona thought for a minute before shoving all in for 970,000. Troendly went into the tank for nearly two minutes before sigh-calling.
Villalona turned over
and Troendly was well ahead of that with
. The river was the
and Troendly held on to eliminate Villalona in fifth place. There will be a little under 10 minutes left on the break.
Clyde Hinton lost a good chunk of his chips to Alexander Orlov when Hinton turned a pair of queens. However, Orlov was holding on to pocket aces and scored a full double up.
Not long after, Hinton made it 105,000 on the button and Friman Villalona called from the big blind. The flop came
and Villalona check-called a bet of 210,000 from Hinton.
the turn was the
and both players checked to the
on the river. Villalona reached for a bet of 440,000 and Hinton quickly threw his cards to the muck.