Event #2: Super MILLION$ Main Event, $10,300 [Day 2, WSOP Ring]
Day: 3
Event #2: Super MILLION$ Main Event, $10,300 [Day 2, WSOP Ring]
Day 3 Completed

Level 20 : 300,000/600,000, 75,000 ante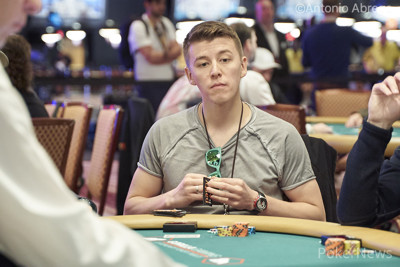 The final table of Event #2: Super MILLION$ Main Event, $10,300 [Day 2, WSOP Ring] had all kinds of big names contending, yet despite the stacked lineup, it ended up being a one man show. Anatoly Filatov came into the day third in chips, but he quickly took the chip lead, and only lost it for a brief moment during heads up play. For his efforts, Filatov earned a career best payday of $1,193,333, along with his first WSOP ring, this for besting a massive field of 748 players, which had created a prizepool of $7,480,000. Check out how the star studded final table played out below.
Final Table Results
| Place | Player | Country | Prize |
| --- | --- | --- | --- |
| 1 | Anatoly FIlatov | Russia | $1,271,218 |
| 2 | Marius Gierse | Austria | $885,747 |
| 3 | Markus Leikkonen | Finland | $617,164 |
| 4 | Christian Rudolph | Germany | $547,145 |
| 5 | Pedro Garagnani | Brazil | $421,907 |
| 6 | Mark Radoja | Canada | $325,334 |
| 7 | Isaac Baron | United States | $250,867 |
| 8 | Ole Schemion | Germany | $193,445 |
| 9 | Graf Tekkel | Russia | $149,167 |
Final Table Action
Filatov showed early that he was going to be a force to be recokened with, as he knocked out Graf Tekkel in 9th. Filatov had to get lucky for this knockout, as Tekkel shoved with jacks, and Filatov called with Ace-Eight. An ace came right on the flop, and Filatov scored the first of a few knockouts there.
Next to leave was Ole Schemion, who was one of the biggest threats at the final table, despite starting short stacked. The German lost a big flip to Markus Leikkonen, having to settle for a payday of $193,445.
Filatov would then take a big pot off of the start of day chip leader Mark Radoja to jump up to 20 million in chips, and from there, the Russian would never look back. Filatov raised over half of the pots, showing off the experience that he has gained in big spots like this in the past.
The next huge name to bust out was high roller regular Isaac Baron. He was the short stack for a while before he shoved 15 bigs on the button. Unfortunately for him, eventual runner up Marius Gierse woke up with pocket nines, and sent the experienced American to the rail in seventh.
Filatov was already starting to take control when he won what was undoubtedly the most important pot of the entire final table. After a raise from Gierse, FiIatov and Christian Rudolph would both call with big pairs. Radoja then moved all in for 35 big blinds with Ace-Queen, and Filatov called with tens. Rudolph folded pocket jacks, which would have won the monster pot, but instead, Filatov took it down, giving him half of the chips in play five handed.
Filatov scored the next knockout, Pedro Garagnani, before Gierse got back into the action, busting Rudolph in fourth place.
Gierse would then bust Markus Leikkonen, and suddenly, him and Filatov were now close to even in chips. Gierse would even take the lead for a brief moment in heads up, but in the end, Filatov would play pocket aces masterfully to win the tournament.
Filatov would raise with the aces preflop, but only called the three bet from Gierse. Gierse would flop top pair, but Filatov still played it slow with a call. The two got the chips in on the turn, and the rockets held to give Filatov a dream ending to what has already been an incredible summer for FIlatov.
FIlatov had already made a final table in September at this Super Million$ series. Two weeks ago, he finished in third place for $250,052. Well today, he bested that, earning a payday of nearly $1,200,000.
This is the final 2021 GGPoker Super MILLION$ Week WSOP Ring Event to be covered here at PokerNews, but the live reporting isn't stopping anytime soon. Head over to the Live Reporting tab to find out what else we have coming up this week, and congratulations agian to Anatoly Filatov on an impressive final table performance.
And don't forget that the 2021 WSOP starts in just one week, and PokerNews will be covering every bracelet event, so be on the lookout for those updates!

Level 20 : 300,000/600,000, 75,000 ante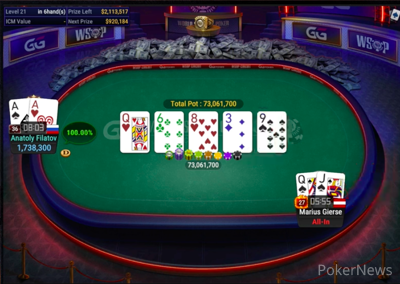 The two players were fairly even in chips before this massive hand suddenly ended the event.
Anatoly FIatov raised to 1,400,000 with
, and Marius Gierse reraised to 5,250,000 with
. Filatov called, and the flop ran down
. Gierse continued for 3,521,100, Filatov called, and the
. This time, the bet from Gierse was 9,434,150, and Filatov was ready to put the hammer down, moving all in for 29,413,050
Gierse called, and saw that he would need a queen or a jack to win. The
came instead though, and Gierse fell just short of the title, earning $920,185. For Filatov, he will earn his first WSOP ring, along with a career best $1,193,333.
Stay tuned for a full recap of this incredible final table.

Level 20 : 300,000/600,000, 75,000 ante
Anatoly Filatov has won a series of small pots, and he has once again taken a small lead in this heads up battle.

Level 20 : 300,000/600,000, 75,000 ante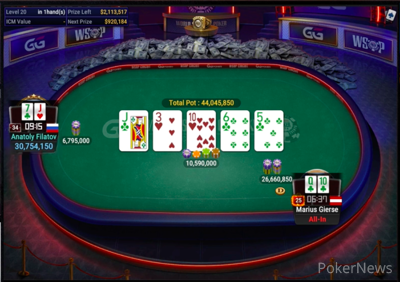 For the first time since one of the first hands of the final table, Anatoly Filatov is no longer the chip leader. Marius Gierse raised it up holding
, and Filatov defended the big blind with
.
The flop of
saw both players check, and after the
came on the turn, Filatov over bet the pot to 3,500,000. Gierse called, and he made a flush on the
river. Filatov bet big again, 6,795,000, only to see Gierse move all in for 26,660,000.
Filatov thought for a while before folding, and Gierse takes the chip lead.

Level 20 : 300,000/600,000, 75,000 ante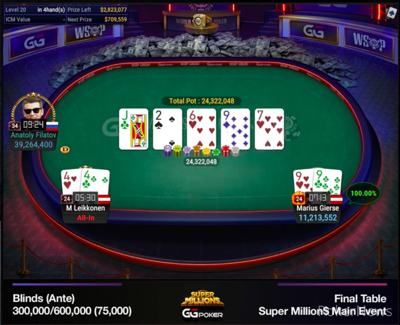 Anatoly Filatov raised to 1,200,000, and Marius Gierse called in the small blind. From the big blind, Markus Leikkonen moved all in for about 11,000,000 in chips. Filatov folded, but Gierse called for over half his stack with
.
He was dominating the
shown by Leikkonen, and the flop of
changed nothing. The
on the turn gave Gierse a set, and officially ended the hand.
Leikkonen will have to settle for $709,560, and just like that, we are heads up!
Level: 20
Blinds: 300,000/600,000
Ante: 75,000

Level 19 : 250,000/500,000, 60,000 ante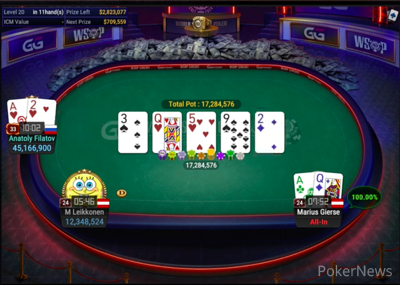 Anatoly Filatov had just taken a big pot off of Marius Gierse with a check raise bluff on the river, but it didn't take Gierse very long to get those chips back. On the very next hand, Filatov would move all in in the small blind with
, and Gierse called him with a dominating
.
The flop of
brought plenty of action, pairing Gierse up, but also giving Filatov straight and flush draw outs. The
turn changed nothing, and the
on the river was too little too late for Filatov.

Level 19 : 250,000/500,000, 60,000 ante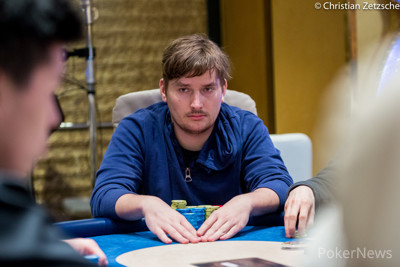 Christian Rudolph raised to 3,500,000 under the gun, and next to act, Marius Gierse moved all in for 6,700,000. Rudolph would call for less with
, but he was in bad shape against the
of Gierse. The flop of
gave Gierse top set, and all but ended the hand. A queen on the turn officially did that, and the German high roller will have to settle for $547,145.
Just three players remain now!
Level: 19
Blinds: 250,000/500,000
Ante: 60,000