Event 1 - $5,000 Mixed Holdem
Day 1 Completed
Greg Mueller 130000
Frank Kassela 121500
Sabyl Cohen 118500
Louis Werman 110500
Mark Teltscher 100500
John Kroshvs 93000
John Younger 91500
Kirk Morrison 90500
Alex Bolotin 88000
Joseph Tehan 87500
Jason Strasser 79000
Ville Wahlbeck 78500
Jason Mann 76000
Paul Snead 75500
Miguel Proulx 74500
Eric Froehlich 74000
Jon Turner 72500
Matt Giannetti 71000
Todd Brunson 70500
Todd Keikosn 69000
Art Duncan 65500
Hieu Ma 65000
Sirous Baghchehsaraie 64000
Ali Eslami 63000
Staffan Rydin 63000
Matt Hawrikeuko 61500
Toto Leonidas 61500
Brett Richey 57000
Ted Lawson 56000
Steve Paul-Ambrose 55500
Isabelle Mercier 55500
Aaron Kanter 55500
Michael Castelli 54000
Hung La 54000
Vanessa Rousso 53500
Erik Seidel 52000
Randy Haddox 51500
Joe Bartholdi 51000
Michael Martin 51000
Michael Esposito 50500
Josh Arieh 50000
Mark Gregorzch 48500
Greg Debora 48000
Antonio Esfandiari 46500
Stephen Buchanan 46500
Joe Brandenburg 45500
Roger McDow 45500
Barry Greenstein 43000
Eryc Nickelson 43000
Minh Ly 42500
Alex Kravchenko 41500
Tam Hang 41500
Fred Berger 40000
Thomas Schreider 39000
Lonnie Heimowitz 38000
Cyndy Violette 38000
Justin Pechre 37500
Jeff Petromack 37500
Chris Carroll 36000
George Dunst 34500
Kenny Tran 34500
Hoyt Corkins 34000
Tony Georgue 34000
Emad Bastawros 33500
Tom Koral 33000
Frank Sasfy 30500
Steve Billirakis 29500
Lee Salem 29500
William Jensin 28000
Andreas Walwum 27000
Edward Brogdon 27000
David Strot 27000
Ben Johnson 25500
David Back 25500
Jorge Arias 23500
Danny Noam 22000
Millie Shui 21500
Pat Pezzin 21500
Stuart Rutter 21500
Nick Binger 21000
Carl Olson 21000
Ron Faltinsky 20000
Matthew Keikoan 19500
Jimmy Tran 19500
Can Hua 16500
JJ Travers 15500
Perry Friedman 14500
Johnny Chan 14000
David Grey 13000
Chad Layne 12000
Liz Lieu 11500
Theodore Park 11500
Chris Back 11000
Humberto Brenes 10000
Anahit Galajian 9500
Action has come to a close for Day 1 of Event #1. There are less than 100 players remaining out of the original 451 entrants. Stay tuned for an official number.

Day 2 will start at 2 p.m.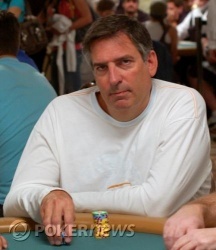 2005 WSOP bracelet winner Dan Schmeich has been eliminated.
Chad Brown was all in preflop with 9-6. He was called by Randy Haddox who had A-K. Haddox flopped a King and Brown busted out.
John Juanda was all in with A-10 and was up against
. His opponent caught a diamond flush and Juanda headed to the rail.
On a board of
, Liz Lieu raised and her opponent went into the tank for two minutes before he called. The river was
and Lieu moved all in. Her opponent eventually called and showed
. She mucked and was down to 30K.
We're now going to play Limit Hold'em for this level, which will be the last level of the evening.
Level:

10
Blinds:

1,000/2,000
Ante:

0