Event 39 - $50,000 H.O.R.S.E.
Day 1 Completed
We are finished with Day One of the $50,000 HORSE event. There are 127 players remaining and the restart is at 2 p.m. PDT Monday. Chip leaders include Eli Elezra, Bruno Fitoussi, David Oppenheim, Gavin Smith, Alexander Kravchenko, and Barry Greenstein.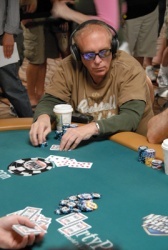 Chip Reese ended Day One with around 153,700 in chips. The defending champion showed no signs of slowing down at this year's event.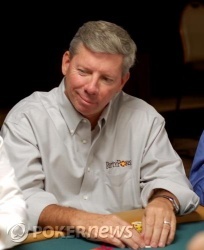 Mike Sexton was down to 4.200 after catching a blizzard of bricks during Razz. He doubled through Todd Bruson when his 7-6 low beat Brunson's 8-7 low. That pot pushed his stack to 12K.

Sexton won the next hand and increased his stack to 16K.
Razz:
Sam Farha x-x-
-x
Raymond Dehkharghani
David Oppenheim x-x-
-x
On third street, Farha raises. Dehkharghani reraises and Oppenheim calls. On fourth street, Oppenheim bets and both call. On fifth street, Oppenheim bets and Farha calls. Dehkharghani folds. On sixth street, Oppenheim bets and Farha raises. Oppenheim calls. On seventh street, Oppenheim checks. Farha bets and Oppenheim calls. He shows
for the A-2-4-5-6 low and Farha mucks. Farha goes out a few hands later and Oppenheim has 270,000.
The tournament staff apparently broke a table too early and had nowhere to put Jim Bechtel -- so he's playing at a table nine-handed. This unusual situation means there's a possibility of a community card being dealt in the Stud games. This requires multiple players to seventh street, so it's unlikely.
Shih-Ping Sun and James Owens have been eliminated.
Hand #1: Sexton increased his stack to 33K after he took down a pot from T.J. Cloutier.
Hand #2: On a board of
, Mike Sexton thought his A-2 was good for a scoop. He only took one-quarter of the pot, because Kirk Morrison showed A-2-6 for a wheel low and a six-high straight. Sexton slipped to 21K after that hand.
Hand #3: In a three-way pot with David Singer and Phil Ivey, Sexton got quartered again with A-2-2-3 on a board of
. Singer held A-2 while Ivey flopped a straight with
to win the high.
500 is the ante, 700 the bring-in, 2500/5000 is the betting. This is the last level of the evening, and then we are redrawing at the end of the night.
Level:

18
Blinds:

2,500/5,000
Ante:

500