Event 39 - $50,000 H.O.R.S.E.
Day 3 Completed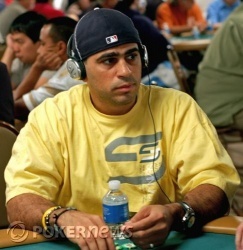 Feature Table:
Seat 1: Bruno Fitoussi - 1,248,000
Seat 2: Daniel Negreanu - 149,000
Seat 3: Justin Bonomo - 295,000
Seat 4: Greg Raymer - 504,000
Seat 5: Amnon Filippi - 2,343,000
Seat 6: Mike Matusow - 696,000
Seat 7: Dewey Tomko - 248,000

Table #68:
Seat 1: Mark Gregorich - 386,000
Seat 2: Pat Pezzin - 102,000
Seat 3: Steve Wolff - 263,000
Seat 4: Kenny Tran - 1,959,000
Seat 5: Chris Reslock - 536,000
Seat 6: David Singer - 1,017,000
Seat 7: Max Pescatori - 81,000

Table #71:
Seat 1: Tim Phan - 889,000
Seat 2: Noah Jefferson - 167,000
Seat 3: Gabe Kaplan - 625,000
Seat 4: Barry Greenstein - 650,000
Seat 5: Freddy Deeb - 963,000
Seat 6: Thor Hansen - 537,000
Seat 7: John Hanson - 1,215,000
Amnon Filippi - 2,343,000
Kenny Tran - 1,959,000
Bruno Fitoussi - 1,248,000
John Hanson - 1,215,000
David Singer - 1,017,000
Freddy Deeb - 963,000
Tim Phan - 889,000
Barry Greenstein - 700,000
Mike Matusow - 696,000
Gabe Kaplan - 625,000
Thor Hansen - 537,000
Chris Reslock - 536,000
Greg Raymer - 504,000
Mark Gregorich - 386,000
Justin Bonomo - 295,000
Stephen Wolff - 263,000
Dewey Tomko - 248,000
Noah Jefferson - 167,000
Daniel Negreanu - 149,000
Patrick Pezzin - 102,000
Max Pescatori - 81,000
There are 21 players remaining and action is over for tonight. Play will resume at 2 p.m. PDT.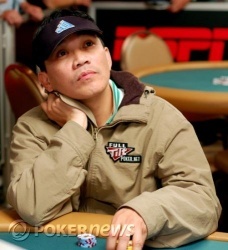 Toto Leonidas lost two big pots in a row to Freddy Deeb. In the first pot, Leonidas's trip deuces lost to Deeb's flush. The nail in the coffin was when Toto was all in with aces up but couldn't beat Freddy Deeb's straight. Toto Leonidas is our 22nd place finisher.
Rob Hollink got tangled up in a heads up pot with Mark Gregorich. Hollink was all in on 6th street with 7-7-3-3-4. Gregorich was in the lead with Q-Q-8-8-A. Hollink needed to make his boat on the river to stay alive, but failed to do so. Rob Hollink was our 23rd place finisher.
Amnon Filippi - 1,995,000
Kenny Tran - 1,900,000
John Hanson - 1,200,000
David Singer - 1,000,000
Tim Phan - 1,000,000
Level 44 - Stud is the game. Limits are 20,000/40,000 with a 5,000 ante. Bring in is 5,000 and completion 20,000.
Level:

44
Blinds:

20,000/40,000
Ante:

5,000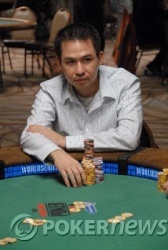 Kenny Tran has become the first player to pass the 2M mark. He's the current chip leader.