Stud High:
David Benyamine x-x-
-x
Phil Hellmuth x-x-
-x
On fourth street, Benyamine bets and Hellmuth raises. Benyamine calls. On fifth street, Benyamine checks. "I take this one, you take the next one," Hellmuth mutters. Hellmuth bets and Benyamine calls. On sixth street, both check. "Aww, I figured you had eights in the pocket," Hellmuth says when the eight shows up for Benyamine. On seventh street, Benyamine bets and is called. Benyamine shows
for two pair and Hellmuth mucks. Hellmuth is down to 156,800.
Razz:
Phil Hellmuth x-x-
-x
Pat Pezzin x-x-
-x
They check fifth street. On sixth street, Hellmuth bets. "You gotta go for it. I checked on fifth street." Pezzin indeed calls. On seventh street, Hellmuth bets and is called. Hellmuth shows A-3-K for A-2-3-6-8. Pezzin shows A-4-6 for A-4-6-7-8. "I was even money when I bet there," Hellmuth says of seventh street.
"I don't know what that means," Pezzin says.
"In the games I play, when I say 'I'm even money,' everybody knows what I mean," says Hellmuth.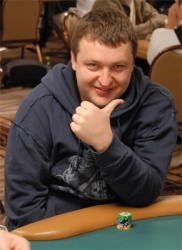 Before the game changed to Stud High, Tony G won a three-way pot against Doyle Brunson and Phil Laak.
Tony G: (x-x)
(x)
Laak: (x-x)
(x)
Brunson: (x-x)
(x)
Tony G flipped over
and took down the pot worth over 40K.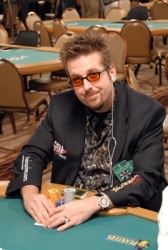 Robert Williamson III buys five roses from the rose guy. He gives one each to his wife, his sister, and a friend, all on the rail, and then keeps two for himself. He puts them in his mouth, Tango-style, before sitting back down.
David Singer: (x-x)
(x)
Kirk Morrison: (x-x)
(x)
Singer won the pot with
. Singer increased his stack to 115K, while Morrison slipped to 55K.
Limits are 1800/3600 with a 400 ante. Bring-in of 500, and completion is 1800.
Level:

14
Blinds:

1,800/3,600
Ante:

400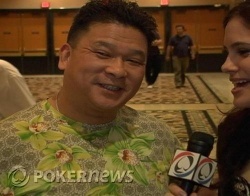 Bruno Fitoussi x-x-
-J-4-6-A
Johnny Chan x-x-
-7-5-5-9
Fitoussi completes and Chan goes all in for 3,500. Fitoussi calls. He shows 9-4 for A-2-4-6-9. Chan shows 3-8 for 3-5-7-8-9. Chan is out and Fitoussi is up to 190,000.
PokerNews grabbed Johnny for an interview shortly before he busted.
Click here to check out the interview with Johnny
, along with all the other videos from this event.