Event Info
| | |
| --- | --- |
| Buy-in | $1,500 |
| Players | 713 |
Level Info
| | |
| --- | --- |
| Level | 23 |
| Blinds | 20,000 / 40,000 |
| Ante | 0 |
Event 3 - $1,500 Pot-Limit Hold'em
Day 3 Completed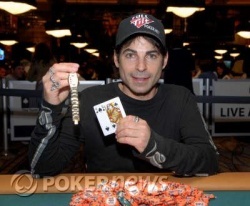 David Singer added a key ingredient to his poker resume by taking down the title in Event #3, $1,500 Pot-Limit Hold'em. Singer's comeback at the final table was worth $214,131, and gave the Full Tilt-sponsored pro his first WSOP bracelet.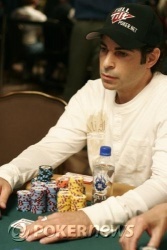 Congratulations to David Singer who has won Event 3's $1,500 Pot Limit Hold'Em Freezeout, taking home $214,131 for his troubles.

Bravo!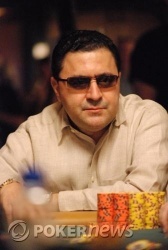 And on the very next hand, it's all over.
With the board reading
, David Singer's bet of 40,000 is raised to 180,000, only for Singer to make a deep reach of 480,000 total, putting Fernandez all in for his remaining chips.
Clearly tortured by the decision ahead, Fernandez sat back in his chair and counted out his chips as the expectant crowd pushed closer to the rail. Singer, meanwhile, usually cucumber cool, squirmed in his seat like a frog in a blender, perhaps attempting to feign discomfort.
If that were the case, then the plan certainly worked, Fernandez making the call and, almost reluctantly, pushing his stack across the line.
Realizing he was ahead and just one card away from a coveted bracelet win, Singer swiftly revealed
for the turned straight whilst his foe could only muster an inferior, but still alive
.
There were a couple of scattered calls from the rail for a seven, but the pleas fell on stony ground, the dealer popping out a harmless
onto the felt to give Singer the victory.
As Singer spotted the river, it finally sunk in -- he was now part of that elite group of bracelet winners, his patience and timing in this event reaping the rewards he so richly deserves.
Fernandez minimum-raises to 80,000 from the button. Singer veeerrry sloowwwly reraises another 160,000 on top. And very quickly, Fernandez has reraised all in and Singer has called.
On their backs.
Singer:
Fernandez:
Fernandez is standing, his shades removed, rubbing his hands. Singer remains seated and expressionless. Cameras materialize out of thin air somehow to record the action.
Flop:
-- a smile creeps across Singer's face
Turn:
-- the TD is already announcing, "David's going to double up..."
River:
-- close but no cigar for Fernandez.
So in taking down the largest pot of the tournament, Singer leaps to a massive 1.7 million.
On the first hand back from the break, the two remaining finalists see a
flop where Jacobo Fernandez check-calls David Singer's 40,000 bet. Check, check on the
turn before Fernandez check-calls again, this time 105,000 on the
river.
Both players reveal Q-6o.
Level:

23
Blinds:

20,000/40,000
Ante:

0
Jacobo Fernandez -- 1,345,000
David Singer -- 805,000

By the looks of it, this could take a while longer yet. Both players have the patience of a saint.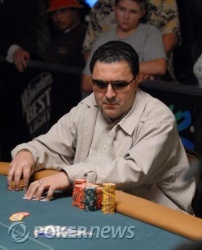 'Jacobo the Slow' is a moniker I've heard thrown around the Amazon Room recently, whether it's a new creation or not, I am unsure. It's certainly not a slight on his play, and won't be referring to any mental deficiencies, but simply an observation of his meticulous, calculated and well-thought out style of play that has served him so well thus far.

He takes his time on almost every decision, ensuring that every play he makes is the right one. From what I've seen, he has made very few mistakes indeed, so it's clearly an effective approach.
It's so unusual at this stage, I thought it deserved its own headline.
After assorted hands of back and forth blind-stealing and occasionally waiting until the flop to take a pot down with a cheeky bet, our players limp and check their way to a turn. The board reads
and Fernandez checks to Singer, who bets 50,000. Fernandez calls. They both check the
river, and it's time to look at the hole cards -- Singer has
for a pair of kings, and Fernandez has
for a double belly buster on the turn that never came to fruition. Very cagey play, indicating how hungry they both are for that shiny, shiny bracelet.