Event 43 - $1,500 Pot Limit Omaha Hi/Lo
Day 2 Completed
Jonathan Maren's knockout of Daniel Klein to end Day 2 action and set the final table also vaulted Maren into the lead at the end of the second day of play. With the chips now tallied and bagged, the WSOP has released the official counts for the nine finalists:

Jonathan Maren 377,000
Erik Seidel 340,000
Martin Klaser 337,000
Michael Fetter 288,000
Tom Chambers 263,000
Casey Kastle 188,000
Joseph Haddad 135,000
Larry Wright 117,000
Chad Burum 117,000

The final table in this one gets underway at 2pm PDT.
We've finished things up for the night here in the Brasilia room. We've reached the final nine players who will duke it out for the bracelet tomorrow afternoon. Erik Seidel is in a close third place and will be going for his ninth bracelet. Make sure to join us at 2pm PDT for the conclusion of this exciting event!
Jonathan Maren raised from middle position to 35,000. Action folded to Daniel Klein who reraised to 120,000, leaving himself with 35,000 behind. After some thought, Maren made the call and almost flipped his hand thinking Klein was all in.
The flop came all red and all diamonds,
, and the players got it all in for Klein's last 35,000.
Klein:
Maren:
The turn was a bad card for Klein, the
, giving Maren trip fives. Maren was also still drawing to the nut low with his ace-deuce.
The river then came the
to give Maren the nut low as well. Daniel Klein was eliminated in 10th place and will miss the official final tale by one spot.
Players have returned and play has resumed.
Level:

18
Blinds:

6,000/12,000
Ante:

0
Players are on a twenty minute break.
We're down to 10 players. We've condensed down to one table now and will play until we lose one more. Here are the seating assignments.

Seat 1: Daniel Klein - 160,000
Seat 2: Joseph Haddad - 135,000
Seat 3: Tom Chambers - 283,000
Seat 4: Larry Wright - 150,000
Seat 5: Chad Burum - 120,000
Seat 6: Michael Fetter - 290,000
Seat 7: Jonathan Maren - 210,000
Seat 8: Martin Klaser - 345,000
Seat 9: Erik Seidel - 320,000
Derek Kadota raised under the gun to 28,000. Michael Fetter reraised to 50,000 from middle position. After some thought, Kadota made the call.
The dealer rolled and spread
for the flop. Kadota checked and Fetter moved all in. Kadota made the call.
Fetter:
Kadota:
The turn came the
, giving Kadota a flush draw.
The river was the
though and Kadota would be gone as our 11th place finisher.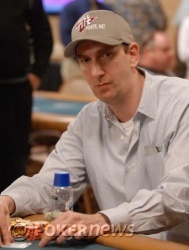 Erik Seidel was cool and calm when he rolled over his hand after being all in preflop against our chip lead Martin Klaser.
Seidel:
Klaser:
The board ran out
to give Seidel the entire pot.
Seidel had 152,000 to begin the hand and now is our chip leader with 308,000.