Event 32 - $2,000 No Limit Hold'em
Day 2 Completed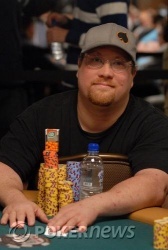 So we started fourteen hours ago with 220 players and we finished at 19. A valiant attempt to get to the table I would say especially as we had the soft sand to work through that is the bubble. The chip leader going in to tomorrow is Jason Boyes on around 970,000 but a double up here and a double up there can change all that. We're be back here for the start of play at 1pm local time tomorrow, where we will play down to a winner who will collect a cool $530,548. That's a big difference to the $13,819 that the next out to get so there is so much pressure for these guys to contend with still. Let's hope they can sleep with all that on their minds and come back fresh for a ding dong battle.
Alexander Meidinger has doubled up through Dan Makowsky, the German made a push in late position with
but found a ready caller in Makowsky's
. Fate shone the other way though with the board coming out
and Meidinger doubles to 325,000 while Makowsky is down to 170,000.
Antoine Amourette has doubled up, managing to get it all in with
against Ben Bagamery's
preflop. Amourette caught the best of it when the board came
.
Amourette has 290,000 and Bagamery is on 270,000.
Ken Lennard moved all-in from the small blind for his last 50,000 and Peter Feldman made the call in the big blind.
Lennard:
Feldman:
The board was
and Feldman's Ace kicker was good. Lennard is out in 20th and Feldman has 465,000.
The players have returned for the final time tonight. The blinds are up once more and some of these players have barely more than a few rounds before they'll be blinded into oblivion...
Level:

21
Blinds:

8,000/16,000
Ante:

2,000
There's a short break, then we'll play down to 18 players or 3am, whichever is first.

I've got dibs on the latter.
Matthew Waxman raised to 33,000 before Caio Brites moved all in from the next seat for 320,000. Not finished there though as Jim Pannell then moved in for 336,000 from the next seat along. Waxman folded to leave us heads up.
Caio --
Pannell --
The board ran
to bust Caio and propel Pannell up to 720,000.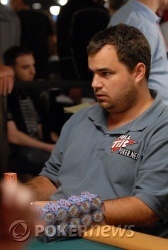 It's late in the day so you want easy decisions at this point, since if it's complicated, you may make the wrong one due to exhaustion. So you wake up with
as Ken Lennard did and your happy to get your stack in. Then you have an opponent in Peter Feldman and he seems just as happy to get his stack in. What can he have? Yup it's
.
The board ran
.
Lennard -- 60,000
Feldman -- 290,000