Event 32 - $2,000 No Limit Hold'em
Day: 3
Event 32 - $2,000 No Limit Hold'em
Day 3 Completed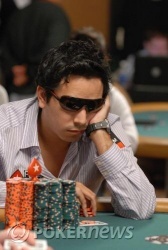 Only a week or so after he finished 2nd to Kevin Stammen in a $2,500 No Limit Hold'em event, Angel Guillen has managed to outlast 1,533 other players to claim his very first WSOP gold bracelet.

Mika Paasonen came to the final table with the chip lead, as well as the heads up but the lead changed several times and Guillen had his opponent all in twice. Guillen managed to pick up cards where it mattered and won the crucial big pots that are so important in a one-on-one situation.

Finally, after an epic five hour heads up battle, the Mexican has won out in the early hours of the morning.

Congratulations to Angel Guillen!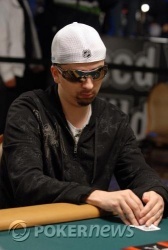 We were starting to wonder whether this titanic duel would ever end but it has. A raise from Paasonen was called before
flop came down. Guillen led out for 250,000 before Paasonen moved all in and received an instant call.

Paasonen --

Guillen --


The turn came
and river
before Guillen's supporters on the rail went mad and mobbed him.

A word or two has to go to Mika Paasonen. He fought his way through his opponent's friends to congratulate his conqueror. After around five hours of heads up it's not nice to lose but he did himself proud by sticking in there despite being the short stack for most of the match.
A flop of
was checked before Guillen checked the
turn. Paasonen bet 175,000 and Guillen check-raised to 475,000. Paasonen then moved all in and Guillen quickly folded.

Everyone is looking tired now.
Paasonen got the last of his chips in the very next hand and was called before showing he'd only woken up with
to Guillen's
.

The board ran
to double him to 2,000,000.
Guillen raised it up and was called so a
flop came down before Paasonen led out for 350,000. It was called before the
came and Paasonen check called a 600,000 bet. The river
saw the Finn check once more and this time he faced a 750,000 bet. It took him a lot longer but he called only to muck upon seeing the
of Guillen.

Passonen below a million chips now.
Mika Paasonen is building back up over 3.6 million after winning a showdown with
on a
board.

Both players, perhaps showing signs of fatigue, have really stopped 3-betting so much and are playing much slower.
Level: 30
Blinds: 60,000/120,000
Ante: 10,000
Mika Paasonen raised it up before Angel Guillen moved in over the top. Paasonen snap called with
and was in better shape this time as Guillen had
.

The flop ran
to double the Finn up to 3,100,000. Guillen on 6,000,000.
Guillen raises to 200,000 and Paasonen calls.

They both check the
before Paasonen bets out on the
turn and Guillen calls.

The river is the
and Paasonen checks, Guillen checks behind and shows
which is good.