Event Info
| | |
| --- | --- |
| Prize Pool | $2,791,880 |
| Players | 1534 |
Level Info
| | |
| --- | --- |
| Level | 30 |
| Blinds | 60,000 / 120,000 |
| Ante | 10,000 |
Heads-up action gets underway.
The heads-up battle for the bracelet will commence in about 20 minutes.

Mika Paasonen -- 4,900,000
Angel Guillen -- 4,300,000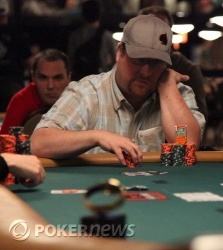 In the two hands leading up to this Jason Boyes had been beating up Mika Paasonen by reraising him out of both bots.
The exit hand saw Boyes raise to 150,000 from the button and Paasonen call quickly to see a
flop. Paasonen raised Boyes' continuation bet of 200,000 up to 600,000. After a pause for thought Boyes moved all in for another 1,530,000. Paasonen then went into a five minute tank where he alternated from staring his opponent down to pushing his thumbs in to his eyes sockets, deep in thought.
He came out of the tank by making a great call with
as Boyes opened
. The The turn came
and river
to make two pair for the Finn and bust Boyes.
Angel Guillen limps for 50,000 in the small blind and Mika Paasonen raises an additional 175,000 more.

Guillen stares down hard at his Finnish opponent before reraising, making it 775,000 on top.

Paasonen thinks for about 30 seconds before moving all in for 1,690,000. Guillen tanks a second time and even counts out the chips, but he clearly decides now is not the right time and folds his hand.

Paasonen is up to about 3 million in chips.
No significant changes in stack ratios in the last ten minutes or so. A lot of small-ball poker being played with each player taking their turn of winning a pot preflop or taking it on the flop.

The bit of calm they all needed probably after the 'Mexican Wave' of action just witnessed.
Level:

26
Blinds:

25,000/50,000
Ante:

5,000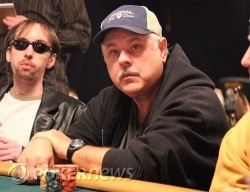 Steve Kohner raised preflop to 120,000 and Angel Guillen set him in from the big blind, Kohner instantly called with
and Guillen flipped over
. The Mexican rail went crazy calling for aces and kings and were rewarded with a
board meaning that Kohner was out in 4th.
Guillen has about 5.4 million chips - there's only 9.2 million in play.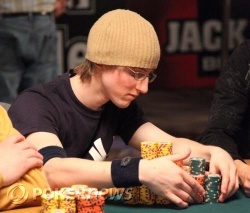 Angel Guillen raised into the BB of Eric Ladny who moved all in and was called. Guillen opened
to Ladny's
.
The board came
. The Mexican is running over the table right now. A spirited fight from Ladny and he leaves with a six figure sum.
Mika Paasonen raises preflop to 110,000 and Angel Guillen makes the call from the big blind.
The flop is
and Guillen leads out for 125,000. Paasonen then reraises to 450,000 before Guillen makes it 1,450,000 after some serious thought.
The Finn folds, and Guillen flashes the
as he increases his chip lead.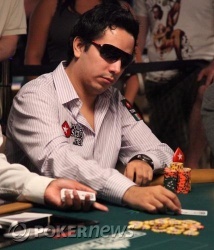 Around three million big enough for you?
Angel Guillen raised to 100,000 before Eric Ladny three-bet to 325,000. Guillen thought his choices through and then quietly announced all in and received a call.

Showdown
Guillen --
Ladny --
Huge shouts of "ten, ten" and " king, king" coming from the rail as the board comes:
.
The rail got what they wanted but the Mexicans are the happy ones. Guillen up to 3,150,000 whereas Ladny is down to 550,000.