Event 47 - $2,500 Mixed Hold'em
Day 2 Completed
That's the end of the day. The final table will begin tomorrow at 2pm.

We'll see you then.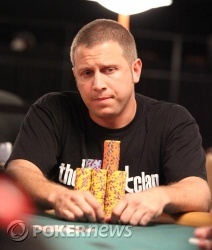 Lee Vlastaris raised in middle position and Karlo Lopez made it three bets. Vlastaris made it four bets and Lopez capped.
The flop was
and Vlastaris led out for 20,000. Lopez called and Vlastaris bet 40,000 on the
turn. Lopez set him for his other 3,000. Vlastaris flipped
, but was drawing to a queen as Lopez showed
.
The river was the
and we have a final table.
Play has slowed to a crawl once more here but we've moved across to the limit game with 10k/20k blinds and 20k/40k limits.
Ylon Schwartz has doubled up again. He made it 28,000 in late position and Randy Haddox (who would easily win a bracelet if there was an event for cool names) moved all in on the button. Schwartz called for his tournament life with
and Haddox flipped
.
Neither hit a thing and Schwartz is up to 295,000. Haddox has 615,000
Ylon Schwartz reraised all in for 72,000 over the top of Barry Greenstein's UTG raise of 35,000. Greenstein called with
and couldn't get there against Schwartz
after a
board.
Schwartz up to 170,000.
Level:

20
Blinds:

6,000/12,000
Ante:

2,000
Another big pot played out between Barry Greenstein and Matt Woodward and ended in the latter's favor.
Woodward raised and Greenstein reraised. Woodward made the call and they saw a
flop. Woodward check-called a bet of 15,000.
The turn was the
and Woodward check-raised Greenstein's 30,000 bet to 60,000, only for Greenstein to reraise to 90,000. Woodward made the call and they proceeded to the
river.
Woodward now bet 30,000 and Greenstein called, only to be shown
for the turned nut straight.
Greenstein is down to 180,000 and Woodward has 670,000.
We're now playing Limit once more.
Matt Woodward and Barry Greenstein continue to spar.
Woodward raised to 28,000 and Greenstein defended in the small blind. The flop was
and Greenstein check-raised Woodward's 45,000 bet to 115,000. Woodward called and they checked the
turn and
river.
Greenstein showed
but Woodward pipped him by one with
.