Event Info
| | |
| --- | --- |
| Buy-in | $10,000 |
| Prize Pool | $1,334,800 |
| Players | 142 |
Level Info
| | |
| --- | --- |
| Level | 29 |
| Blinds | 0 / 0 |
| Ante | 0 |
Event 6 - $10,000 World Championship Seven Card Stud
Day 3 Completed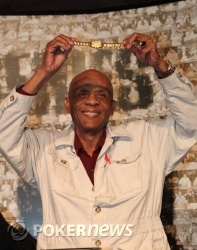 Freddie Ellis is a well-known name in stud circles around New York City and Atlantic City. As one of the older players in the field, Ellis has notably struggled with the long days that are required at the World Series of Poker. But he didn't let that fatigue dissuade him from his purpose -- win this tournament.

Ellis put on a clinic on Day 1 with Daniel Negreanu at his starting table, then started surging on Day 2. Once he had some chips, Ellis showed no fear in putting them into pot after pot. And as more and more players fell by the wayside, Ellis' stack grew taller and taller.

At the end, it was Ellis and another long-term veteran of poker, Eric Drache. The two men battled back and forth heads up for hours before Ellis emerged triumphant. For his trouble, Ellis will take home $373,744, a 2009 WSOP gold bracelet, and the title of Seven-Card Stud World Champion.

That wraps up our coverage of Event 6, $10,000 Seven-Card Stud, but the 2009 WSOP is just getting into high gear. Check back daily on PokerNews.com from now through mid-July for all of the action.

Good night!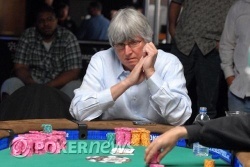 "Well, I don't want to hang onto these," said Eric Drache. "So I'll raise you." The action was at the river, with Drache having led every street but the last one, which he checked. The boards were:
Drache: (X-X) /
/ (X)
Ellis: (X-X) /
/ (X)
Drache put his last 20,000 chips in as a raise after Freddie Ellis bet the river. Ellis called with
, for the heart flush, and it was good enough to win the hand -- and the tournament. Drache was eliminated in 2nd place and will walk away with $231,014.
With limits at 100k and 200k, it doesn't take long to find yourself short. Eric Drache had an open pair of tens on fifth street against Freddie Ellis' open pair of deuces. Drache bet and was called.

On sixth street, Drache slowed down and checked. Ellis seized the initiative with a bet that Drache called. On the river, however, Drache folded to another bet.
It's not quite Miller Time yet for the assembled gallery here at the final table. Eric Drache was all in by sixth street showing
/
. Freddie Ellis called with
/
. He needed to improve on the river to knock out Drache but couldn't do it when he pulled the
.
And so, the match goes on. Drache is up to about 1,000,000 in chips
Level:

29
Blinds:

0/0
Ante:

0
Eric Drache is running out of chips. He lost yet another big pot to Freddie Ellis, with Ellis betting fifth and sixth streets showing (X-X) /
. Drache developed (X-X) /
, but couldn't straighten out. Both players checked the river, with Ellis turning up
for trip nines. Drache mucked what he said was two pair, queens up.
After that loss, Drache is down to 575,000. He is on the ropes.
We've been experiencing some technical difficulties here in the Amazon Room. Please bear with us as we continue to provide coverage of the heads-up play between Eric Drache and Freddie Ellis.
Freddie Ellis is very tired (it's almost 2am here) but that's not stopping him from rolling his way to a huge chip lead against Eric Drache. At this point Drache is down to just 800,000 after folding the river when Ellis bet out (X-X) /
/ (X) into what Drache said were unimproved buried jacks.
Freddie Ellis and Eric Drache are almost dead even in chips after Ellis took a recent pot down from Drache. Ellis started with splits aces and improved to aces and fives by sixth street. Drache called bets on sixth and seventh showing (X-X) /
/ (X).