Event Info
| | |
| --- | --- |
| Prize Pool | $3,460,050 |
| Players | 2563 |
Level Info
| | |
| --- | --- |
| Level | 30 |
| Blinds | 60,000 / 120,000 |
| Ante | 15,000 |
We're off and running, and this final day of Event #11 is under way!
Level:

21
Blinds:

8,000/16,000
Ante:

2,000
The players are mostly in their chairs, and we're just about set to go. The staff is taking care of a few bio sheets and other miscellaneous paperwork, and then we'll be off.
Don't wander too far.
Here's how our 21 players will be laid out when the cards go a'flying.
Table 309
Seat 1: Harsukhpaul Sangha (837000)
Seat 2: Jason Taus (343000)
Seat 3: Michael Smith (409000)
Seat 4: Austin Mccormick (709000)
Seat 6: David Newcomer (238000)
Seat 7: Kyle Winter (135000)
Seat 8: Tom Dwan (1068000)
Table 310
Seat 1: Jacobo Fernandez (391000)
Seat 2: Simon Watt (650000)
Seat 3: Jeremy Fendelet (140000)
Seat 4: Venkatesh Gupta (420000)
Seat 6: Scott Hamilton (947000)
Seat 7: Antoine Amourette (137000)
Seat 8: Nicholas Phillips (568000)
Table 313
Seat 1: Marvin Rettenmaier (953000)
Seat 2: Eric Ladny (460000)
Seat 3: Kyle Julius (772000)
Seat 4: Jason Young (448000)
Seat 5: Christopher Giddings (842000)
Seat 7: David Randall (596000)
Seat 9: Alex Bolotin (480000)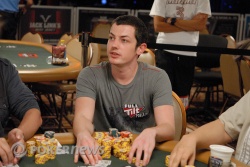 Two days ago, 2,563 players entered the Rio hoping to embark upon a bracelet quest. Today, on Day 3 of Event #11: $1,500 No-Limit Hold'em, only 21 remain.
These events often attract large fields of amateurs and dreamers, making it terribly difficult for a marquee player to take it down. There is one player remaining that has everyone's attention though; Tom "durrrr" Dwan.
For the first time ever, Dwan is putting in some seriously volume at the WSOP. Yesterday he was literally two-tabling this event and the No-Limit 2-7 Lowball event (in which he has over 10,000 chips). The rumors are spiraling about how much money Dwan has in bracelet bets, but there is one thing that is certain: He wants to lock them all up today.
Standing in his way are 20 tough players who have proven throughout the past two days that they too are worthy of WSOP gold.
Marvin Rettenmaier and Scott Hamilton both sit with over 900,000 chips, and although they are shorter, Nicholas "ISpewChips" Phillips (568,000 chips), Eric "AvrilSharapova" Ladny (460,000 chips) and Jason Young (448,000 chips) all have proven track records.
The excitement is building for Day 3 and the cards are set to be in the air at 2:30 p.m. PST. Keep it locked on PokerNews.com for all your live updates of this and every event at the 2010 WSOP!
Event #11: $1,500 No-Limit Hold'em
Day 3 Started