Event #11: $1,500 No-Limit Hold'em
Days: 3
Event #11: $1,500 No-Limit Hold'em
Day 3 Completed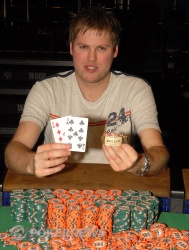 Well that was quite the spectacle.
In one of the more exciting and nerve-racking nights of poker we can recently remember, Simon Watt has just put Tom Dwan's final few chips into his own stack to earn himself the gold bracelet for Event #11 and more than $600,000 in cash money.
But that was only part of the story tonight. The eyes of the poker world were upon our final table for a number of reasons, all of which revolved around runner up Tom Dwan. First, there's the story itself. A 23-year-old wunderkind from the northeast who plays the richest cash games in the world breaking through to win his first bracelet. If it's possible to have a legacy by age 23, this would certainly have helped cement it.
Oh, and then there's the bracelet bets. Some of the most notable players in the world were sweating their faces off tonight, as Dwan stood to take a big chunk of money out of the poker pool should he have closed the deal. The numbers are varying and mind-boggling, making it hard to get a real feel for what Dwan had on the line tonight. Either way, as disappointed as Dwan is, there are a dozen or so high-stakes monsters that are going to sleep particularly well this evening after fading that huge bad beat.
Just as we were typing this, in fact, the rest of the media were shooting the winner's photos and preparing for interviews with Watt. Mike Matusow came wandering into the nearly-empty arena and half-yelled at Watt, "Thank you for saving us all millions of dollars! How does it feel to be every high-stakes gamblers hero? They're gonna, like, put you on the wall in Bobby's Room or some shit."
But it's not all about "durrrr" tonight. Credit must be given to Simon Watt, the Kiwi who has now added a gold bracelet to his stat sheet which already boasted an APPT title. Coming into the day third in chips, Watt was up and down and back up again, but he never flinched and just kept plugging along. He put on a fantastic show here today, and for the past three days.
So many of the bracelet winners get lost in the sea of 57, but this one stands out strong. Just before Matusow walked back to his table, he looked over his shoulder and asked, "Hey, what's your name, kid?"
It'll be a long time before people forget the name of the man who beat Tom Dwan heads up for a bracelet, and Simon Watt is the toast of the high-stakes world tonight. So with that, we send our congratulations to Simon Watt, the champion of Event #11! We know who's buying the cocktails tonight.
Here are the shots of the winner and a few others from throughout the final table.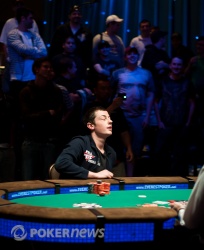 Hand #148:
Tom Dwan has the button.
Dwan shoves his remaining 1,645,000 in the middle and Simon Watt instantly calls.
Showdown
Dwan:

Watt:
Tom Dwan and the dealer are the only people sitting in the ESPN final table area as the flop falls
.
The crowd explodes into a chorus of sounds, some calling for cards, others celebrating red/black side bets. Dwan remains seated, silent.
The
turns and Dwan finally stands, contempt with his fate. He needs one of three queens or the final ace in the deck. The room falls silent as the dealer wraps the table...
The very second the
hits the river Dwan shakes Watt's hand and heads directly for the exit.
"I can pick up my stuff tomorrow, right?" he asks a tournament director as he scurries off.
The director nods, "yes," and Dwan is out the door.
It is an amazing accomplishment to final table one of these large, $1,500 No-Limit Hold'em events at the World Series of Poker, let alone get heads up. Bobby's Room is safe for now, but congratulations are in order for Tom Dwan who takes home $381,885.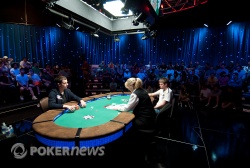 Simon Watt has the button.
He raises to 280,000, and Dwan comes along with the call.
The flop comes
, drawing a big reaction from Watt's flop-color-betting posse. Dwan looks like he wants to bet, and indeed he does fire out 260,000. Watt comes right along with a smooth call, and we head to the turn:
(another fist pump from a Watt fan who's obviously betting red tonight). Regardless of the reaction, it's potentially quite the action card.
Dwan glances down at his chips, then stares up at his opponent, then back down at his chips, both players very deliberate with their actions. He eventually decides a bet of 740,000 is in order, and he slides it across the felt and into the pot. Watt leans forward and gestures for Dwan to move his hands out from in front of his chips. From here, Dwan looks to have about 1.4 million behind his bet.
After another two minutes or so, Watt announces an all in, and Dwan's ensuing eye roll is pretty epic. He stares up at the ceiling, pulls his cards into his hands, and quickly slides them into the muck with a big sigh.
Dwan - 1.645 million
Tom Dwan has the button.
Dwan calls on the button and Simon Watt checks. The flop falls
and both players check.
The
turns and both players check again.
The river is another eight, the
, and Watt leads for 130,000. Dwan scrunches his face and gives Watt a look before folding.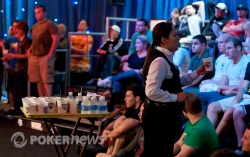 Despite the late hour here in Las Vegas (just ticking past 2:30 a.m.), the rail hasn't lost much of its zeal, thanks in part to a steady influx of cocktails to the respective cheering sections for these two players.
Over on the left side of us, Simon Watt's people are relatively calm for the most part, though certainly enjoying themselves. They're betting on flop colors, chattering with the two players politely, and focused intently on the action.
Across the room to our right, Team Dwan has just gotten another enormous round of drinks, maybe thirty or forty of them on a single tray, delivered by a female cocktail server who was barely five feet tall. Now that's some impressive stuff. Dwan's cheerleaders are jammed into the stands, and a few of them have now spilled over onto the floor space in front of the stage. They're chattering amongst themselves, and they explode into celebration any time their man wins a pot.
There are some oddities as well. We've got a couple people taking power naps around the room. We're hearing some, shall we say, interesting sounds as well, particularly from the "durrrr" corner. While Watt was tanking in one hand, someone let out a gutteral animal sound of some sort. There are also the standard assortment of poker phrases being tossed around after some of the pots.
"Show the bluff! It's good for the game!"
Or "That's right Simon, you don't need that pot!"
Or "What a sick value bet. You're so good!"
Or "You got it, Tom!"
Or "Come on, RED CARD!!!" (for board colors)
Or "Come on, BLACK CARD!!!" (for board colors again)
Dwan's cheering section also has developed a unison chant that goes something like, "ooooooOOOOOOOOHHHHHH-TOM-TOM- TOM!!!"
It's quite a sensory overload inside the featured table arena tonight.
Simon Watt has the button.
Watt raises to 260,000, Tom Dwan folds and Watt takes the pot.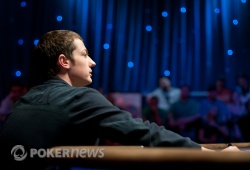 Tom Dwan has the button.
He makes it 280,000 to continue, and Simon Watt will not.
Level: 30
Blinds: 60,000/120,000
Ante: 15,000