| | | | | | |
| --- | --- | --- | --- | --- | --- |
| Frank Kassela | | | | 515,000 | |
| Sergey Altbregin | | | | 497,000 | |
| Kirill Rabtsov | | | | 388,000 | |
| Alessio Isaia | | | | 382,000 | |
| Marco Johnson | | | | 379,000 | |
| John Juanda | | | | 368,000 | |
| Christopher George | | | | 317,000 | |
| Allen Kessler | | | | 316,000 | |
| Steve Zolotow | | | | 301,000 | |
| Gary Benson | | | | 300,000 | |
| Blair Rodman | | | | 284,000 | |
| Vladimir Schmelev | | | | 275,000 | |
| Jennifer Harman Traniello | | | | 197,000 | |
| Chip Jett | | | | 178,000 | |
| Dario Minieri | | | PokerStars | 139,000 | |
| Toto Leonidas | | | | 112,000 | |
| Alexander Dovzhenko | | | | 80,000 | |
| George Lind | | | PokerStars | 76,000 | |
Event #15: $10,000 Seven Card Stud Hi-Low Split-8 or Better Championship
Day 2 Completed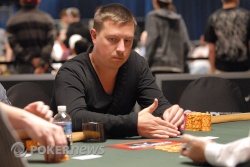 After beginning play at 3:00 p.m. this afternoon, play ceased for the day more than 12 hours later at 3:20 a.m. the next morning. It was a long day of poker that saw the returning field of 107 whittled down to just 18 players. Much the opposite of Event No. 16 which reached the money on Day 1, this event is still beyond it going into Day 3. Frank Kassela bagged up the most chips with 515,000 and will be the chip leader coming back for Day 3 tomorrow.
There was some arguing between the players and tournament staff because some of the players wanted to take a vote and play until they hit the money, but it was ruled otherwise. Marco Johnson was very adamant about this, but he couldn't persuade the staff to allow for even a vote on the subject. HIs biggest concern was wanting to be able to know how he finished tonight in order to play the $5,000 No-Limit Hold'em tomorrow.
Throughout the day, some of the biggest names in poker hit the rail including Erik Seidel, Phil Ivey, Gus Hansen, Daniel Negreanu, Jason Mercier, Barry Greenstein and Eli Elezra to name a few. The defending champion Jeffrey Lisandro also hit the rail to leave the door wide open for a new person to grab hold of the title when this thing is all said and done.
With those big names and many more hitting the rail throughout the day, you might think there's no one left worth caring for, but that couldn't be farther from the truth. Alessio Isaia, Marco Johnson, John Juanda, Allen Kessler, Steve Zolotow and Jennifer Harman all still remain. Johnson was the chip leader coming in from Day 1 and bagged up 379,000 chips. He'll be in fifth place going into the last day of play. Also alive is Vladimir Schmelev who has put together an amazing World Series so far.
Due to the 12-hour rule, play will resume at 3:30 p.m. local time here in Las Vegas where the plan is to come back and play this thing out until a winner is crowned. We'll see you right back here on PokerNews for all the updates from the floor! Thanks for following.
Christopher George (X)(X) /
/ (X)
Frank Kassela (X)(X) /
/ (X)
George completed on third street and Kassela called. George led out on fourth, fifth, and sixth streets, Kassela calling him down. Both players checked the river.
Kassela turned over
for two pair. George had only a pair of aces and no low and Kassela took down another pot. He's up to half a million in chips.
| | | | | | |
| --- | --- | --- | --- | --- | --- |
| Sergey Altbregin | | | | 500,000 | 50,000 |
| Vladimir Schmelev | | | | 350,000 | -25,000 |
| Marco Johnson | | | | 320,000 | -140,000 |
| Steve Zolotow | | | | 290,000 | 120,000 |
| | | | | 175,000 | 15,000 |
| George Lind | | | PokerStars | 90,000 | 5,000 |
Frank Kassela (X)(X) /
/ (X)
Alexander Dovzhenko (X)(X) /
/ (X)
Dario Minieri (X)(X) /
/ (X)
Minieri had the bring-in on third street, Kassela completed, Dovzhenko called, Minieri raised and both Dovzhenko and Kassela called. Dovzhenko bet his open pair of sevens on fourth street, Minieri raised, and both opponents called. Everyone checked fifth and sixth streets. Minieri bet the river and Kassela was the lone caller.
Kassela showed
for a seven-high straight and scooped. He's up to 435,000, Minieri is down to 247,000 and Dovzhenko is on fumes with 90,000.
George Lind was all in on fourth street with the (
)(
) /
against Sergey Altbregin's (
)(
) /
. Here's how the boards ran out.
Lind: (
)(
) /
/ (
)
Altbregin: (
)(
) /
/
Lind's pir of sixes were the winning hand for the high and his seven low was good for that half of the pot as well. He scooped the entire thing and was able to double back to about 85,000 chips.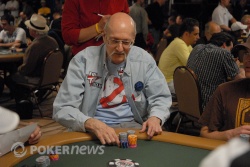 Steve Zolotow (X)(X) /
/ (X)
Vladimir Schmelev (X)(X) /
/ (X)
Sergey Altbregin (X)(X) /
We picked up the action on fourth street, Zolotow betting out and both Schmelev and Altbregin making the call. Everyone checked fifth street. Sixth street brought a bet from Schmelev, a call from Zolotow, and a fold from Altbregin. Schmelev bet again on the river.
"Well, I'm probably supposed to raise here," said Zolotow as he made the call.
Schmelev showed
for trip nines, but Zolotow rolled over
for a better set and took down the pot.
As if things couldn't get any slower out in the playing field, the players are now just two spots away from the money and beginning to talk about the bubble. Allen Kessler made it a point to bring up that a cash is worth $28,221, nearly three times the buy-in amount. The players are also discussing what happens if they get to hand-for-hand play and the time runs out during it. The tournament staff informed them that in that case, they will play until the bubble breaks.