Event Info
| | |
| --- | --- |
| Buy-in | $1,500 |
| Prize Pool | $2,245,050 |
| Players | 1,663 |
Level Info
| | |
| --- | --- |
| Level | 25 |
| Blinds | 20,000 / 40,000 |
| Ante | 5,000 |
Event #16: $1,500 No-Limit Hold'em / Six Handed
Day 3 Completed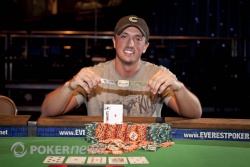 What can we say about Carter Phillips? He's barely old enough to legally consume alcohol in the United States, but he already has two major wins under his belt -- an EPT title and now a WSOP gold bracelet. Phillips used a combination of good cards, excellent timing and power poker to bulldoze his way through the last 16 players in this field enroute to victory.
It's true that Phillips had to get lucky to win. If his all-in confrontation with Craig Bergeron towards the end of the tournament had gone the other way, Phillips would have become the short stack with about 1.2 million chips and Bergeron would have been the one able to swing the bully stick.
But nobody should take anything away from Phillips. He put himself in a position to get lucky with strong play. Phillip' most impressive hand today may have been his absolutely sick call with just a pair of treys on the turn after Mikhail Lakhitov check-raised all in. Phillips never hesitated when he called. It turned out his hand was in the lead and faded 15 outs on the river to send Lakhitov to the rail.
In what was arguably the youngest final table in WSOP history, it was only fitting that the 21-year-old Phillips should be the player to capture the bracelet. When asked how it felt to be the one to win, Phillips said, "It's more amazing than I ever could have imagined."
For all of his skill, stamina, luck and heart, Phillips banks the champion's share of the prize pool -- $482,774. He'll also add a new piece of jewelry to his collection at a bracelet ceremony tomorrow.
Until then, you can find us at the bar.
Carter Phillips wins his first bracelet.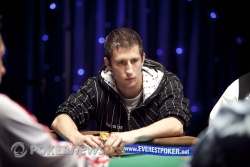 Samuel Gerber opened the pot, on the button, with a 100,000-chip raise and Carter Phillips re-popped it to 275,000. Gerber went all in and Phillips quickly called.
Showdown
Phillips:

Gerber:
Board:
Samuel Gerber from Switzerland is our runner-up and took home $298,726.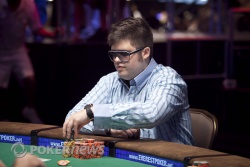 Remember earlier in the day when Carter Phillips was running so good that nobody could stand in his way? There may have been a little of that run-good left over in the tank. Phillips opened the pot pre-flop with a standard raise from the button. Samuel Gerber passed in the small blind before big blind Craig Bergeron re-raised to 295,000.
Bergeron had roughly another 1.9 million behind his raise. They all very, very quickly went into the middle after Carter Phillips four-bet all in. A chagrined Phillips was caught with his hand in the proverbial cookie jar when he turned over
. Bergeron showed down
and immediately bounded out of his seat and began pacing around the table. His railbirds were immediately out of their chairs and to the edge of the stage to sweat the flop.
The flop was an utter disaster for Bergeron. His sevens were out-flopped by Phillips, who made a pair of jacks. The turn
teased some hope into Bergeron, as a river 10 would give him a chop. But the river paired the board with the
to cut short Bergeron's impressive comeback from the short stack after his king-high hero call just before dinner backfired.
Bergeron leaves with $189,661. Carter Phillips and Samuel Gerber are now heads-up. Phillips starts with a better than 3-to-1 chip lead.
Images from the diminishing field.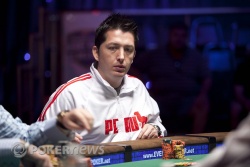 With blinds at 20,000 and 40,000, and the tournament down to 4-handed play, short-stacked Hugo Perez was running out of time. He moved his whole 385,000 into the middle with
and was called by the resurgent Craig Bergeron, who tabled
. Both players made a pair on the flop,
; Bergeron was still in the lead with jacks. That pair held up through the
turn and
river.
Perez has displayed an amazingly amiable nature throughout this whole tournament. Although he was cleary disappointed to be eliminated, he was quite sincere after being congratulated by Tournament Director Nikki Ivey on his 4th-place finish. "Thank you very much," he said as he shook her hand.
Bergeron is back up to 2.2 million in chips.
Craig Bergeron opened the pot with a 95,000-chip bet and Samuel Gerber moved all in. Bergeron eventually called.
Showdown
Bergeron:

Gerber:
Board:
and Bergeron is now up to 1,800,000 chips. Gerber slipped to 1,700,000.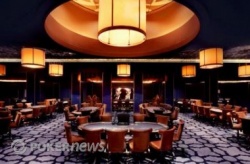 If you're around Las Vegas and want to meet some of the PokerNews crew and play some poker with them, check out the $4/$8 game at Hard Rock that started tonight at 8:00 p.m sponsored by PokerNews. Annette Obrestad and some of the DeucesCracked coaches came out last week and the game was a blast! The Hard Rock throws in so many promotional incentives how could you not want to come out for it?!?
For more information, see here. We hope to see you there!
Level:

25
Blinds:

20,000/40,000
Ante:

5,000