| | | | | | |
| --- | --- | --- | --- | --- | --- |
| Carter Phillips | | | | 922,000 | |
| Mikhail Lakhitov | | | | 763,000 | |
| David Diaz | | | | 742,000 | |
| Kevin Iacofano | | | | 618,000 | |
| Craig Bergeron | | | | 545,000 | |
| Mark Flowers | | | | 545,000 | |
| Hugo Perez | | | | 483,000 | |
| Matthew Ezrol | | | | 459,000 | |
| Michael Meyers | | | | 445,000 | |
| Russell Thomas | | | | 416,000 | |
| Samuel Gerber | | | | 347,000 | |
| Matt Zoorob | | | | 346,000 | |
| Conrad Monica | | | | 326,000 | |
| Thong Tran | | | | 219,000 | |
| Alexander Wilson | | | | 206,000 | |
| Jesse Martin | | | | 114,000 | |
Event #16: $1,500 No-Limit Hold'em / Six Handed
Day 2 Completed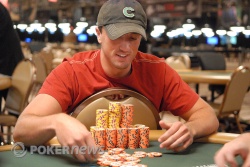 The fast pace that populated Day 1 of this tournament continued today. During the first two levels of play we lost around 80 players, over half the field.
146 players started day today, all of them in the money, but only 16 remain after 10 levels of play. Some of the fallen include: Robert Williamson, Tim Adams, and Team PokerStars Pro JP Kelly and Jorge Arias.
Most of the surviving players have seen their chip stacks take large swings. The day was overrun with double ups, suckouts and well played hands.
This includes Carter Phillips, and after a few key hands near the end of the day, he finds himself as the chip leader for Day 3. He ends the day with 922,000 in chips, while his closest contender, Mikhail Lakhitov, trails with 763,000.
The exciting, shorthanded play will continue tomorrow at 2:30pm. We will play down to a final table and after that, play will continue until a someone wins the bracelet.
Follow all the final table action tomorrow at PokerNews. We'll be providing all the action from the tournament floor and invite you to join us.
Players are playing three more hands at each table before the chip bags come out.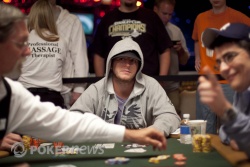 At this time of night, it probably does take an unlucky turn to eliminate a player. Hugo Perez opened a pot from early position to 32,000. Two seats behind him, Ryan Snickles moved all in for roughly 240,000. Perez double-checked the amount of the all-in raise before calling with
. Snickles tabled two nines,
. His railbirds accused Perez of a slowroll; Perez said he just wanted to know what he was in for before making the call.
Snickles' railbirds leaned forward, rooting for a nine, but it never came. The board rolled out
to eliminate Snickles in 17th place. He shook Perez's hand and then departed to collects $17,488.
Finally, some action. Samuel Gerber and Kevin Iacofano are heads up facing a
flop.
Iacofano checks and Gerber leads out for 31,000. Iacofano makes the call and the turn comes
. Iacofano checks again and Gerber bets. This time he bets more chips, all of his chips actually. He goes all in for 152,000 and Iacofano makes the call. Gerber shows
for the flush and Iacofano flashes
, drawing dead. The turn is an irrelevant
and Gerber doubles up to around 400,000.
Iacofano is down to 525,000.
The hour is late. The day has been long, almost ten levels long to this point. The stacks are getting relatively shallow. As often happens given all of those variables, the gamble has gone out of the room. Everyone seems to be hunkering down, content to play conservatively for the last thirty minutes of the day and to come back fresh tomorrow. It's still possible we'll lose a few more players in the last twenty minutes of the day, but it's also possible that things will more or less freeze as they currently are.
Red 371
Seat 1: Carter Phillips
Seat 2: Russel Thomas
Seat 3: Hugo Perez
Seat 4: Ryan Snickles
Seat 5: Jesse Martin
Seat 6: Alexander Wilson
Red 373
Seat 1: --empty--
Seat 2: Mikhail Lakhitov
Seat 3: Mark Flowers
Seat 4: Craig Bergeron
Seat 5: Thong "Jimmy" Tran
Seat 6: Michael Meyers
Red 374
Seat 1: David Diaz
Seat 2: Matt Zoorob
Seat 3: Conrad Monica
Seat 4: Matthew Ezrol
Seat 5: Samuel Gerber
Seat 6: Kevin Iacofano