Event Info
| | |
| --- | --- |
| Buy-in | $1,000 |
| Players | 1,054 |
Level Info
| | |
| --- | --- |
| Level | 24 |
| Blinds | 15,000 / 30,000 |
| Ante | 4,000 |
Vanessa Hellebuyck during an exciting Bracelet ceremony.
Event #22: $1,000 Ladies No-Limit Hold'em Championship
Day 3 Completed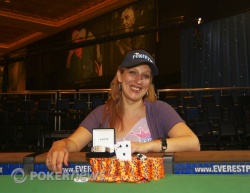 The 2010 World Series of Poker Ladies Championship has come to an end with Vanessa Hellebuyck emerging victorious over a field of 1,054. What started three days ago among controversy between the genders has come to a joyous end after an exciting final table.
La Sengphet, who was the chip leader during the early stages of the tournament, was eliminated in seventh place. Meanwhile, Timmi Derosa patiently made her way to the final three where she made a big all in that put Hellebuyck in the tank for several minutes. Derosa's tournament came to an end when Hellebuyck made the correct call and took down the massive pot.
Sidsel Boesen entered the final table as the chip leader but stumbled early. She was able to rebuild and managed to make it heads up against Hellebuyck, although at a 5-1 chip disadvantage.
It took only seven hands for Hellebuyck to eliminate Boesen when her pocket fives faded the ten and nine of diamonds. The Amazon Room echoed with the cheers of Hellebuyck's supporters as the final card came down.
Congratulations to Vanessa Hellebuyck, Event #22 Champion!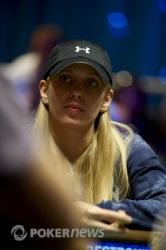 On the seventh hand of heads-up play, Sidsel Boesen announced she was raising all in from the small blind/button for her last 358,000, and Vanessa Hellebuyck quickly called.
Boesen

Hellebuyck
The crowd stood as one in anticipation of what could be the finish. The flop came
, meaning Hellebuyck's fives were still good, but Boesen had picked up a gutshot draw to go with her hopes for a ten or nine. The turn was the
, and Hellebuyck's cheering section let out another yell.
Then came the river -- the
! Hellebuyck has won!
The next two hands of heads-up play went a lot like the first three. First Hellebuyck raised to 60,000 from the button, and Boesen folded. Then Boesen raised from the button, Hellebuyck said she was all in, and Boesen folded.
Boesen did get a walk on the next hand, but it is looking like we'll be seeing an all in very soon.
Hellebuyck -- 2,800,000
Boesen -- 362,000
On the first hand of heads-up play, Sidsel Boesen raised to 65,000 from the small blind/button, and Vanessa Hellebuyck called.
The flop came
, and Hellebuyck immediately announced she was all in. Boesen folded.
Hellebuyck took the next hand as well with a preflop raise.
Then on the third hand, Boesen limped in and Hellebuyck checked. The flop came
, Hellebuyck bet, and Boesen quickly folded.
Vanessa Hellebuyck -- 2,594,000
Sidsel Boesen -- 564,000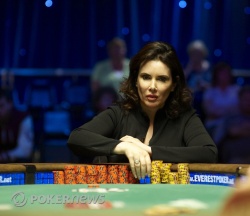 Sidsel Boesen folded from the button, and Timmi Derosa completed from the small blind. Vanessa Hellebuyck then raised to 100,000 from the big blind, and Derosa made the call.
The flop came
. Derosa bet 100,000, and Hellebuyck called.
The turn was the
, and this time Derosa announced she was all in for her remaining 651,000. A big moment, and big decision for Hellebuyck, who had Derosa well covered, though to lose the hand would change the complexion of this final table considerably.
While Derosa looked down silently at the felt, Hellebuyck sat back and exhaled. Finally -- after three solid minutes in the tank -- she very quietly leaned forward and said "I call."
The crowd erupted at that decision, then became even louder when the cards were revealed. Hellebruck had
for sixes, a flush draw, and gutshot. Then Derosa tabled her cards --
!
A big move, and a big call. The dealer burned a card and dealt the river -- the
. Derosa is out in third, and we're now getting ready for heads-up play!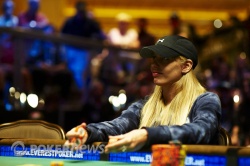 Timmi Derosa had the button, and after checking her cards she announced a raise to 90,000 (3x). Vanessa Hellebuyck folded, and it was Sidsel Boesen's turn to act. (In case you were wondering, our announcer has been pronouncing her name "SEED-sul," which we assume is correct.)
The action on her, Boesen wasted no time saying she was all in for her remaining 480,000.
Derosa took a moment to consider the situation, then pushes her cards away. Derosa sits with just over 800,000 at present, while Boesen moves up to 600,000. Hellebuyck, meanwhile, is still well in front with 1.74 million.