Kido Pham

960,000

Jason Somerville

960,000

Ayaz Mahmood

960,000

Faraz Jaka

960,000

Ernst Schmejkal

960,000

Alexander Kostritsyn

960,000

Vanessa Rousso

PokerStars Team Pro (USA)

960,000

Ludovic Lacay

960,000
Event #35: $10,000 Heads Up No-Limit Hold'em Championship
Day 2 Completed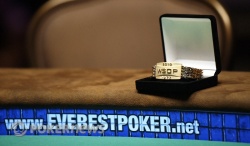 Following an action packed day of poker, Day 2 of Event #30: $10,000 Heads Up No-Limit Hold'em Championship has come to a close.
Beginning the day with 64 players, Phil Ivey, Steve Gross, Brock Parker, Terrence Chan, Emil Patel and Gabe Kaplan were just a handful of players that fell short of the money.
The day's second round match-ups flew by at an even quicker pace with quick paced and saw Maxim Lykov, Antonio Esfandiari, Kevin Saul, Sorel Mizzi, Scott Clements and David Williams all exit $17,987 richer. During the third round of play Gavin Smith, Phil Gordon, Bertrand Grospellier, Alexander Kravchenko and Vivek Rajkumar were unluckily knocked out to leave just a final eight.
These eight players will return tomorrow with a guaranteed $92,580 payday, but the figure on everyone's mind will be the $625,682 first prize, along with the coveted gold bracelet and title of champion. Here are the quarter final match-ups:
Jason Somerville vs. Kido Pham
Faraz Jaka vs. Ayaz Mahmood
Alexander Kostritsyn vs. Ludovic Lacay
Ernst Schmejkal vs. Vanessa Rousso
None of the remaining eight players cashed in this event last year. None of the cashers last year were women, either, but Vanessa Rousso may be the betting favorite heading into tomorrow's final day. She's already got a second-place finish at the 2009 NBC Heads-Up Championship on her stat sheet, and a win tomorrow would cement her status as an elite heads-up player.
Throw in the fact that none of the final eight players have a bracelet, not only will this be a great day three, but also a memorable one for just one these lucky players.
Make sure to join PokerNews tomorrow from 3:00 pm PST where we will be providing continuous live updates of all the action from the final eight to last one in Event #30!
Gavin Smith and Kido Pham took a flop of
in a raised pot. The action was on Smith, and he tapped the table. Pham bet 20,000 quickly, and Smith called.
The
peeled off on the turn, and Smith checked again. When Pham bet another 45,000 though, he check-raised to 168,000 total. That sent Kido pretty deep into the tank, though he's fairly deliberate with his actions anyways. He checked his cards and re-checked them several times, and he finally announced an all-in reraise. Smith called off his last ~200,000 chips, and all it was time for a showdown:
Smith:

Pham:
Pham was just one card from the win, and the
on the river was not enough to Smith to get over the hump. Pham's two pair knock him out to end the night, and Smith has tallied his first cash of the 2010 WSOP. It'll be good for almost $40,000, but it's Kido Pham who gets a seat in the round of eight.
Level:

20
Blinds:

5,000/10,000
Ante:

0
Kido Pham raised to 24,000 preflop, and Gavin Smith called.
The flop came out
, and Smith checked. Pham bet 30,000 before Smith check-raised to 78,000 total. Pham called.
On the turn
, Smith gave up the lead and knocked the table. Pham took his cue to bet 125,000, and that was enough to take down the pot.
It's our last match of the night, and it's quite a battle. Pham has once again taken a bit of a lead with close to 550,000 now.
With the board reading
Phil Gordon checked and Faraz Jaka fired out 100,000.
Gordon made the call before the
landed on the river and Gordon checked over to Jaka.
Jaka moved all in and Gordon made the call tabling his
.
Jaka however tabled his
to best Gordon's flopped two pair to see Gordon eliminated for a $38,424 payday as Jaka progresses through to the quarter finals.
On a board reading
Gavin Smith fired out 38,000 only to have Kido Pham move all in.
Smith made the call tabling his
for the nut straight while Pham tabled his
for a flush draw.
The river landed the
to see Smith double through to 500,000 as Pham slips to 460,000 in chips.
Martin Kabrhel opened to 16,000 from the button, and Jason Somerville reraised it back to 40,000. Kabrhel called.
The flop came out
, and Somerville fired out another 40,000. Kabrhel moved all in for about 180,000 total, and Somerville put him to the test. Cards up, gents:
Kabrhel:

Somerille:
Somerville was two cards away from the kill. The turn
gave Kabrhel another nine outs to the diamond flush, but the
river was a blank. Kabrhel is unable to catch a card, and he has run out of chips. Somerville eliminates him, punching his own ticket into tomorrow's final day.