Event #26: $2,500 No-Limit Hold'em / Six Handed
Day: 2
Event #26: $2,500 No-Limit Hold'em / Six Handed
Day 2 Completed
Level 20 : 4,000/8,000, 1,000 ante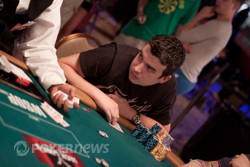 Day 2 of the $2,500 No Limit Hold'em Six Handed event is now in the books and it was an interesting day to say the least! Out of the 189 players who started the day only 22 remain. Our chipleader heading into day 3 is Anthony Ruberto who finished the day with 1,550,000. His aggressive style and ability to apply pressure to his opponents has served him well throughout the day.
All of the remaining players are guaranteed to take home at least $20,377, but we're sure they're all salivating over the chance to take home the $689,739 and gold bracelet that will go to our eventual champion.
Players to watch on day 3 include Chris Moorman, the winningest online tournament poker player of all time, and Will "The Thrill" Failla who cashed in seven WSOP events in 2010.
There were many notable players who hit the rail today including Jean-Robert Bellande, who started the day 2nd in chips, Jake Cody, Tuan Le, Jimmy Tran, Olivier Busquet, and Mohsin Charnia.
Play will resume tomorrow afternoon at 2:30pm in the Blue section of the Amazon Room. Make sure to keep following PokerNews for all your up-to-the-minute WSOP updates!

Level 20 : 4,000/8,000, 1,000 ante
Players on most tables have begun to bag their chips here at the $2,500 No-Limit Hold'em / Six Handed, but we ended the day with a couple of bust outs late.
David "Bakes" Baker was all in preflop for his last 150,000 with
against the
of Michael Finstein. The board ran out
and Bakes hit the rail in 24th.
On another table, almost simultaneously, Alex Fitzgerald got his last 270,000 in on the flop of
against Anthony Lellouche. Fitzgerald had
for a set of fours but Lellouch had
for a set of nines. Lellouche is up to around 800,000 after the hand

Level 20 : 4,000/8,000, 1,000 ante
Three more hands of play and then the remaining players will bag and tag for the night.

Level 20 : 4,000/8,000, 1,000 ante
When we saw Dan O'Brien bet out 34,000 on the turn from middle position with the board reading
there was already close to 100,000 in the pot. Anthony Lellouche made the call from late position and the river came
.
O'brien thought about it for a little while and eventually went all in for his last 171,000. Lellouche eventually made the call and O'Brien showed
for the nuts. Lellouche mucked and O'brien is now a factor again with around 490,000 after the hand.

Level 20 : 4,000/8,000, 1,000 ante
The field has been reduced down to 24 players across four full tables. There is only ten minutes left before the floorman draws a card to determine how many hands to play. We don't expect any more bustouts tonight, but hey, this is poker and anything can happen.
Level 20 : 4,000/8,000, 1,000 ante
Anthony Ruberto's mountain of chips has been growing as we near the end of the night.
Most recently he and Gabriel Nassif got all the chips in the middle preflop with Nassif's
trailing Ruberto's
.
The board of
brought no help to Nassif who was eliminated from the tournament.
Ruberto now has around 1,450,000 in chips and is still our overwhelming chipleader.

Vladimir Mefodichev and Anthony Lellouche got it all in preflop (Vladimir was the shorter stack with 296,000).
Mefodichev showed
and Lellouche had
The flop of
was a good one for Mefodichev giving him top pair. But the turn
and river
gave Lellouche a wheel and the knockout of Mefodichev.
Any more big river miracles this deep in the tournament and one of our players may have a heart attack. We'll keep you posted

We were drawn to table 375 after hearing some shouts when the river card hit the felt.
Davidi Kitai was all in preflop with
against the
of Daniel Morgan.
We didn't see the rest of the board, but we were told that an
hit the river to give Kitai the win and cripple Morgan. Neither had huge stacks, but Kitai moves up to 350,000 after the hand and Morgan moves down to just 80,000.
Level: 20
Blinds: 4,000/8,000
Ante: 1,000