Event #50: $5,000 Triple Chance No-Limit Hold'em
Day: 3
Event #50: $5,000 Triple Chance No-Limit Hold'em
Day 3 Completed
Level 30 : 40,000/80,000, 10,000 ante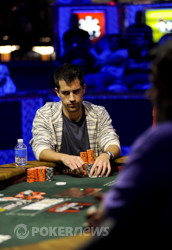 The task was too tall today. A robust 34 players returned to the felt today for Day 3 of Event #50, the $5,000 Triple Chance No-Limit Hold'em fun fest. At the end of the requisite ten levels, we're still four-handed for the bracelet, and it's Adam Geyer with his big stack setting the pace for an added fourth day on Saturday. His count of 3.73 million gives him about 37 big blinds to start Day 4, and this cash has pushed him well over the $1-million mark in career tournament earnings. He's still conspicuously without a bracelet, though, a blemish that he hopes to erase on Saturday afternoon.
Play began with Vanessa Peng atop the chip counts, and she rode her big (and then small... and then big again) stack all the way to the final table. Jeff Williams was the first to take the walk to the payout desk today, and he was followed out by the likes of Mark "dipthrong" Herm, David "Bakes" Baker, Vitaly Lunkin, Jeff Sarwer, Barry Greenstein, and Isaac Baron. Even with all of those big names gone, we still had a few familiar faces left when the field combined at ten to move over to the "Thunder Dome".
Peng was up and down and back up again all evening, but her run finally came to an end in 6th place. Peng took her stand with pocket deuces, but Darryl Ronconi found two tens to make the call with. A third ten on the flop was all she wrote for the last lady standing, and Peng earned six figures for her final-table run.
Fifth-place finisher Narendra Banwari was also the victim of a pair-versus-pair confrontation, his exit coming at the hands of Geyer. Narendra's pocket threes managed to find a set on the flop, but Geyer's pocket fives caught up with their own set as a third five landed on the turn. Banwari was out in fifth, and that's as far as we'd get tonight. When the bags came out, the remaining players stacked up thusly:
| Player | Chips |
| --- | --- |
| Adam Geyer | 3,730,000 |
| Antonin Teisseire | 3,425,000 |
| Darryl Ronconi | 3,000,000 |
| Eric Froehlich | 2,125,000 |
Our final four are set for a 2:30 P.M. conclusion to this battle, and we'll have a ringside seat once again. Will it be Geyer adding some hardware to his already respectable tournament stat sheet? Can Antonin Teisseire win another bracelet for France this summer? Will Darryl Ronconi's first six-figure cash come along with some gold, too? Or will Eric Froehlich come out on top again to claim bracelet number three? There's only one way to find out.
We'll see you right back here in about 12 hours to crown the 50th bracelet winner of this 2011 WSOP. Until then, all that's left is goodnight.
Level 30 : 40,000/80,000, 10,000 ante
It started as a slow final table sweat as many of the seats were empty when we first arrived at the ESPN set. However, as the night has gone on, more and more people are arriving and the people who have been drinking the entire time are becoming more and more noticeable.
While Shannon Shorr and company are giving their friend Adam Geyer a solid sweat, Eric Froehlich and Antonin Teisseire easily have the most rowdy rails of the players remaining. Teisseire is French and while his supporters, about 20 people deep, are not easily understood, they are clearly here to party. As we wrote this, we looked up to see what they were currently doing and one man was thrusting his lower region towards the stage for no particular reason at all.
A minute ago during a break in the action, they started to yell something in unison. Froehlich's rail, not to be out done, chimed in with a "Let's Go, E-Fro!" chant. The players here to watch Froehlich could form a pretty impressive poker table themselves as it includes Justin Bonomo, Isaac Haxton, Scott Seiver, Steve O'Dwyer, Brock Parker, and Mandy Baker. Bonomo has had some additional fun by yelling out, "Queen on the River!" whenever Froehlich is in a pot. He is referring to the two-outter that Froehlich hit earlier in the night to stay alive.
While we only have 20 minutes left of play tonight, things should reach a climax soon before everyone goes home for the night.
Level 30 : 40,000/80,000, 10,000 ante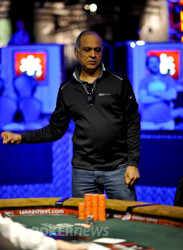 The action folded around to the blinds, and Adam Geyer open-shoved with his big stack. In the big blind, Narendra Banwari considered the decision for a long while before making the call for his last ~1.08 million to put himself at risk. The news was not good for him.
Showdown
Geyer:

Banwari:
The flop brought
, and Banwari found his set to pull into a commanding lead with two cards to come. He took a few steps away from the table and pumped his fist, but there were still two cards to come.
Turn:
That's the set for Geyer now, pulling back into the lead and leaving Banwari dead to the case trey. The river was the
, though, and it's another set-over-set situation. This one goes Geyer's way, and it's resulted in the elimination of Banwari in fifth place. That's good for nearly $180,000 as a consolation prize.
Player
Chips
Progress

Darryl Ronconi

3,750,000

250,000

Adam Geyer

3,505,000

1,005,000

Antonin Teisseire

2,095,000

-305,000

Eric Froehlich

1,650,000

-200,000

Narendra Banwari

1,080,000

-195,000
Level 30 : 40,000/80,000, 10,000 ante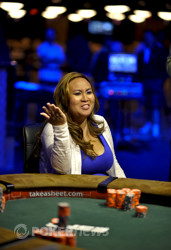 First to act, Vanessa Peng moved all in for 1.54 million. She was safe until it reached Darryl Ronconi in the big blind. He tanked for a few minutes before finally making the call. He tabled
, well ahead of the
of Peng. He ended it on the flop when it rolled off
. The turn
and river
finished her off and Ronconi has extracted revenge for an early hit and used that hand to chip up to 3.5 million.
Level: 30
Blinds: 40,000/80,000
Ante: 10,000
We've got ourselves a horse race.
Player
Chips
Progress

Adam Geyer

2,500,000

100,000

Antonin Teisseire

2,400,000

25,000

Darryl Ronconi

2,250,000

500,000

Vanessa Peng

2,050,000

-400,000

Eric Froehlich

1,850,000

-325,000

Narendra Banwari

1,275,000

-25,000
Level 29 : 30,000/60,000, 10,000 ante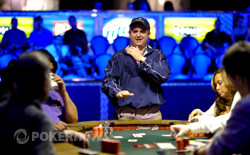 Antonin Teisseire opened the pot to 130,000, and Darryl Ronconi took this as another opportunity to shove all in. It was 805,000 total this time, and Teisseire spent a long while in the tank before he announced the call.
Showdown
Teisseire:

Ronconi:
Ronconi was the one at risk, but his ace-queen was in the dominating position. Dominating, that is, until the
flop changed everything. The French rail let out the loudest noise we've heard in quite some time as their man had caught his "valet" to take a big lead with two to come.
The turn, though, was the
, and Ronconi burst into his own celebration as he re-took the lead with a pair of queens. The river was the blank
, and Teisseire is going to have to pay out the double. It drops him to 2.375 million, while Ronconi is right back in this thing, back close to average with more than 1.7 million now.
Level 29 : 30,000/60,000, 10,000 ante
First, from the cutoff, Antonin Teisseire raised to 130,000 and Darryl Ronconi flatted from the button. Vanessa Peng folded her small blind before Adam Geyer three-bet to 300,000. Teisseire then four-bet to 585,000 forcing folds from both Ronconi and Geyer.
On the very next hand, Teisseire raised again to open the action, this from middle position to 135,000. Again, Ronconi flatted in position and again Geyer three-bet to 300,000. This time Teisseire folded but Geyer called. The flop was
and Geyer led out for 475,000. Ronconi let his hand go quickly and Geyer's three-bet from the blinds worked to perfection the second time around.