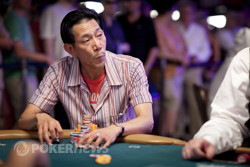 Stud
Scott Seiver: (X)(X) /
/ (X)
Minh Ly: (X)(X) /
/ (X)
Ben Lamb: (X)(X) /
/ (X)
After the trio had already put in a few bets by fifth street, it checked to Lamb who bet and the other two called. Then on sixth it checked to Seiver who bet and Lamb and Ly called.
On seventh Ly bet, Lamb called, Seiver raised, then Ly reraised. Lamb folded and after tanking for some time Seiver folded as well.
Seiver drops back to 1.225 million after that one. Meanwhile, Ly -- whose chips are variously stacked at the moment -- looks to have around 5.9 million and a sizable chip lead.