Kevin MacPhee Eliminated in 11th Place ($26,349)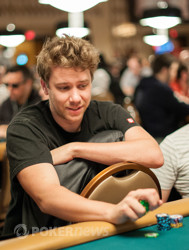 What an horrific start to the day for Kevin MacPhee. He arrived late after crashing his car in the Rio car park, the last thing you want to do when nursing the short stack. Then he gets to his seat and Joseph Cheong was in no mood to show him any sympathy when he took him out in the first fifteen minutes.
MacPhee min-raised from under the gun, Cheong raised the 'pot' from the cutoff (which put MacPhee all-in) and MacPhee made the call.
Board:
MacPhee sinks and Cheong takes his second double up and now has 364,000.