Event 48: $3,000 Limit Hold'em
Day: 1
Event 48: $3,000 Limit Hold'em
Day 1 Completed
Level 8 : 500/1,000, 0 ante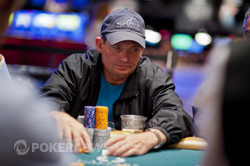 Day 1 of Event 48: $3,000 Limit Hold'em began with 247 entrants, and after eight levels of play, Sam Barnhart is your chip leader with 58,900 chips. Following closely behind him are a handful of players, including Michael Parizon (46,800), Micah Raskin (44,000), and Chad Brown (41,100).
Plenty of notable players came and went today, including Mike Sowers, Shawn Buchanan, Isaac Haxton, Scott Seiver, Don Zewin, and Richard Brodie. Phil Ivey registered, despite playing in the $50,000 Poker Players Championship, and when he arrived during Level 7, he quickly stacked off as well.
Jonathan Duhamel accumulated a lot of chips towards the end of the night, bagging up 25,700 at the end of the night. The 2010 WSOP Main Event champion busted Tyler Bonkowski – who won this event last year – and won a few pots off of fellow Canadian and Team PokerStars Pro Daniel Negreanu. Both players will return tomorrow, looking to position themselves for a bracelet.
Play resumes tomorrow at 2 p.m. local time, where the plan is to play ten levels. Come back then for up-to-the-minute updates from this and every event at the 2012 WSOP!
Good night from Las Vegas!
Player
Chips
Progress

Sam Barnhart

53,900

44,900

David Forster

52,200

Kenny Hsiung

47,800

Michael Parizon

46,800

Chad Brown

44,100

Micah Raskin

44,000

Bruno Portaro

41,200

Shawn Keller

40,600

6,600

Ray Henson

39,400

12,400

Philip Tom

35,100

Brandon Young

34,300

Mothel Krymchantowski

33,020

John Virtue

32,100

Thomas Blizniak

32,000

David Longood

31,900

Maria Ho

31,500

6,500

David Steicke

30,700

-1,300

Alex Dovzhenko

30,700

Baothang Nguyen

30,600

Jimmy Fricke

30,600

-2,900

Nicholas Muraca

30,000

Mitchell Davis

29,700

Jeffrey Einsidler

29,600

Justin Bonomo

28,900

9,900

Vinnie Vinh

28,600
Level 8 : 500/1,000, 0 ante
The players are bagging and tagging. We will bring you a few chip counts shortly.
Level 8 : 500/1,000, 0 ante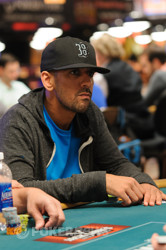 Robert Ferdinand, also known as "Bobby the Bus," raised in early position, and Ronnie Bardah three-bet from the small blind. Ferdinand called. The flop came
, and Bardah led out. Ferdinand called.
The turn was the
, and Bardah bet all in for just 100. Ferdinand called.
Bardah:

Ferdinand:
The river was the
, and Bardah doubled.
David Benyamine just busted in one of the last hands of the night.
Level 8 : 500/1,000, 0 ante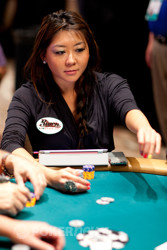 Well, that's a first.
Moments ago, over on Table 365, we heard Ali Eslami singing. When we arrived, we discovered that his eyes were fixed on Maria Ho, who just recently joined the table.
"I can show you the world
Shining, shimmering, splendid
Tell me princess, now when did
You last let your heart decide?"
"Make it stop!" Todd Brunson shouted from an adjacent table.
"It's your turn," Eslami told Ho.
There was brief pause, then Ho continued the song. The two went back and forth, and we were very surprised to see that they both knew the lyrics to the Aladdin classic "A Whole New World" - until we saw that they both Googled lyrics on their respective iPads.
"Is this some kind of sick side bet?" someone at the table asked.
The pair completed the song, and received a brief round of applause from the surrounding tables. Ho was smiling from ear to ear.
"You're such a shy little bird," Eslami joked.
Ho could only giggle.
This was definitely a first for us, and if we have to put our Simon Cowell hat on, we'll say that Ho clearly outperformed Eslami.
Player
Chips
Progress

Sam Barnhart

36,000

5,900

Shawn Keller

34,000

18,950

Jimmy Fricke

33,500

22,500

David Steicke

32,000

11,500

Jonathan Duhamel

29,000

-6,000

Ray Henson

27,000

14,200

Chad Brown

25,500

6,000

Maria Ho

25,000

10,400

Leonid Bilokur

24,000

7,000

Dan Kelly

21,000

5,000

Humberto Brenes

19,000

8,500

Justin Bonomo

19,000

-300

David Benyamine

18,000

Chris Grigorian

17,000

9,500

Ronnie Bardah

15,200

7,125

Jeff Shulman

14,800

-3,800

Jesse Martin

13,500

5,900

Shaun Deeb

12,600

-1,600

Todd Brunson

12,400

2,650

Dwyte Pilgrim

12,300

1,300

Al Barbieri

12,000

4,400

Shannon Shorr

11,600

8,300

Aubin Cazals

8,500

1,500

Vladimir Shchmelev

7,600

4,200

Scott Seiver

6,600

-4,200
Level: 8
Blinds: 500/1,000
Ante: 0