Event 49: $1,500 Ante-Only No-Limit Hold'em
Day: 2
Event 49: $1,500 Ante-Only No-Limit Hold'em
Day 2 Completed
Level 19 : 0/0, 6,000 ante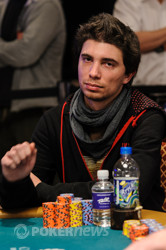 Day 2 here at the Rio had the appearance of any other no limit hold'em event, but that image was quickly shattered as players dropped at a rapid pace today. With 110 players making it through day 1 only 9 made it through the end of day 2. The day consisted of tables constantly being broken and players being scattered around the room. The no blinds and only antes structure of this tournament seemed to bring in a lot of eliminations. Players were set to play 10 levels or down until 9 people were left. The rapid pace of this ante only structure allowed for 9 players to be reached with a level and a half of play to go, setting up our final table.
Play did eventually slow down once the final 18 players took their seats. The final two tables allowed for a select few to exploit the structure and climb up the counts while players such as Garth Arnason, Lorenzo Sabato, and Bryan Pimlot fell to the wayside. With those players falling, a handful started to rise to the top.
Mike Sowers continued to acquire chips and knock out players. In one of the larger hands Sowers managed to call the all in of Daniel Buzgon with pocket kings, unfortunately for Sowers his opponent had two aces. A king on the flop though threw the advantage in Sower's favor and he scored big. Erick Lindgren also seemed to gain a lot of momentum as play wore on, but a small misstep against Eugene De Plessis caused him to lose a chunk of his stack. With that hand De Plessis was able to flirt with the chip lead, trading back and forth with Sowers. At the end of the day though De Plessis came out on top and bagged the most chips, 996,000. Sowers finished right behind him with 824,000.
Lindgren never seemed to recover from that initial loss against De Plessis and continued to sink. Eventually Lindgren found himself up against De Plessis again, and we saw more of the same results with Lindgren being eliminated in 11th place.
Jon Turner emerged as the tournament's early chip leader, but a slew of beats and bad spots saw him exit during the middle of the day. Melanie Weisner also was forced to have a short day after Jon Turner hit a straight. Other players you won't see on day 3 are Mickey Peterson, Dan O'Brien, Jeff Madsen, Mike Leah, and Thomas Conway.
Here is a preview of what things will look like for tomorrow's final table.
Final Table Chip Counts
| Seat | Player | Chips |
| --- | --- | --- |
| 1 | Seth Davies | 640,000 |
| 2 | Sameer Aljanedi | 167,000 |
| 3 | Justin Schwartz | 252,000 |
| 4 | Eugene Du Plessis | 996,000 |
| 5 | Mike McDonald | 205,000 |
| 6 | Greg Hobson | 608,000 |
| 7 | Mike Sowers | 824,000 |
| 8 | John Hayes | 229,000 |
| 9 | Harrison Gimbel | 325,000 |
Despite a handful of deep stacks, this ante only structure could allow for anything to happen. Stay tuned here to PokerNews for all your Event 49: $1,500 Ante-Only No-Limit Hold'em final table updates.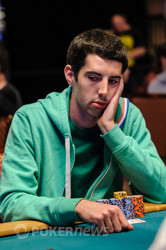 Immediately after Erick Lindgren's elimination and before the two small tables could combine to one ten-handed table, Grayson Ramage moved all in before the flop and was called by Greg Hobson.
Ramage:

Hobson:
Ramage was far behind Hobson and got even further when the flop brought Hobson a set. The final board was
and Ramage was sent home in 10th place, leaving our final table of nine.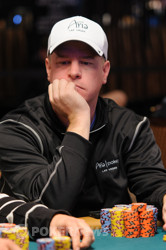 We caught up with the action to find Erick Lindgren and Eugene Du Plessis looking down at a board of
. Lindgren announced all in and after a beat Du Plessis announced a call.
Du Plessis tabled
for two pair.
"Shit," Lindgren lamented, slapping his
on the table. "You've gotta be kidding me".
Lindgren began his walk out of the tournament area before the
completed the board and sealed his fate. Du Plessis stood up to try and shake Lindgren's hand, but Lindgren made a beeline under the ropes and out of the area.
Level: 19
Blinds: 0/0
Ante: 6,000

Level 18 : 0/0, 4,000 ante
The remaining eleven players are now on their final break of the night.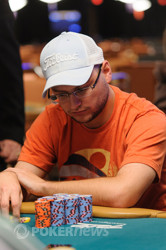 Mike Sowers opened the action to 13,000 and it folded around to Daniel Buzgon on the button. Buzgon made it 39,000 to go and Sowers replied by announcing all in. Buzgon snap called and turned over
which was crushing Sowers'
.
The dealer pounded the table and produced a flop of
, taking what looked like a remarkable cooler for Sowers and turning into a profitable situation. The turn was the
and the river the
. Buzgon threw his cards into the muck and walked away from the tournament area as our 12th place finisher.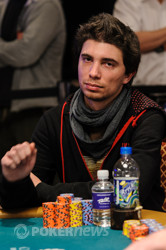 The flop read
and Mike Sowers was first to act and oped to check. Erick Lindgren, Daniel Buzgon, and Justin Schwartz all checked as well. Eugene Du Plessis however bet out 17,000. Sowers made the call and Lindgren raised to 58,000. Buzgon and Schwartz ran away and Du Plessis took his time before placing the call. Sowers also deposited a call and we were off to the turn.
The
made an appearance on fourth street which prompted a check from Sowers and a bet of 140,000 from Lindgren. Du Plessis then moved all in for around 380,000. Sowers folded and Lindgren went into the tank. After a minute or so passed Lindgren threw it away and Du Plessis took down the large pot.

On a flop of
, Daniel Buzgon led out with a bet and Harrison Gimbel replied by moving all in. Buzgon snap called and showed
for two pair and was ahead of Gimbel's
for top pair.
Fortunately for Gimbel, the
immediately peeled off on the turn, giving him the better two pair. The
fell on fifth, sealing the deal and insuring Gimbel and double up.

Player
Chips
Progress

Mike Sowers

630,000

88,000

Seth Davies

530,000

50,000

Eugene Du Plessis

500,000

-40,000

Erick Lindgren

440,000

-130,000

Daniel Buzgon

425,000

124,000

Greg Hobson

350,000

20,000

John Hayes

230,000

70,000

Grayson Ramage

210,000

52,000

Sameer Aljanedi

210,000

-60,000

Mike McDonald

185,000

5,000

Justin Schwartz

170,000

20,000

Harrison Gimbel

155,000

-35,000