Hua vs. McNeil for the Title!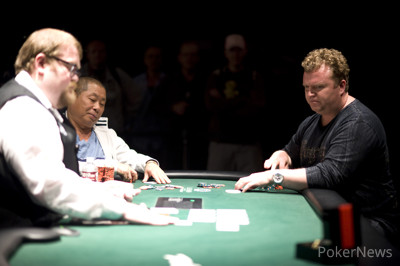 Yesterday, 22 players returned with hopes of winning Event #20, and after 9 levels of play, it was down to two players: Can Kim Hua and Calen McNeil. The two battled for over an hour, with the players exchanging scooped pots, and the lead. By the end of the 10th level, the players had the option to play one more level, or come back today and finish it out. McNeil wanted to press on, but Hua was done for the night.
McNeil will come into today with a huge chip lead thanks to a monster pot that he dragged on the last hand of last night. Hua attempted to bluff raise the river, but that card had given McNeil trips, and he made the call. With the blinds starting at 50,000-100,000, and the betting limits being 100,000-200,000, we expect this to be a short heads up battle. Here's how the stacks look coming into today.
Calen McNeil: 3,470,000
Can Kim Hua: 1,100,000
The two players are scheduled to continue play at 1 PM, and we will be here to give you all the updates on how it goes! Until we get started, check out Lynn Gilmartin's recap to get caught up on all the other action from the Rio yesterday!