Event #20: $1,500 Omaha Hi-Low 8-or-Better
Day: 1
Level: 11
Blinds: 500/1,000
Ante: 0

Level 10 : 400/800, 0 ante
Player
Chips
Progress

John Larson

73,700

Thomas Besnier

66,600

Guillaume Rivet

57,300

Pierluigi Giglio

53,900

Eric Sclavos

53,600

Won Goag

53,100

Brian Hastings

47,900

Dale Beaudoin

47,900

9,900

Calen McNeil

47,800

Robert Turner

47,700

Ken Tran

47,700

Dennis Ethier

46,800

Michael Menkes

43,800

Ron Faltinsky

43,300

Daniel Adelson

42,900

500

Kahala Carter

42,500

Dmitrii Valouev

42,400

Men Nguyen

41,600

14,600

Kim Sherlin

40,800

James Bord

40,000

Matthew Kelly

39,700

Jan Sjavik

39,600

Barry Reuther

38,100

Max Steinberg (Max J. Steinberg)

36,300

Jonathan Hart

36,200
Event #20: $1,500 Omaha Hi-Low 8-or-Better
Day 1 Completed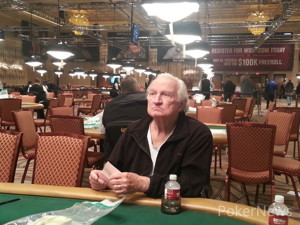 Today the 2013 World Series of Poker continued as 1,014 players packed the Brasilia Room for Day 1 of Event #20 $1,500 Omaha Hi-Low Split 8-or-Better. That was 47 players more than the year prior—representing a nearly 5% increase in attendance—and meant there was a $1,368,900 prize pool on the line. That will be distributed to the top 117 players, with a healthy $277,274 reserved for the eventual winner. The man best positioned to capture it? That would be John Larson, who emerged as the chip leader of the advancing 219 players with 73,700.
While Larson had the most chips, plenty of other notables bagged up big stacks including Thomas Besnier (66,600), Eric Sclavos (53,600), Brian Hastings (47,900), Robert "Chip Burner" Turner (47,700), Dmitrii Valouev (42,400), James Bord (40,000) and Matthew Kelly (39,700).
Of course not everyone was so lucky. Among those to hit the rail on Day 1 were Maria Ho, Daniel Negreanu, Phil Ivey, Chad Brown, Cory Zeidman, Matt Glantz, Phil Hellmuth, 2007 champ Alex Kravchenko, 2011 champ Francesco "Cheech" Barbaro, and the defending champ Herbert Tapscott.
While many big names fell, quite a few are still in contention including Max Steinberg (36,300), Carlos Mortensen (31,500), David Chiu (29,000), Daniel Weinman (28,400), Barry Greenstein (27,900), Men "The Master" Nguyen (27,000), Mike "The Mouth" Matusow (23,700), Owais Ahmed (23,000), Mike Sexton (22,900), Tom Schneider (18,600) and Jennifer Harman (17,000), just to name a few.
Day 2 is set to kick off at 1:00 PST on Tuesday. Join us then as we bring you all the updates on the way to the money and onward to the final table. Until then, good night from the Rio.
Player
Chips
Progress

John Larson

73,700

73,700

Thomas Besnier

66,600

15,600

Eric Sclavos

53,600

Pierlugi Giglio

53,300

53,300

Wong Goag

53,100

53,100

Brian Hastings

47,900

Calen McNeil

47,800

9,800

Ken Tran

47,700

47,700

Robert Turner

47,700

-2,300

Denis Ethier

46,800

46,800

Mike Menkes

45,800

3,800

Ron Paltinsky

43,300

43,300

KC Carter

42,500

42,500

Dmitrii Valouev

42,400

-2,600

Daniel Adelson

42,400

42,400

Matt Kelly

39,700

2,700

Jan Olav Syavik

39,600

39,600

Barry Reuther

38,100

25,100

Max Steinberg (Max J. Steinberg)

36,300

36,300

Jonathan Hart

36,200

36,200

Al Barbieri

36,000

36,000

Carlos Mortensen

31,500

11,500

David Chiu

29,000

-1,500

Daniel Weinman

28,400

2,400

Barry Greenstein

27,900

-5,100
The tournament staff has just announced that the remaining players will play seven more hands before bagging and tagging for the night. We're headed out to the floor to capture any last-minute hands and to grab a list of notable chip counts. Stay tuned for those and a full recap of the Day 1 action.
Play has slowed a bit here at the tail end of Level 10. We've noticed quite a few players ordering beers, perhaps an early celebration for making Day 2. They've got about 15 minutes though until the clock expires, and as well all know anything can happen.
Right now the clock says 239 players remain, which means there will be quite a ways to go tomorrow before they make the money at the top 117.
Player
Chips
Progress

Thomas Besnier

51,000

Robert Turner

50,000

Mike Menkes

42,000

James Bord

40,000

Dale Beaudoin

38,000

Calen McNeil

38,000

27,325

Eric Sclavos

35,000

-7,600

Brian Hastings

35,000

6,500

David Chiu

30,500

5,000

Daniel Weinman

26,000

16,000

Todd Brunson

25,000

200

Dario Alioto

25,000

-3,700

Tom Schneider

20,000

Mike Matusow

20,000

-4,000

Tony Cousineau

19,000

12,450

Mitch Schock

14,500

4,500

Gavin Griffin

8,000

Kathy Liebert

6,500

-4,500

Allyn Shulman

5,000

-18,000

Chris Bjorin

Busted

Daniel Negreanu

Busted
Level 10 : 400/800, 0 ante
We walked into a hand that had significant preflop and post flop action involving Allen Kessler.
Kessler was short, and got his chips in with
. The board came
, giving Kessler a live four for the nut low. However, one of his opponent also had the nut low, and the other had a better two-pair. Kessler got quartered, but is still alive with 3,000 chips.
Level: 10
Blinds: 400/800
Ante: 0