Final Table Interview: Matthew Ashton
Level 24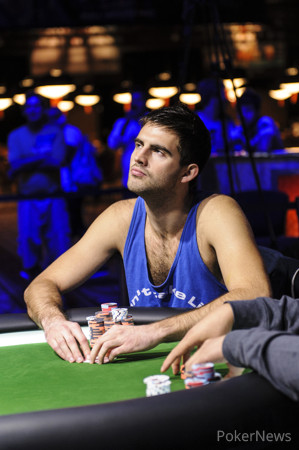 England's Matthew "MUSTAFABET" Ashton is representing his country well here at 2013 World Series of Poker. Primarily an online cash-game player, Ashton has had his share of success in live tournaments this summer.
Including the Poker Players' Championship, Ashton has made four final tables. His first final table of the summer came in Event #5: $2,500 Omaha/Seven-Card Stud Hi-Lo where he placed third behind Mike Gorodinsky and Kristopher Tong. A few days later, he finished runner-up to seasoned pro Mike "The Mouth" Matusow in Event #13: $5,000 Seven-Card Stud Hi-Lo. And less than a week later, he found himself at another final table. This time it was Event #23: $2,500 Seven-Card Stud where he took seventh behind Scott Seiver, Michael Mizrachi, and eventual winner David Chiu. After coming close a few times, Ashton seems more than ready to snag his first gold bracelet.
During the dinner break we had an opportunity to talk to Ashton about his experience with mixed-games, his toughest competitor at the final table, and what he does off the poker tables to stay equipped for the game.
You have three final tables, four including this event. At this point what is motivating you?
I just really want to win a bracelet. After coming so close before it would be really nice to go all the way and take one down. I don't think it is ever fair to say that anyone deserves a bracelet but it would be nice to be awarded with something to show for your hard work over the years.
With two weeks left of the WSOP, what are your plans for the rest of the series and after?
If I win this tournament it would be the best thing because it's a reflection of your skills in all poker disciplines and not just one. After this tournament I plan on just relaxing a little bit because I've been playing so much. I will play the Main Event and do my best to run deep and make a big score. After that I will go back to playing online and focus on improving my game and getting better as a player.
What work do you put in off the tables?
I do quite a bit of game theory stuff, which is more on the math side of things. I work on different simulations and working out what is exploitable and what isn't. I would say I put in as much time studying off the tables as I do actually playing. It's important to be it the work because the games are always changing and there's always players who are becoming better than you. You have to evolve, adjust, and stay ahead of everyone.
You're up against some of the best pros in the industry. What is your confidence/comfort level at the table?
I'm really comfortable. I play mixed games probably as much as any of them, with the exception of maybe John Hennigan. I'm probably more comfortable or at least as comfortable as they are. You can't be intimated by any of the players you go up against. You have to see them all the same and think they are just your competitors, the same as anyone else. That helps to keep you focused.
Of the eight games in play, which are your strongest and which is your weakest?
The split-pot games are my strongest. So Omaha 8-or-Better and Stud 8-or-Better are the best games for me. I definitely feel most comfortable with those. Those are two games I think people fold too much so you can take advantage of a lot of spots.
My weakest game was Stud but now I am more comfortable and more knowledgeable of the game than I used to be. Now, I would consider no limit Hold'em my weakest because the rest of the poker population has gotten really good at the game so it's a lot tougher than it used to be. It will probably only get harder in the future, I believe.
Since it's a five-day event, which day elevated you to the final table?
Each day I ended up pretty strong. In tournaments you have to try to avoid trouble to build your stack and I think I accomplished just that. There was one really big pot limit Omaha hand actually, where I got it all in in a multi-way pot. I had top set, one player had a really big straight draw and the other had the nut-flush draw. I was the favorite to win but in that situation you can expect to get knocked out of the tournament half the time. That was a really important hand because I not only stayed but built my stack from that hand.
What cash games/tournaments do you play to prepare for events like these?
Most of the games online on PokerStars are eight-game so it's just like this tournament. There aren't many live cash games in England so I stick to playing online.
Which players do you hope to not play heads up against?
John Hennigan is scary in these games. He has vast knowledgeable in all variants and is probably the strongest player on the table right now. He's definitely the one I would rather not be up against heads up but other than that I am comfortable with any of the remaining players.