Event #37: $1,500 Pot-Limit Omaha
Day: 1
Event #37: $1,500 Pot-Limit Omaha
Day 1 Completed
Level 10 : 500/1,000, 0 ante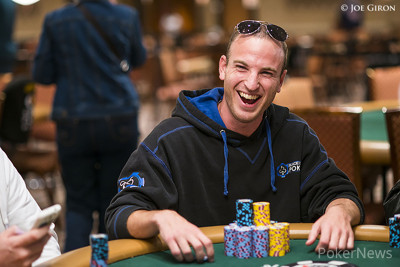 It was a frantic and fast-paced day in Event #37: $1,500 Pot-Limit Omaha that would see the money bubble burst shortly before play ended for the night. When all was said and done, Brandon Paster was our chip leader ending the day with 135,300 in chips. He was followed closely by bracelet winner Fabrice Soulier who bagged an impressive 129,300. Rounding out the top three is Michael Wang who scooped a huge pot near the end of the night and ended with 113,900 in chips. Lurking nearby is the dangerous Erick Lindgren who would finish with a stack of 100,000.
Other notables to move on to the second day were Bryan Micon (16,600), David Paredes (34,200), Mark Gregorich (9,300), Kevin Saul (24,700), Will Durkee (24,300), Joe Stiers (44,200), Vinny Pahuja (12,900), Layne Flack (37,500), Taylor Paur (85,000), Galen Hall (45,500), and Humberto Brenes (11,900). This would be Brenes's eighth cash of the 2014 WSOP.
A total of 967 players entered the tournament and there were a number of notables that would be eliminated over the course of the day including the likes of Jonathan Little, Chris Moorman, Joe Cada, Barry Greenstein, Dominik Nitsche, Scotty Nguyen, Annette Obrestad, Carlos Mortensen, Keven Stammen, Paul Volpe, David Williams, and Jason Mercier.
The remaining 113 players will return at 1 p.m. local time. PokerNews will be here to bring you all the exciting PLO coverage. Tune in to find out who makes it deep and who hits the rail!
Level 10 : 500/1,000, 0 ante
Player
Chips
Progress

Brandon Paster

135,300

135,300

Fabrice Soulier

129,300

17,300

Michael Wang

113,900

Julio Marines

108,500

-5,000

Erick Lindgren

100,000

-5,600

Glen Gelmroth

97,300

97,300

Derek Miller

88,000

88,000

Norman Silverman

86,800

Raj Vohra

85,000

-16,300

Taylor Paur

85,000

85,000

Thomas Pronold

84,300

Noomis Jones

82,300

-1,500

Jonathan Poche

77,700

77,700

Alexander Barlow

76,800

Melad Marji

73,600

Morgan Popham

71,100

Callum Moore

69,400

1,400

Devon Shalmi

64,300

Martins Adeniya

63,900

-13,100

Matthew Dames

60,400

[Removed:191]

59,000

Pj Cha

58,800

Adam Bilzerian

57,800

AP Phahurat

53,600

Gregory Genge

52,300
Level 10 : 500/1,000, 0 ante
We lost several players on the last hand and as such we have made the money and there will be no hand-for-hand bubble. Humberto Brenes has cashed for an amazing 8th time this WSOP.
Level 10 : 500/1,000, 0 ante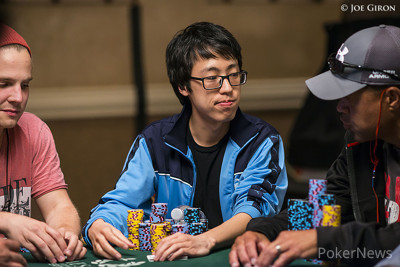 With a board of
, Mike Wang bet 13,000 into a pot of 18,000. Jonas Mackoff raised it to 30,000 and after tanking for over a minute, Wang pushed his stacks of chips forward and announced "I'm all in." Mackoff made the call and the cards were turned face up:
Wang:
for kings with a flush draw
Mackoff:
for bottom two pair with an open ended straight draw
The turn gave Wang the flush as it was the
and Mackoff could only knock him out with a river four or three. The river was the
and Wang scooped the 125,000 chip pot to move into the chip lead with 15 minutes of play left in the evening. There are 119 players left, only two away from making the money.

Level 10 : 500/1,000, 0 ante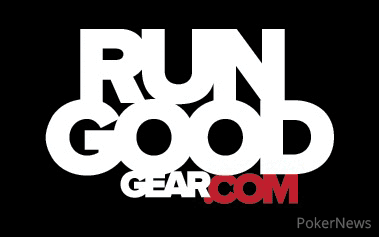 Need some poker swag?
There's a brand new batch of RunGoodGear products available, including the new RunGood Cardbox T-shirts, spaded hoodies and a newly added section just for women, like RunGood Pros Lauren Kling, Katie Dozier and Amanda Baker.
PokerNews fans can grab some RunGoodGear on a discount during the World Series of Poker. Simply use the promo code "pokernews" for your next order and receive 10% off. That's right! Type "pokernews" into the promo code box and 10% of your order goes right back into your bankroll.
For more information - or if you want to check out some of the new swag available - check out RunGoodGear.com.
Level 10 : 500/1,000, 0 ante
Here is what looks to be the top five stacks in the room as we near the end of play for the day:
Player
Chips
Progress

Julio Marines

113,500

19,500

Fabrice Soulier

112,000

20,000

Erick Lindgren

105,600

17,600

Jonas Mackoff

102,000

46,000

Raj Vohra

101,300

6,300
Level 10 : 500/1,000, 0 ante
There are 130 players remaining and the tournament pays 117 - it's going to be close so stay tuned!
Level 10 : 500/1,000, 0 ante
At some point today the following players were eliminated from action:
Player
Chips
Progress

David Williams

Busted

Keven Stammen

Busted

Jared Hamby

Busted

Jason Mercier

Busted

Matt Stout

Busted

Paul Volpe

Busted

Scott Clements

Busted

William Reynolds

Busted

Carlos Mortensen

Busted

Joe Cada

Busted

Chris Moorman

Busted

Jonathan Little

Busted

Barry Greenstein

Busted

Dominik Nitsche

Busted

Annette Obrestad

Busted

Scotty Nguyen

Busted
Level: 10
Blinds: 500/1,000
Ante: