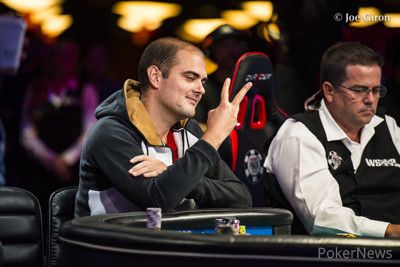 | | |
| --- | --- |
| Seat: | 9 |
| Chip Count: | 8,050,000 (9/9) |
| Hometown: | Vincenna, France |
| Age: | 29 |
While France gets ready to play Croatia in the World Cup final on Sunday, France's Antoine Labat is happy for his country but is more focused on another competition. The lone Frenchman standing in the 2018 WSOP Main Event, Labat says he feels the support from his home country.
"The French community is really beside me; even if they don't really know me."
A mostly online player, using the monicker 'Mpiyavv' to collect $623,363 in earnings, Labat has just under $200,000 in live cashes to his credit. His only two WSOP cashes, both coming from this summer, make for a total of $6,857 prior to the Main.
Really into all kinds of board games and competitive chess growing up, Labat naturally transitioned into poker as soon as he could, around age 17. Once he could go to casinos at 18, he did so, and pretty soon Labat was playing live cash and online MTTs for a living, which he does to this day.
With one brother and one sister, Antoine was always the gambler in the family, "[l was always] willing to put my ass on the line."
That's exactly what he did in the final hand of the night, even though it didn't work out this time. The monster cooler of a last hand of the evening saw Labat commit most of his stack with pocket kings, only to be up against Nicolas Manion's pocket aces and another pair of kings, held by the shorter-stacked Yueqi Zhu. Manion's aces held up and, while Zhu's elimination got them down to the official final table, Labat was left as the short stack.
Understandably, Labat was feeling a bit sad right after bagging up for the final table, but the feelings were mixed.
"I'm really happy to be here. Really really, I just wish it would not be that way at the end."
Though he wondered in the moment if he could fold the kings, he decided he kind of had to go with it. "If I fold, it's going to look so crazy. But I had this feeling like, he has it. The way he did it, it's just like, it's just a feeling."
But even though it didn't go down exactly the way he'd hoped, Labat stayed positive and kept perspective.
"It's amazing, it's amazing. I know I'm a lucky guy to be here."
HOW HE GOT HERE
| Day | End-of-Day Chip Count | Rank |
| --- | --- | --- |
| 1c | 168,500 | 63/3,470 |
| 2c | 218,000 | 282/1,655 |
| 3 | 185,000 | 726/1,182 |
| 4 | 1,359,000 | 113/310 |
| 5 | 2,015,000 | 79/109 |
| 6 | 28,445,000 | 3/26 |
KEY HAND
On Day 6, Labat caught a massive heater to soar from 2.015 million to a third-place stack of 28.445 million to end the day.
The pivotal hand came in the third level of the day when Labat picked up aces against Michael Feil's pocket kings and Brent Ballentine's queens. All the chips went in preflop, and Labat's aces held to vault him up the counts with 18 million as he sent two to the rail. Labat was emotional after the hand and called it, "the best thing I ever won in poker."
"It really upset me from my feet to my head and then when I went on break I was like crying almost. I felt really bad; really good and really bad at the same time."
He caught fire with that pot, flopping a boat with jack-nine against Jeff Trudeau, and then going runner-runner Broadway against Andres Jeckeln, who had flopped a set of fives. A bit later, Labat flopped a set of queens when Jeckeln flopped another set of fives, and Labat won that significant pot which put him into the chip lead for the first time.
With players dropping on Day 7, Labat was feeling the pressure and was focusing on his breathing, making sure the oxygen was getting to his body and brain. His goals as the final tabled approached?
"Just play hand by hand, and see what happens. Stay focused, play my best."
WHAT TO WATCH FOR
It's fun for Labat to be playing at the WSOP final table after watching it with his brother on TV in France a decade ago.
"We imagined ourselves; one day we'd be there, so now it's my turn. I hope it's going to last more than five minutes, that's all, since my girlfriend is joining tomorrow. I hope she's not coming just for seeing me bust in five seconds."
His friends and family in France likely stayed up all night watching Labat make the final table, and his sister is also flying in but will be late. Again, Labat hopes he can build up his stack and stick around, so they get to watch him play.
While Labat was disappointed to take the big hit at the end of the night and come into the final table short, he is confident that he will find a double up and build back.
"They don't know it, but I will. I know I'm going to make it. I feel it. I just had to lose that hand to make them feel that I am human, that's all."