Seat 5: Nicolas Manion (35) - 112,775,000 (1/9)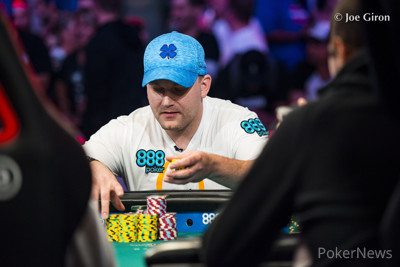 | | |
| --- | --- |
| Seat: | 5 |
| Chip Count: | 112,775,000 (1/9) |
| Hometown: | Muskegon, Michigan |
| Age: | 35 |
| Twitter: | @spewzata |
Manion may be a small-stakes grinder per usual, but hey — so was Ryan Riess.
Manion has mostly built up his tournament chops playing smaller online events, but has very little live tournament experience and only a few small results on Hendon Mob. After bagging the ninth biggest stack of the remaining 26 players on Day 6, he told PokerNews:
"Recently I've just been doing really well, playing well, and running even better. And that's what's been going on in the Main Event. So it's been great."
Manion's first WSOP event ever, he wouldn't normally have made the trip out to Vegas from Michigan, but his friend made him an offer he couldn't refuse.
"I had a buddy that was out here from Muskegon, [Michigan,] and a couple months ago he asked me if I wanted to play two $2,175 mega satellites that he would put me in. I played both of them, qualified out of both, and he said, 'let's play this,' because I told him I was playing really well."
The first day of the tournament was going smooth and he was building, but then he flopped the nut straight with jack-ten on seven-eight-nine, and got in stacks with an opponent who held top two with nine-eight. A nine on the turn left Manion down to 20,000 and he ended the day very short.
He didn't let that stop him though, and Manion would spend the next four days of the tournament grinding a small to medium stack. Never with a big stack until the middle of Day 6, Manion didn't really feel the full effects of the pressure of going deep in the Main Event. At the end of Day 6, he told PokerNews:
"The craziest thing about this tournament is [that] I really haven't had many chips to have to have big decisions. So it's either, I'm going with my hand or I'm not. And now that I've got chips, I'm a little bit more nervous, but I think I'm playing well so it kind of cancels that out."
HOW HE GOT HERE
| Day | End-of-Day Chip Count | Rank |
| --- | --- | --- |
| 1c | 11,500 | 3,361/3,470 |
| 2c | 66,800 | 1,267/1,655 |
| 3 | - | -/1,182 |
| 4 | 1,051,000 | 152/310 |
| 5 | 1,395,000 | 95/109 |
| 6 | 17,630,000 | 9/26 |
| 7 | 112,775,000 | 1/9 |
* Day 3's count missing on official chip count list
KEY HANDS
Manion started Day 6 as one of the shorter stacks of the final 109 players with 23 big blinds and was just bleeding chips, getting no hands to work with. But that all changed in the second level of the day:
"I think blinds were 40K/80K and I had 650,000 and had pocket sevens vs. ace-king and rivered a seven. And a guy said he folded a seven, so that was pretty good too."
Manion proceeded to chip up from there for the remaining few levels of the day, and made a huge laydown with pocket kings preflop at the very end of the night to preserve his stack and finish the day ninth in chips.
Manion opened to 500,000 with blinds at 100K/200K/30K and Alex Lynskey three-bet to 1.5 million. After Barry Hutter moved in for his last 580,000, Manion four-bet to 5 million. Lynskey moved in the rest and the decision was for a large chunk of Manion's remaining stack. Manion filled us in on his thought process just after the hand.
"I've shown nothing but nut hands today, and he shoved all in for 16 million. To me, that's just one hand and one hand only, so I'm not going to put my tournament life on kings when I'm 99 percent sure he has aces."
On Day 7, Manion chipped up early and stayed near the top of the counts all day. Then, a privotal hand went down after the final ten took their seats at the unofficial Main Event final table.
In the hand, Manion looked down at pocket aces under the gun and raised to 1.5 million at 300K/600K/100K. Antoine Labat flat-called in middle position and Yueqi Zhu moved all in for 24.7 million from the hijack. The action folded around back to Manion:
"So I try to tank a little bit and make it look like I don't have a huge monster, but I eventually shove and seat nine [Labat] tank-calls and they both have pocket kings. And somehow, this is real life.
"When I got both calls, I flipped over my hand and I didn't even stay to see what they had. I went straight to my rail and looked up at the T.V. and they had set up pocket kings and my aces. So the only way to lose the hand is a flush and luckily the turn card did not put a flush draw on the board, so it was all over."
With Zhu as the shortest of the three, he was eliminated in the hand and Labat was knocked down to short-stack status, while Manion took over the chip lead long-held by Michael Dyer.
WHAT TO WATCH FOR
Though Manion is not accustomed to playing for such high-stakes, he's keeping his cool and says that being chip leader won't change up his game.
"That will not affect my play at all. I'm still gonna stick to my game plan of playing the hands that I'm dealt and trying to just chip up and win the pots that I'm entering."
As a mostly $1/2 casino and home game player, Manion doesn't have any aspirations of straying from his lifestyle back home in Michigan, where he also enjoys hanging out with his dogs at the beach near his home.
"This is great, but I mean, I will not change what I'm doing. I'm not gonna go play big tournaments and blow my bankroll. I'm gonna play with all my friends just like before and enjoy life now."
Some of those buddies will undoubtedly be cheering Manion on, railside, just as they did when he charged into chip leader status in that fateful, final hand on Day 7.