Event #27: $1,500 Seven Card Stud Hi-Lo 8 or Better
Day: 4
Event #27: $1,500 Seven Card Stud Hi-Lo 8 or Better
Day 4 Completed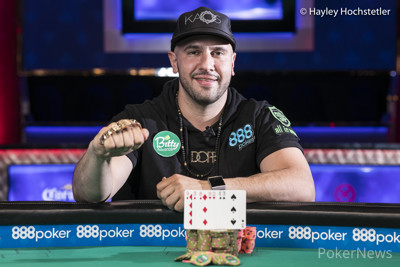 "Grinder! Grinder! Grinder!"
Not for the first time, the chants of Michael Mizrachi's rail echoed around the Amazon room here in Event #27: $1,500 Stud Hi-Lo at the Rio All-Suite Hotel & Casino as he captured bracelet number five, becoming the most successful bracelet-winner of the decade. Mizrachi topped a field of 460 and defeated Robert Gray heads-up to secure the title, nine years after his first back in 2010.
And with the Poker Players Championship still to come this year, the Grinder could yet add bracelet number six in an event he's won three times before.
Here are the final payouts:
| Position | Name | Country | Payout |
| --- | --- | --- | --- |
| 1 | Michael Mizrachi | United States | $142,801 |
| 2 | Robert Gray | United States | $88,254 |
| 3 | Michael Sopko | United States | $60,330 |
| 4 | Elias Hourani | United States | $42,014 |
| 5 | Jan Stein | United States | $29,818 |
| 6 | Jose Paz-Gutierrez | Bolivia | $21,575 |
"It's an amazing accomplishment," Mizrachi told PokerNews shortly after his victory, "But I'm going to give it all to these beads."
He gestured to some beads hanging around his neck.
"I didn't have them on for the whole World Series so far. So I said I'd look for them, and I found them. I had them on last Series and of course I did great, so in this tournament, I had them on from the start and I ended up winning so I can't take them off!
"It was a tough table but I think the experience helped me out a little bit from, you know, a lot of tournament experience. I feel like I had a pretty good edge on the players in certain spots where they probably wouldn't play hands. I played those hands where I know they're going to fold and that way I can win a lot of antes and bring-ins."
Mizrachi praised his friends and family that were on his rail for most of his final table.
"I couldn't do it without them. You have to have fun when you play poker so you always have to have a good time. Especially at a final table where you know you're going to get a big payout and you have a chance for the gold bracelet."
Final Day Recap
Jan Stein crept into the final day as the short stack, but chipped up through Jose Paz-Gutierrez early on to leave his opponent short, and the Bolivian would become the first elimination of the day at the hands of Michael Sopko.
Sopko made aces up on sixth street, and Paz-Gutierrez needed a low card to chop but could only muster up an inferior two pair to bust in sixth.
He was soon followed out the door by Stein, who ran into the full house of Robert Gray to bust in fifth. This moved Gray into the chip lead and he would extend it after making a flush against Elias Hourani.
Left with just over two big bets, Hourani could have folded but battled back as start-of-day chip leader Michael Mizrachi headed in the other direction. Sopko moved into the lead, but not for long as Gray came back to lead at the first break.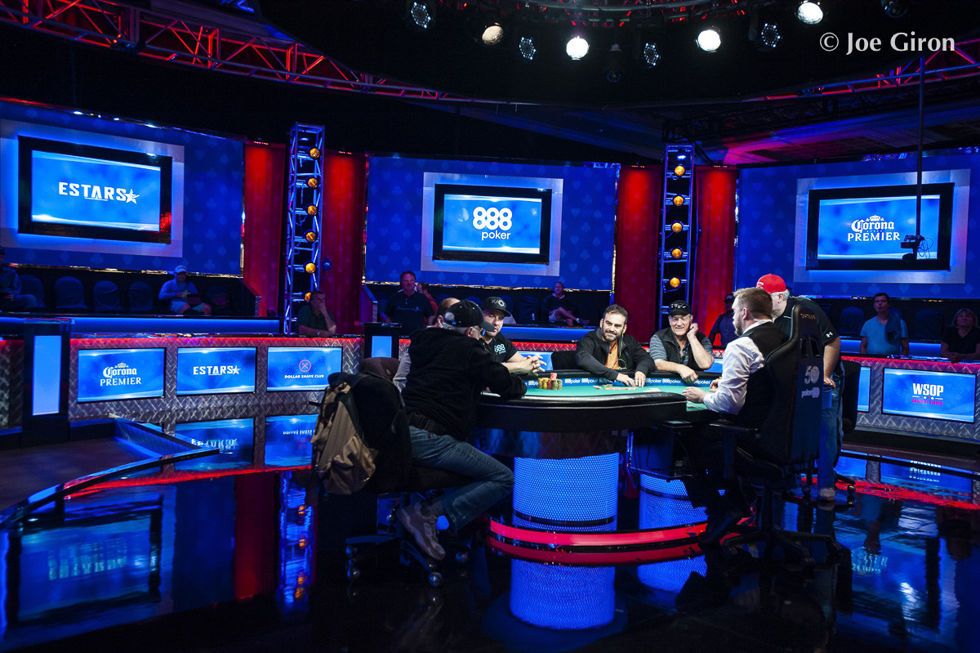 Three-Handed Play
Hourani was eliminated shortly after the resumption of play, and so began an extended period of three-handed play. Gray held the lead from Mizrachi, with Sopko following closely behind. But with the limits at 50,000/100,000, all it took was a couple of pots or a scoop or two to make a dent in a player's stack.
For example, Sopko was scooped twice and was almost all in against Mizrachi only for the Grinder to fold seventh street to allow his opponent to survive. Mizrachi then moved into a commanding chip lead with over half the chips in play but less than half an hour later the trio were almost even again.
Eventually Sopko moved back to the bottom of the counts, and although he doubled through Mizrachi and Gray, he failed to make any concerted inroads into the two chip leaders and was eliminated in third place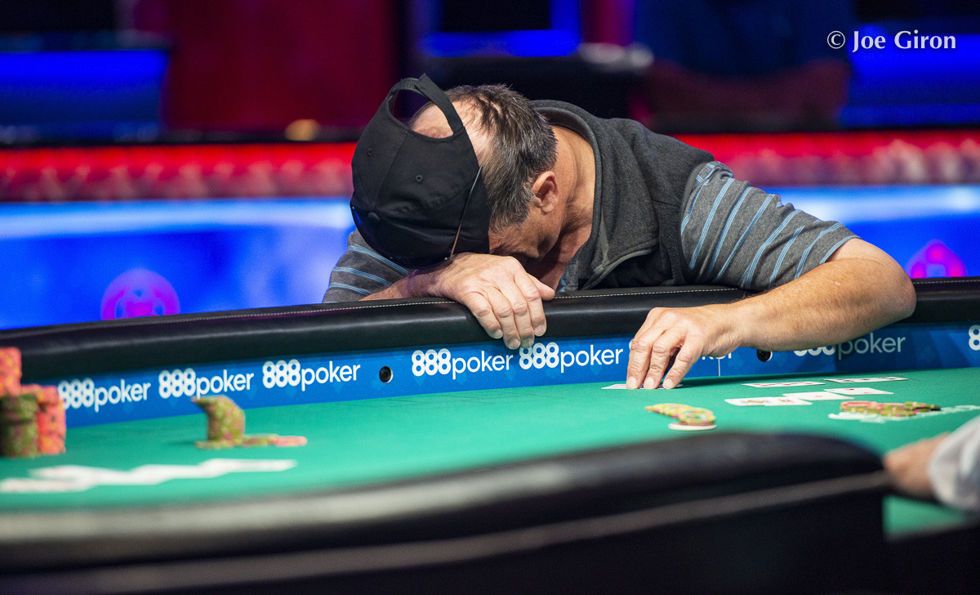 Heads-Up for the Bracelet
Heads-up was a fascinating affair with Mizrachi starting as a slight chip leader. The stacks evened out but back came Mizrachi to open up a 2:1 lead. Both players were buoyed by boisterous rails, and once Mizrachi got his opponent below a million in chips, you felt it was a matter of when, not if, Mizrachi got his hands on the bracelet.
And although Gray doubled twice later on, it wasn't enough as Mizrachi held on for bracelet number five.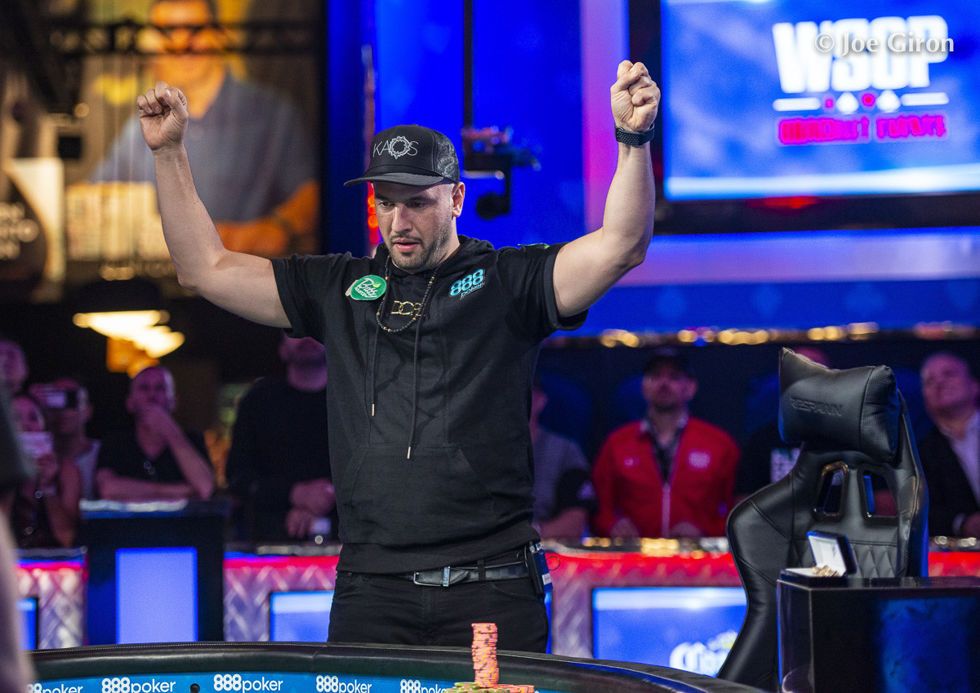 Level 32 : 120,000/240,000, 30,000 ante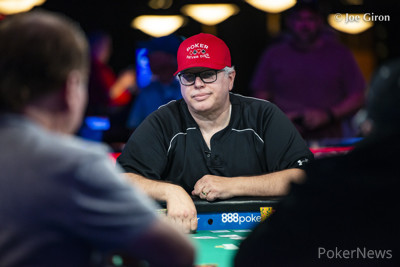 Michael Mizrachi completed after Robert Gray brought it in, and Gray called. Gray got his last 340,000 in on fourth street, Mizrachi called, and they had the following boards:
Michael Mizrachi:
/

Robert Gray:
/
Gray had the lead with his pair of kings, while Mizrachi was behind with a pair of nines. Mizrachi got a brick on fifth street with the
, and Gray caught the
. Mizrachi picked up another pair with the
on sixth street, prompting his boisterous rail to began chanting, "Two pair!" Gray picked up the
, and needed to improve on seventh street to keep his hunt for his first bracelet alive.
Mizrachu showed his final card on seventh street first, and turned over the
. Gray peeled his card back, then flung the
up on the felt, prompting a celebration and a "Grinder!" chant from Mizrachi's rail.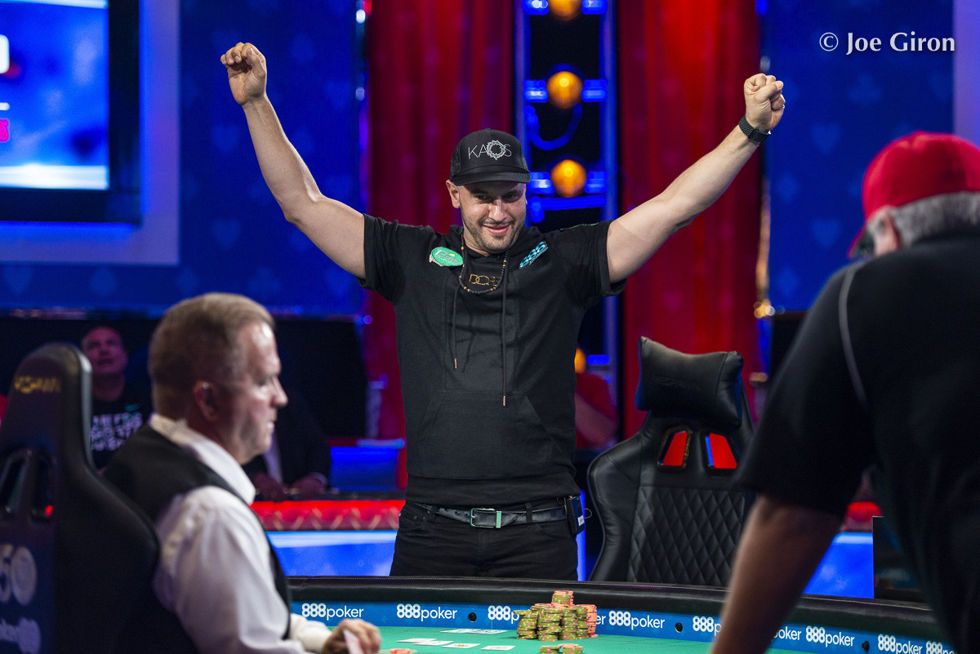 Michael Mizrachi:
/
/

Robert Gray:
/
/
Robert Gray was all in on third street against the split nines of Michael Mizrachi. Gray picked up a pair of his own on fourth street but come fifth street he needed help to stay alive.
Mizrachi showed the
with Gray needing to make two pair or better. He slammed the
for trip threes to double up to just over 500,000.
Level 32 : 120,000/240,000, 30,000 ante
Michael Mizrachi:
/

Robert Gray:
/
Michael Mizrachi brought it in, and Robert Gray completed. Gray bet fourth street, Mizrachi raised, and Gray called. Mizrachi bet fifth street, and Gray, who had 275,000 behind, tanked for two minutes before folding.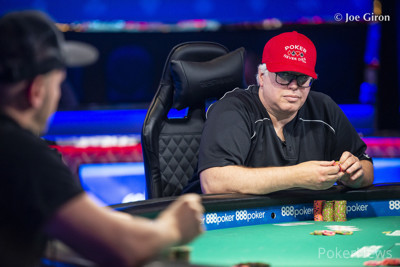 Michael Mizrachi:
/
/

Robert Gray:
/
/
Gray brought in with a king(!) and Mizrachi called. Gray bet on all streets, being all in come seventh street. Mizrachi called opening
for his down cards and then peeled seventh street. He flung the
face up onto the table as Gray showed
for kings up and he doubled up.
Level: 32
Blinds: 120,000/240,000
Ante: 30,000
Level 31 : 100,000/200,000, 20,000 ante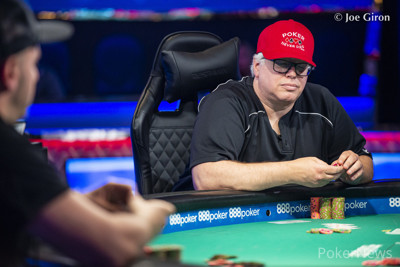 Michael Mizrachi:
/
/

Robert Gray:
/
/
Michael Mizrachi brought it in, then called when Robert Gray completed. Gray bet fourth street, and Mizrachi called.
Both players checked fifth street, and Mizrachi took the lead for the final two streets, with Gray calling. Mizrachi tabled
for a full house, and Gray flashed
before mucking.
Michael Mizrachi:
/

Robert Gray:
/
- folded on sixth street
Robert Gray had been mounting a small comeback against Michael Mizrachi but after calling a completion from his opponent and check-calling on fourth and fifth street, he check-folded on sixth street to allow Mizrachi to resume his 2:1 chip lead.
Level 31 : 100,000/200,000, 20,000 ante
Michael Mizrachi:
/

Robert Gray:
/
Michael Mizrachi brought it in, then called when Robert Gray completed.
Gray bet fourth street, and Mizrachi made it two bets. Gray called, and Mizrachi bet again on fifth. Gray thought for thirty seconds or so, then folded.