Event #49: $10,000 Limit 2-7 Lowball Triple Draw Championship
Day: 3
Event #49: $10,000 Limit 2-7 Lowball Triple Draw Championship
Day 3 Completed

Level 24 : 80,000/160,000, 0 ante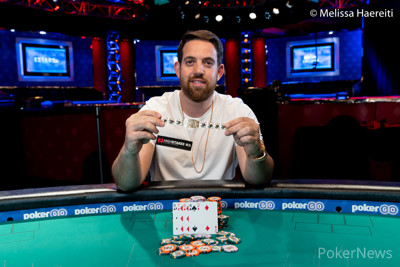 In a true test of endurance, Luke Schwartz proved he's matured over the years. A strenuous three-handed battle couldn't stop the 35-year-old Londoner from winning his first WSOP bracelet. Schwartz took down the $10k Limit 2-7 Lowball Triple Draw Championship for $273,336, beating a 100-player field.
"It feels pretty good, pretty relieving. It's a nice thing to have as a poker player," Schwartz said.
Notoriously known for his outbursts from his twenties, Schwartz has worked on his approach to the game to become one of the best all-round players in the world.
And he really had to showcase both mental and technical preparation today. The path towards the desired hardware led through an incredible three-handed grind which lasted over five hours.
"Maybe the old me would've just got too frustrated and tilted but I just took a deep breath," Schwartz said.
Final table results:
| Place | Player | Country | Prize |
| --- | --- | --- | --- |
| 1 | Luke Schwartz | United Kingdom | $273,336 |
| 2 | George Wolff | United States | $167,936 |
| 3 | Johannes Becker | Germany | $116,236 |
| 4 | Mark Gregorich | United States | $81,635 |
| 5 | Yueqi Zhu | China | $58,547 |
| 6 | Calvin Anderson | United States | $42,898 |
Schwartz' composure remained untouched. He controlled the final table for virtually the whole time, losing chip lead only for a few moments before quickly restoring it.
While mainly a cash game player, Schwartz wasn't going to skip this tournament, revealing that 'deuce' is his favorite game. He met some old acquaintances in the aforementioned three-way grind, notably Johannes Becker who eventually finished third. Schwartz and Becker often meet at online cash game tables.
"He's, like, the best. Everyone thinks he's the best 2-7 player in the world," Schwartz complimented Becker who kept drawing nutted hands against Schwarz' patted hands today.
Some of the wheels and strong eights cost Schwartz several decent pots, but he never let Becker nor George Wolff run away with a leading stack. Schwartz kept grinding and grinding.
With 90-minute levels in play, there was room for everyone to utilize their best skills. Schwartz, however, knew that he and his two final opponents were a special group.
"Everyone played great. I don't think another three players would be able to last that long. That was just the most intense three-handed battle ever."
The deadlock finally broke when Becker fell to a nub and Schwartz peeled a stronger eight on the river, finally allowing for a heads up. And while Wolff looked to be more than prepared to fight, Schwartz soon transitioned into a ground-and-pound mode. Wolff's swan song came when he patted a rough eight while Schwartz hit a better eight after the second draw.
When it was over, Schwartz and his rail burst into excitement at the achievement of a poker career that has been enigmatic, dramatic and at last, emphatically successful. That might be standard for the majority of the first-time winners, but Schwartz hadn't been a typical wristwear hunter. His last WSOP cash had dated back to 2013 until he min-cashed the $10k Dealer's Choice event this year. Tournaments are not his bread and butter and at times, he's shied from the brightest lights.
Tonight, Schwartz seemed at home in the glare of the closest scrutiny, shining like the star he's been heralded as for years before this maiden bracelet win. He admitted that his motivation to win the jewellery was as strong as anyone else's.
"I don't think I looked at the payouts at all, I just wanted the bracelet. I just wanted to win it," Schwartz said.
In hindsight, Schwartz' victory might be called a comeback story. He was one of the shortest stacks on the stone bubble, putting his last big bet in play after a final draw against Dimitri Holdeew. The bet was uncalled and Schwartz's then turned the odds upside down.
There is no doubt about what else has the WSOP in store for Schwartz. For a high stakes mixed-game player, it would be unthinkable to miss the $50,000 Poker Players Championship.
With a bracelet on his forearm, Schwartz will now surely have high hopes of claiming the Chip Reese Trophy. It is only a few days away so make sure to continue following PokerNews for all the details from the 2019 World Series of Poker.

Level 24 : 80,000/160,000, 0 ante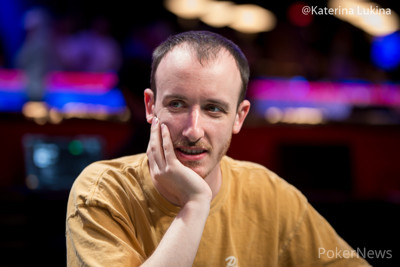 Luke Schwartz raised on his button, George Wolff reraised and Luke Schwartz called.
Wolff peeled one, Schwartz two and Schwartz called a bet from Wolff.
Wolff patted, Schwartz squeezed two again and Wolff fired. Schwartz raised to put Wolff all in and Wolff called off.
Both players patted the final draw and Schwartz announced an eight.
"I have the worst eight," Wolff said, knowing that was the last hand of the tournament.
Schwartz tabled
and exclaimed in excitement at winning his first-ever WSOP bracelet and $273,336 while Wolff took home the $167,936 second-place prize. A full recap of the thrilling final day's action will follow shortly.

Level 24 : 80,000/160,000, 0 ante
Luke Schwartz widened the chip gap in a hand that saw him three-bet from out of position and get the call from George Wolff. Schwartz drew three and Wolff took one.
Wolff led out and Schwartz raised again, getting another call. Schwartz stood pat and Wolff drew two, and then check-called Schwartz.
Schwartz stood pat, Wolff drew one, and Wolff check-folded to Schwartz' river bet.

Level 24 : 80,000/160,000, 0 ante
Luke Schwartz raised his button and George Wolff called.
Wolff took two and Schwartz three and Wolff led out. Schwartz called.
Wolff improved to a one-card draw while Schwartz discarded three again. Wolff bet and Schwartz called.
Both pitched one on the final draw and Wolff fired one more time. Schwartz called and his
bested Wolff's hand.
Level: 24
Limits: 80,000/160,000
Ante: 0

Level 23 : 60,000/120,000, 0 ante
Players are on a 10-minute break. The next level will be the last for today's play. Should the match remain unfinished, the play would conclude for the day and the heads up would continue tomorrow on Day 4.

Level 23 : 60,000/120,000, 0 ante
The first big pot of heads-up play unfolded after Luke Schwartz raised, George Wolff three-bet and Schwartz called. Wolf peeled one and Schwartz took two.
Wolff led out, Schwartz raised, and Wolff called. Wolff patted and Schwartz took one, and Wolff led out again and Schwartz flatted.
Wolff stood pat again, Schwartz took one, and Schwartz folded to a river bet. The hand swings Wolff into almost a dead heat with Schwartz as Level 23 winds down.

Level 23 : 60,000/120,000, 0 ante
Luke Schwartz and George Wolff have been trading small pots since the heads-up match started. Wolff was able to seize a big bet or two, but Schwartz keeps his chip-advantage.

Level 23 : 60,000/120,000, 0 ante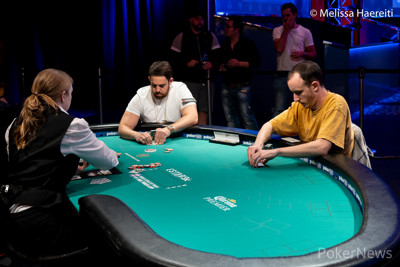 George Wolff raised, Luke Schwartz three-bet, and Wolff four-bet and got the call. Wolff drew one, Schwartz drew two, and Schwartz check called.
Schwartz drew two, and Wolf took one, and both players checked. Schwartz took one while Wolff stood pat, and Schwartz check folded to Wolff's river bet.
On the next hand, Schwartz got his chips right back, raising, getting a call and drawing three after Wolff drew too. Wolff led out and got called, and both players drew one.
Wolff drew one and Schwartz stood pat, and the action checked through on the river. Schwartz took down the pot with
.